We Didn't Threaten North With Igbo Presidency – Ohanaeze Tells NEF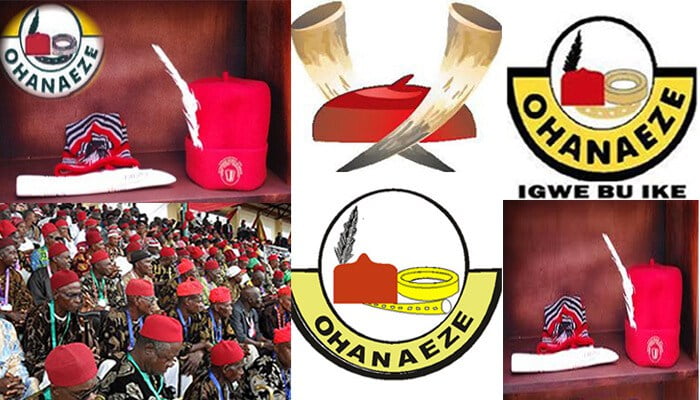 The Ohanaeze Ndigbo Worldwide has distanced itself from a statement saying that Nigeria would not be secured and united unless an Igbo president emerges.
Naija News reports that the factional Secretary General of Ohanaeze, Okechukwu Isuguzoro, had in a statement on Tuesday said that Nigeria would not be secured and united unless an Igbo president emerges.
Reacting in a statement on Wednesday, Northern Elders Forum (NEF) condemned the statement in its entirety and asked the Ohanaeze to stop threatening Nigerians with the Igbo Presidency.
But in a swift response, Ohanaeze advised the Northern elders not to take as serious any statements from people bent on disgracing the apex Igbo body.
In a statement on Wednesday by the group's spokesman, Alex Ogbonnia, Ohanaeze dissociated itself from the purported comment made by Isiguzoro.
He stated that the leadership of the Igbo body was not in doubt, and asked the Northern elders to dismiss comments made by Isiguzoro in the future.
The statement reads: "Dr Ahmed alleged that the threat came from Mazi Okechukwu Isiguzoro, whom he addressed as the Secretary General of Ohanaeze Ndigbo Worldwide.
"For the umpteenth time, the Ohanaeze Ndigbo and indeed the eminent sons and daughters of Igbo land have pleaded with Mr Isiguzoro to desist from lowering the hallowed image of Ohanaeze Ndigbo to his level. He has been reminded to no avail that Ohanaeze represents the Igbo history, consciousness, unity, spirit and solidarity.
"He has been told that Ohanaeze is far above him and should not always place the Igbo on line with his unguarded youthful impetuosity.
"It is inconceivable that at a point the Igbo collective aspiration has gained an irresistible momentum, a wary transgressor would in the name of Ohanaeze, issue incendiary statements that have negative ethnic valences.
"My brother, Dr. Ahmed and indeed the NEF are advised that the Ohanaeze Ndigbo Worldwide led by an erudite scholar and diplomat, Ambassador Professor George Obiozor dissociates itself from the statement under reference."