Details Of Peter Obi's Meeting With Afenifere Emerge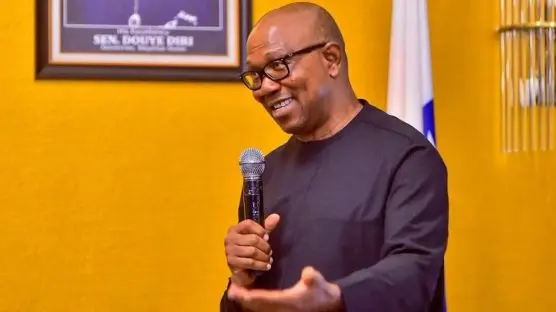 The Labour Party (LP) Presidential Candidate, Peter Obi on Tuesday attended the meeting of the Yoruba social-cultural group, Afenifere.
Naija News learnt that the meeting was held at the Isanya-Ogbo country home of its leader, Ayo Adebanjo.
The former Governor of Anambra State while speaking at the meeting promised to restructure Nigeria if he wins the 2023 presidential election.
A source at the meeting that spoke with Vanguard disclosed that Afenifere leaders in attendance at the meeting received Obi with happiness.
According to the source, Obi during the meeting talked about his vision for Nigeria and how the country can be transformed into a country its citizens are proud of.
The source said, "In particular, he emphasized his commitment to restructuring Nigeria, to achieve justice, equity and rapid development.
"He expressed his appreciation for the support of the Afenifere for its courage in doing what is right for the nation at all times, even against the initial opposition."
Afenifere leader, Adebanjo while speaking at the meeting said the group decided to support Obi of his vision to restructure Nigeria.
Adebanjo said, "When we went to Abuja, the Ohanaeze members told me that they have not decided whether to follow Peter Obi, because they are not a political party and I told them that if they are not following Obi, the Afenifere will stand by him.
"So, when some people came to me here and said, we've not decided to follow Peter Obi, why are you shouting Obi, when the Igbo people said they have not decided to follow him, I told them that I am following Obi because of principle and all that he promised to do for Nigeria."