Climate Change Fuels Conflicts And Complicates Food Security – Buhari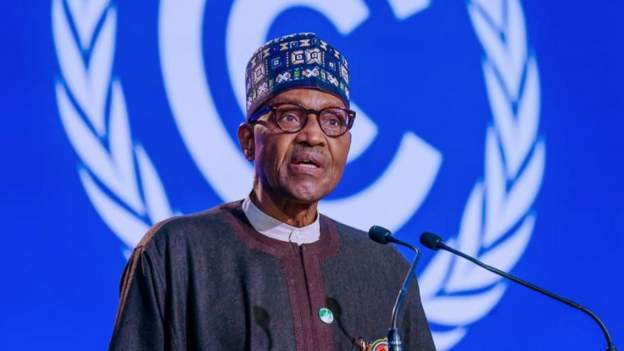 President Muhammadu Buhari has said that the increasing change in climate has caused reduced opportunities and prosperity, in Nigeria and many parts of the world.
Naija News reports that the Nigerian leader stated this on Wednesday (today) while delivering a speech at the 77th United Nations General Assembly (UNGA77) in New York.
The president noted that due to the change, his administration adopted a National Climate change strategy that aims to deliver climate change mitigation.
He said; "As part of Nigeria's efforts at achieving our Global Net-zero aspiration, the current Administration last year adopted a National Climate Change Strategy that aims to deliver climate change mitigation in a sustainable manner.
The measures we took at the national level also require climate justice. Africa and other developing nations produce only a small proportion of greenhouse gas emissions, compared to industrial economies."
Effects Of Climate Change In Developing Countries
Buhari also emphasized the consequences of climate change, citing the droughts in lia and destructive floods in Pakistan.
He added that the devastating effects are now becoming a wide occurrence in the developing world.
"Yet, we are the hardest hit by the consequences of climate change as we see in the sustained droughts in lia and floods of unprecedented severity in Pakistan.
These and other climate-related occurrences are now sadly becoming widely commonplace in the developing world. We are, in effect, literally paying the price for policies that others pursue. This needs to change.
Fortunately, we now know what we can do to mitigate the effects of the climate crisis and the related energy challenge."
Technology, A Way To Create Stable energy
The president proffered releasing of the financing and the technology to create a stable framework for energy transition. He added that technology offers us nearly limitless opportunities which will strengthen the foundations of our society, thus giving a greater impact.
He said; "Development Finance Institutions must prioritise de-risking energy projects to improve access of renewable projects to credit facilities. There should be no countries "left behind" in this equation.
"Rocketing energy costs worldwide are, in part, the product of conflict and supply disruptions to Europe and the Americas. Yet, we are all paying the price. It is, therefore, our expectation that this UNGA 77 & the upcoming COP 27 will help galvanise the political will required to drive action towards the fulfilment of the various existing climate change initiatives.
"Another feature of the last decade has been the growing partnership between states and the increasingly influential non-state actors.
"There was a time when the most important event at this Assembly was the speech by the world's most powerful leaders. Now a Tweet or Instagram post by an influencer on social or environmental issues may have greater impact.
"Technology offers us nearly limitless opportunities and sometimes runs ahead of the imagination of regulators and legislators. At its best, social media helps strengthen the foundations of our society and our common values."