Reveal Person Backing Atiku In Presidency, Tinubu Group Tells Wike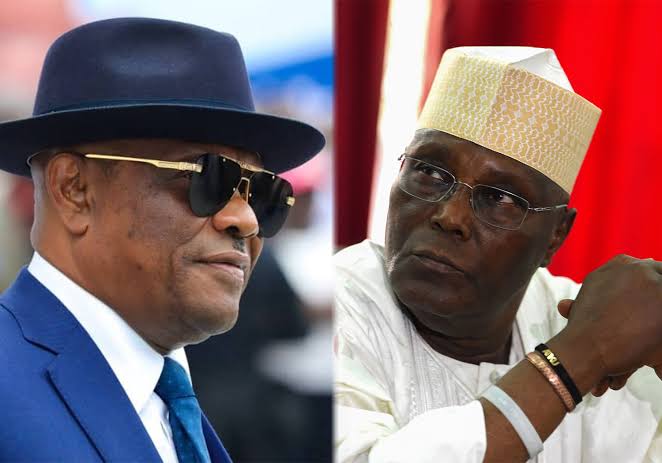 The Tinubu-Shettima Ambassadors (TSA) has asked Governor Nyesom Wike of Rivers State to reveal the name of the presidential aide backing the presidential candidate of the Peoples Democratic Party (PDP), Atiku Abubakar.
Naija News recalls that Wike had alleged that Atiku and the National Chairman of the PDP, Senator Iyorchia Ayu, are arrogant because someone in the presidency is backing them.
Speaking last Thursday in Port Harcourt, Wike said Ayu refused to honour his promise to resign because he was banking on the presidential backing.
The Rivers governor, however, promised to reveal the identity of the person in the Presidency backing Atiku and Ayu.
Speaking with reporters on Sunday, the Director General of TSA, Oyelude Oladele, asked Wike to expose the mole in the presidency supporting both Atiku and Ayu.
Oladele said it was unfortunate that a member of the All Progressives Congress (APC) in the presidency could be backing Atiku without considering the interest of the ruling party.
He described Wike as a genuine agitator for national equity and justice that Nigerians must respect, stressing that Nigerians must reject the PDP and its presidential flagbearer.
He said: "We, as a support group of the APC, appeal to Governor Wike to unmask the person in the presidency that's backing the PDP and its candidate, Atiku Abubakar against southern interest.
"Nigerians must reject the PDP and her presidential candidate, Alhaji Atiku Abubakar, as it is very visible that they are coming with regional sentiment and political deception."
PDP Crisis: Fayose Chooses Between Wike And Atiku, Gives Reasons
Former Governor of Ekiti State, Ayo Fayose has revealed that Wike has his total support regarding the current crisis rocking the PDP.
Speaking on Friday, Fayose declared that contrary to what many believe, Wike is not out to destroy the PDP but to ensure that justice prevails.
He also called on the presidential candidate of the PDP, Atiku Abubakar to avoid sycophants urging him to ignore Wike and his people, declaring that such people are the real enemies of the party.
According to Fayose, the Wike camp is open to resolving the crisis but Atiku must do the right thing by reaching out to those he should, uniting the party and ensuring the PDP goes united into the 2023 elections which is the only guarantee that the party will win.
He added that he is supporting Wike because he knows the Rivers Governor is on the right path based on earlier discussions with Atiku immediately after the PDP presidential primaries in Abuja.