2023: Atiku Candidacy Is Putting A Sharp Knife On Things – Joe Igbokwe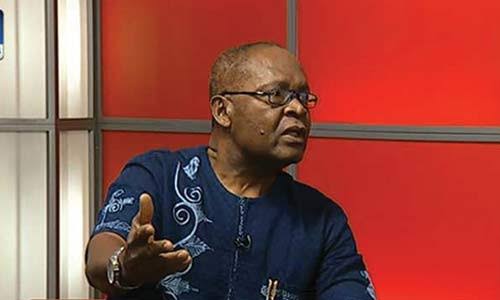 A chieftain of the All Progressives Congress (APC), Joe Igbokwe has advanced reasons former Vice President Atiku Abubakar should not contest the 2023 presidential election.
According to Igbokwe, it is the turn of the south to produce the next President of Nigeria after President Muhammadu Buhari and Atiku, who is the candidate of the Peoples Democratic Party (PDP) should not be on the ballot.
Naija News reports Igbokwe, who is the Special Adviser on Drainage and Water Resources to the Lagos State Governor, Babajide Sanwo-Olu made his view known on Wednesday via a post on his Facebook page.
He claimed those pushing the Atiku candidacy are putting a sharp knife on things that have held Nigeria together since independence.
He wrote: "THOSE WHO ARE STILL PUSHING ATIKU ABUBAKAR TO CONTEST IN THE 2023 ARE CONSTANTLY PUTTING A SHARP KNIFE ON THINGS THAT HAVE HELD US TOGETHER AS NATION FOR 62yrs. Power is zoned the South in 2023."
Atiku Playing Politics With Ayu's Removal
A member of the Peoples Democratic Party's Board of Trustees (BoT), has accused the presidential candidate of the party, Atiku Abubakar of playing politics with a call for the resignation of the party's national chairman, Iyorchia Ayu.
He wondered why the former vice president and the party's national chairman have different stands about his (Ayu) resignation.
According to the BoT member, Atiku wants Ayu to go after the 2023 election, while Ayu has insisted on spending four years in office.
The BoT member who does not want to be named, while speaking with Vanguard warned that Atiku has something to lose if he does not act now.
He further stated that if the National Chairman of the party wants to divide the party into North and South, he can go ahead.
The PDP leader, however, threatened that party members in the South-West are waiting for them to come and campaign.
He noted that the people abusing the Rivers State Governor, Nyesom Wike for calling for Ayu's resignation would do the same if Southerners were in charge of key positions in the party.
The party leader called on Atiku to act like the leader of the party, adding if he can not resolve the crisis, it shows he can not rule Nigeria.