Pensioners Storm Govt House, Protest Unpaid Gratuities, Pension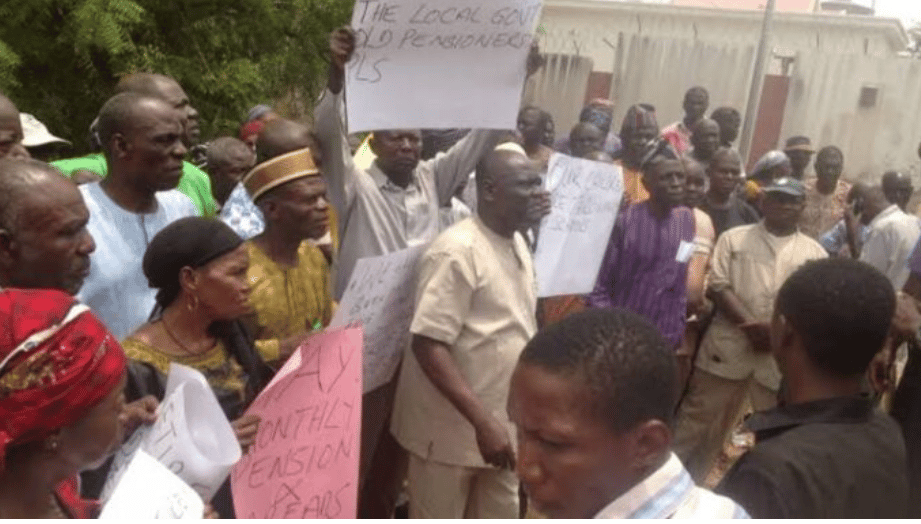 Over 10,000 pensioners across the 25 local government areas of Niger state have stormed the government in Minna to stage a protest over unpaid pension and gratuities.
The pensioners led by Ibrahim Mahmud moved from the union's secretariat to the government house with placards with inscriptions such as "non payment of pension is not acceptable," "Pensioner lives matter" "no gratuity no pension, no vote in 2023" and ''we shall occupy until Lolo" pays amongst others.
Mahmud told the Secretary to the State Government (SSG) Ahmed Matane that they had lost some of their members due to their inability to get funds to treat themselves when they fall sick.
He accused the state government of abandoning them without their pensions despite several bailouts and Paris club funds which the state had received.
He noted that the government have chosen to be unsympathetic to their plights despite their cries and lamentations.
He stated that;"We will no longer accept payment of gratuities on percentage.
"Our brothers, sisters and parents are dying, and we have no money to feed our families, pay rent or treat ourselves when we are sick.
"The Niger state government has abandoned us. We lost two of our pensioners on Monday morning because they have no money to treat themselves.
"Tell the governor that our protest would continue until we get a concrete resolution.
"We have over 10,000 pensioners on the ground and we will occupy the government house until we are paid" Mahmud added.