2023: PDP Reveals Fresh Plans For Wike's Camp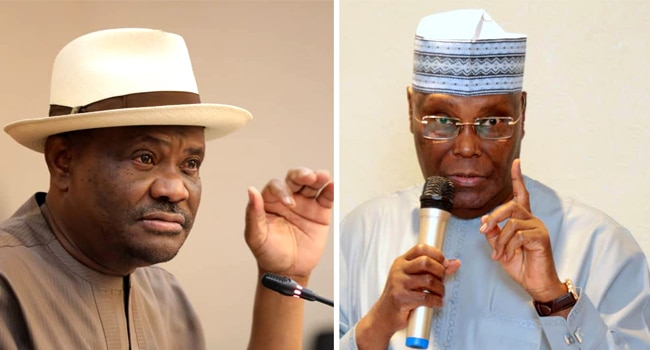 The Peoples Democratic Party (PDP), has promised that all its members will be carried along in the yet-to-be-announced 2023 elections campaign council despite the internal crisis rocking the party.
The party's national Publicity Secretary, Debo Ologunagba, said this in an interview with Daily Trust on Monday where he assured that the Rivers state Governor Nyesom Wike and his camp will be carried along because of the differences in the party.
Wike and three other PDP governors in his camp – Seyi Makinde (Oyo), Okezie Ikpeazu (Abia), and Samuel Ortom (Benue) – have been at loggerheads with the Atiku's camp over the lopsided composition of the leadership structure of the main opposition party.
The camp had asked former Vice President, Atiku Abubakar to prevail over the party's national chairman, Senator Iyorchia Ayu, to resign from his position to give way to a southerner.
Speaking on if Wike's camp will be carried along due to the differences, Ologunagba said "PDP is a party of leaders and followers, and stakeholders that are united and they are all working together, everybody who is a member of this party, critical stakeholders, all of us are working together.
"We have the same mission to Rescue and begin the hard work of rebuilding Nigeria. Everyone will be involved and will participate in a robust campaign that will usher in a PDP government at all levels in 2023."
Ologunagba further noted that some things ought to be put in place before the announcement of the campaign council.
"PDP has a structure. We are organized, we have a way of doing our things, we follow our own procedures. We don't just go ahead and overreach our processes. We cannot begin to announce anything before we have the National Executive Committee (NEC), I am not worried about it, we are ready and you can see us working together as a party."".
He also confirmed that the National Working Committee (NWC) meeting will hold on Wednesday and NEC will hold on Thursday.
"We have NEC, so allow the NEC to do its job when they come out we will give you a communique, that is the procedure I don't preempt NEC. When NEC ends we will give you a report so whatever happens you will hear it."
The Independent National Electoral Commission (INEC) has slated September 28, 2022 for the official commencement of campaigns for the 2023 elections.