2023: PDP NWC Divided Over Ayu's Resignation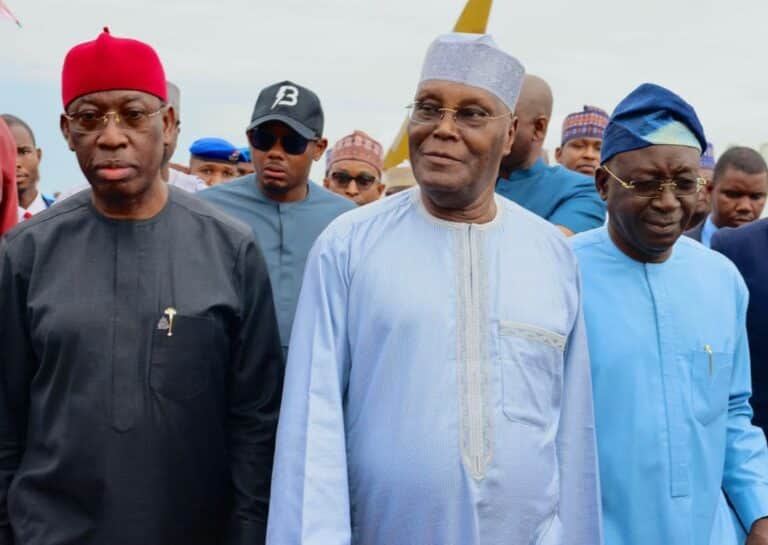 The call for the National Chairman of the Peoples Democratic Party (PDP), Iyorchia Ayu to resign from office ahead of the 2023 general elections has led to division among the National Working Committee (NWC) of the party.
The Governor of Rivers State, Nyesom Wike during his reconciliation meeting with the presidential candidate of the party, Atiku Abubakar had reportedly called for Ayu's resignation.
Naija News learned that Governor Wike also asked that Ayu's replacement should come from the South before he would accept to support Atiku.
Some members of the NWC expressed their support for Governor Wike, and others stood on the side of the PDP National Chairman.
The Deputy National Chairman, Taofeek Arapaja, when asked by Punch about his loyalty to Governor Wike, said he has never hidden his loyalty to the Rivers Governor.
He said, ''What is wrong with being loyal to Wike? My loyalty is to both Makinde and Wike. It is obvious, everybody knows that. There is nothing wrong with being loyal. I am loyal to them but I will do everything in defence of the party. But nobody can doubt my loyalty to Wike and Makinde.''
A member of the NWC of the party, who spoke on condition of anonymity, said asking Ayu to resign may not resolve the political problem.
He further stated that if Ayu decides to resign, the constitution of the party allows the Deputy National Chairman, Umar Damagum, a Northerner to take over.
The NWC member said, "The issue is both political and constitutional. Asking Ayu to go may not solve the political problem, since the deputy national chairman of the party for the North will still take charge of the party in the absence of the chairman.
"To solve the constitutional and political crises, the NEC (National Executive Committee) of the party can dissolve the NWC and turn them into an interim committee. If that is done, they will just appoint someone from the region where they want the national caretaker chairman to come from as Ayu's successor.
"But so far, no meeting has been slated for this week yet. But by tomorrow (today), we will know if there will be a meeting and the agenda will also be listed."
The PDP spokesman, Debo Ologunagba, however, denied that the NWC members were loyal to some governors, noting that their allegiance was only to the party.
He noted, "Loyalty to a candidate in a party is normal but equating that loyalty to a party is not correct. We have our loyalty to our leaders in the party and we recognise their contributions to the party. The NWC is one.
"The governors were instrumental to the emergence of the NWC. Of course, we respect and honour them. But you cannot equate the loyalty to the governors who have contributed immensely to the party to that of loyalty to the party. The party is supreme to every member of the party. The NWC is one with all the loyalty to the governors and leaders of the party.''