Six Boko Haram Terrorists Killed As Troops Raid Illegal Market In Borno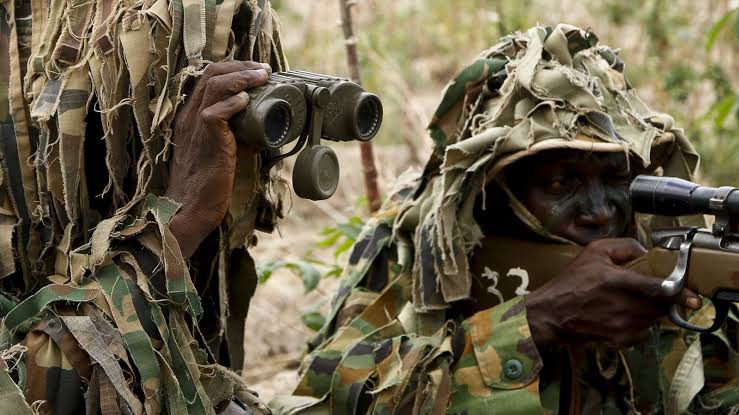 Troops of the Nigerian Army have in a collaborative effort with the Civilian Joint Task Force (CJTF) recorded success in neutralizing some members of the Boko Haram terrorists in a recent raid in Borno state, Naija News reports.
Renowned counter-insurgency expert and security analyst in Lake Chad, Zagazola Makama confirmed in his recent update that the security agents killed at least six Boko Haram insurgents in their most recent operation.
Makama disclosed that the troops of 21 Amoured Brigade stationed at the Bama Local Government Area of Borno stormed an illegal market established by the terrorists on Wednesday morning and engaged the assailants in gunfire.
Commercial activities according to him were halted at the Daula Market in the Bararam village in Bama this morning around 11 am when the troops engaged the terrorists.
Makama explained that the terrorists opened fire upon sighting the troops but were swiftly engaged.
According to him, the traders were reportedly selling items such as maize, beans, salt, seasoning, used cloths, drugs, and petrol to the insurgents in exchange for scrap metals.
Makama said: "They arrested dozens of Boko Haram including logistics suppliers, collaborators and some weapons were recovered."
The suspects, according to him, have been transferred to the Brigade headquarters in Bama for a thorough investigation.
The Minister of State for Labour and Employment, Festus Keyamo (SAN), has hailed President Muhammadu Buhari's led administration for dealing with Boko Haram terrorists.
Keyamo said Buhari, who inherited Boko Haram and the farmer-herder crisis, has significantly reduced the terrorists' dominance to "almost nothing."
Speaking to Trust TV, the Minister admitted that the terrorists had not been wiped out.
Keyamo said, "What did we inherit? We inherited the Boko Haram problem. At that time, they had taken over more than fourteen local governments in the northeast and hoisted their flags. We inherited the farmers-herders crisis that had been going on even before [Olusegun] Obasanjo's time. These are existential problems.
"What have we done about those two problems? A club like El-Kanemi Football Club of Borno that were playing their football matches in Bauchi because of insecurity— nobody could gather in one place in Maiduguri to watch a football match – now El-Kanemi is back to Maiduguri, that is success.
"Boko Haram hasn't been totally wiped out, but it has reduced significantly because we constructively engaged our neighbours. We reduced them to almost nothing. I'm not saying these things have totally wiped out, but on the scale of what we met and on the scale of what we have, it has reduced significantly."