Eedris Abdulkareem's Emotional Note To Wife Sparks Reactions Online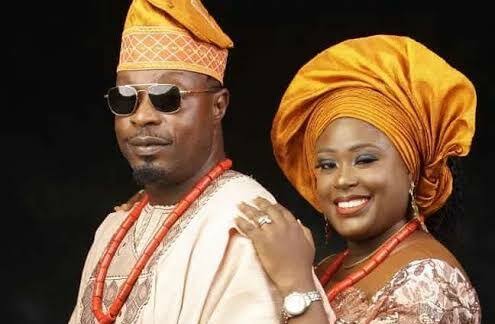 The emotional message written by veteran Nigerian rapper, Eedris Abdulkareem, to his wife, after she donated one of her kidneys to him has sparked reactions online.
Naija News earlier reported that the veteran rapper took to his Instagram page to announce to his followers that his surgery was successful.
He proceeded to shower praises on his beloved wife, Yetunde for being supportive and compassionate while also adding that God has made his life complete with her.
Abdulkareem also sent a beautiful message to his children and promised them that their parents will return home hale and hearty.
The entertainer further thanked his extended family, friends, crew members, fans and well-wishers and promised them that they will be seeing him soon.
However, some netizens have taken to the micro-blogging platform, Twitter to express their reactions to the development.
Below are some of the reactions.
@EstherIjewere wrote: "I am happy for Eedris Abdulkareem and his wife, Yetunde. The Kidney transplant was successful. God bless this amazing woman. May the centre of their home continue to hold. Affliction won't rise a second time in Jesus name. Amen."
@tobishiyanbola wrote: "Eedris Abdulkareem 's wife donating her kidney to her husband is arguably one of the most priceless expressions & demonstrations of love. For those who don't believe in love, marriage, humanity & family, there's no better way to describe it other than this."
@dondekojo wrote: "I'm happy for Eedris Abdulkareem. For his wife to be a match was awesome too. Such a beautiful love story. He can never win a domestic argument again though."
@1stGenuiss wrote: "Eedris Abdulkareem Kidney Transplant Successful, all thanks to God, the medical team, well wishers and his wife YT who was a gracious donor. Dear Eedris, keep being the faithful and Loving man you are to YT that prompted such selflessness. She is a Good woman. Speedy recovery."
anthony_fedora wrote: "Eedris Abdulkareem underwent successful surgery and his wife donated her kidney for him.
Omg, such a rare gem."
@OneJoblessBoy wrote: "Thank God! Eedris Abdulkareem underwent a successful kidney transplant. God bless his wife and protect both of them."
@scad_official wrote: "Eedris Abdulkareem has undergone successful surgery, courtesy of his wife who donated one of her kidneys. She has raised the bar & I hope he respects her. That said, he should stay away from alcohol & drink enough water daily. This is from a Concerned fan."
@Ojekunle_Bisi wrote: "My wife will do the same thing Yetunde did for Eedris Abdulkareem if I am in Idris's condition. Someone that is alive because he has been so lucky not to do a DNA Paternity Test on his "supposed children".