Wike's Allies Reportedly Abandoning Him, Angry Over Oppressive Style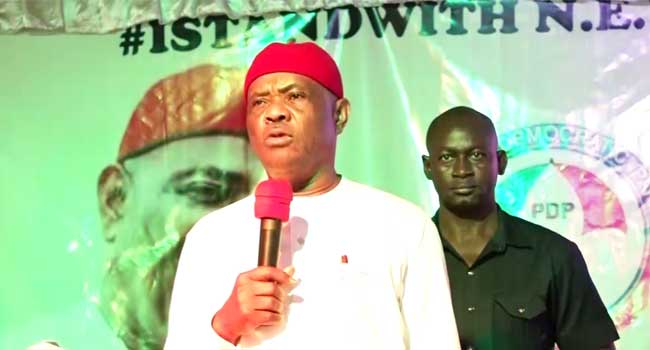 Reports have emerged claiming that some allies of Governor Nyesom Wike of Rivers State have started abandoning his camp over his alleged oppressive leadership style.
It was gathered that some of his allies who left his camp have had their properties shut down by security operatives.
Some of Wike's former allies, allegedly led by former Deputy Speaker of House of Representatives, Austin Opara, including Sen Lee Maeba and former Governor Celestine Omehia, are said to have dumped him.
Others are Jones Ogbonda, former Rivers Assembly member; Ikechi Chinda; former PDP Chairman, Port Harcourt City Local Government Area and Mr. Chinyere Igwe.
Recall that operatives of Operation Sting, under Rivers Police Command, on Thursday night allegedly invaded, shut, and occupied Mega Tools Fuel Station owned by the member representing Port Harcourt Federal Constituency II, Chinyere, the same way they took over Priscy's Lounge, Elekahia, belonging to Jones Ogbonda, a former Rivers Assembly member.
At Preray Hotel, Eagle Island, owned by Ikechi Chinda, former PDP Chairman Port Harcourt City Local Government, the security operatives sealed and took over the place, arresting some staff and guests.
A source told Vanguard: "What I know is that most of Wike's allies are distancing themselves from him, especially PDP politicians from Rivers, are not aligning themselves with his actions.
"That is the level he is now. All his latest actions are just bravado. How he is going to sustain it, I do not know for now."
Also speaking, Lee Maeba said: "The governor was talking as if he is a superhuman. When you apportion so much right to yourself, then you are superhuman. Austin Opara was Deputy Speaker of the House of Representatives when Atiku Abubakar was the Vice President.
"They attended caucus meeting together and National Economic Council Meeting. So, does it mean that Austin Opara, who has been friends with Atiku for over 20 years ago, will now start to beg Wike to go and see Atiku?
"I met Atiku first in 1992 in Jos for the Social Democratic Party, SDP, campaigns. We started working together in 2003 when I became senator. That time where was he (Wike)? When Austin Opara was working with Atiku, holding meetings, Wike was struggling to come into limelight."