Magu Had A Vendetta Against Me, I Have Being Cleared Of All Charges – Saraki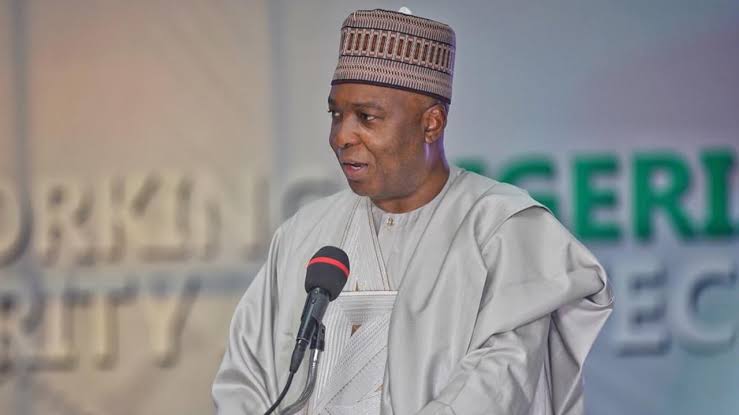 Speaking via his spokesman, Yusuph Olaniyonu, the former Senate president explained that it was unfair to include him among cases that were either not conclusively investigated or where the outcome of the probe was taken to court.
He stated this in a letter while replying to a newspaper which listed him among former governors whose cases of alleged corruption had been forgotten by the EFCC.
In the letter titled 'Saraki Did Not Benefit from Lack of Diligent Prosecution of Cases', Olaniyonu insisted that the former governor of Kwara State had been cleared by the court of all five cases, including forfeiture proceedings, filed against him by the EFCC.
The letter read in part: "We will like to state clearly that if there are such cases, Dr. Saraki's sure does not fall into this category. The EFCC went after Dr. Saraki with all the instruments at its disposal. The commission filed several cases that were determined by the courts and Dr. Saraki won in all the cases. For example, the aspect of the story concerning Dr. Saraki was based on a malicious and mischievous investigation instituted by the former boss of the Economic and Financial Crimes Commission (EFCC), Mr. Ibrahim Magu just as Dr. Saraki was rounding off his tenure as Senate President.
"In an unprecedented manner and also suggestive of a selective measure, EFCC under Magu stated that it was probing the accounts of the National Assembly in 2019. The commission in that endeavour forgot that the Clerk of the National Assembly, not the President of the Senate, is the accounting officer of the federal legislature."
He insisted that the EFCC under Magu's leadership had a vendetta against his principal and they wanted to do everything within their power to convict him.
"The EFCC under Magu also filed cases of forfeiture against Dr. Saraki's properties located in Ikoyi at two different Lagos High Courts. Again, the EFCC lost in both cases.
"Thus, after the EFCC pursued cases against Saraki in five different courts and got negative judgments, it will be unfair to include Saraki's name among the cases that were either not conclusively investigated or where the outcome of the probe that was taken to courts, he added.