'You Cannot Crush Anybody' – Secondus Fires Governor Wike Over Threats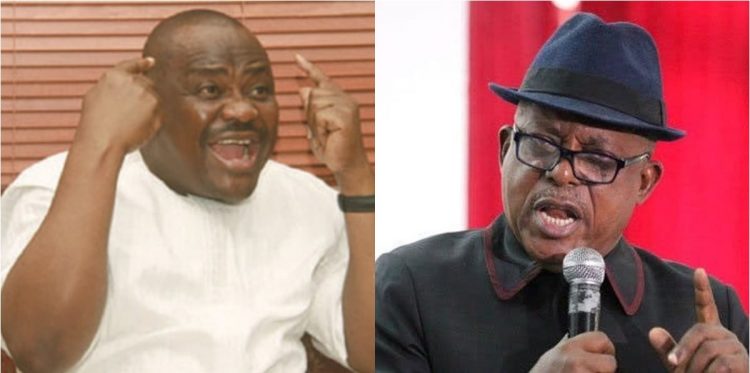 A former National Chairman of the Peoples Democratic Party (PDP), Prince Uche Secondus, has slammed the Governor of Rivers State, Nyesom Wike, for threatening to crush anyone who associates with him (Secondus).
Secondus, a former ally of the Rivers State Governor, is reportedly backing the presidential ambition of the PDP candidate, Atiku Abubakar, who is currently at loggerheads with Wike.
Recall that he was removed from office in August 2021 after multiple court orders were issued against his continuation as the national chairman of the party.
Naija News had earlier reported that Wike, while flagging off the ceremony of the construction of internal roads in Omagwa, Ikwerre Local Government Area of Rivers State on Saturday, had claimed that anybody working with Secondus is an enemy of the state, adding that he will fight anyone that fights him.
According to the Rivers State governor, Secondus was removed as national chairman because he performed below the expectations of party members.
He had said: "If anybody fights our system we will fight the person back.
"Let me tell you what you don't understand in politics. The moment you claim to be working with us and tomorrow you shift to our enemy, we will take every might we have, we will even leave our enemy and finish you first.
"So all of you who are going back to Abuja to hold meetings with our enemies in the state, I'm going to finish you to the last.
"We removed a National Party Chairman who was not doing well. All of them were here, we all agreed, now they are going to Abuja to hold meetings with the man we removed, thinking that you will use that to fight us, we will crush them."
Reacting in a statement by his media aide, Ike Abonyi, the former PDP chairman said Wike is not God so he lacks the power to crush anybody.
Secondus stated that his attention "has been drawn to the haughty and disdainful threat from Governor Nyesom Wike that he will crush anybody who works with him (Secondus) in support of the PDP presidential candidate Atiku Abubakar.
"The simple responses of Prince Secondus to the empty threat are: 'Wike you cannot crush anybody, I cannot fight, only God can crush."
Secondus also reminded Wike of the advice given by Dr. Nnamdi Azikiwe, who told public officers that 'no condition is permanent,' saying that nobody can become the governor of a state or President of this country forever.