EFCC Under Magu Comprised Cases Worth N333bn, $2bn – Salami Panel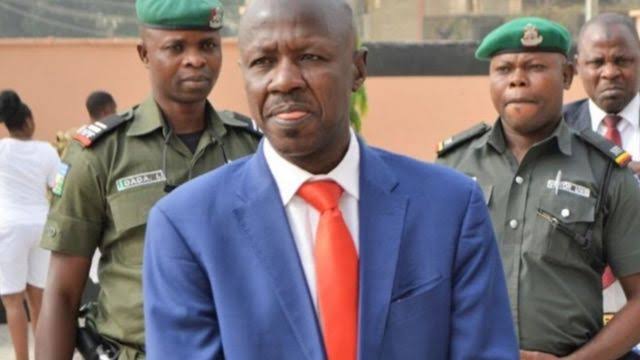 The presidential panel that probed the former acting chairman of the Economic and Financial Crimes Commission (EFCC), Ibrahim Magu, has accused him of compromising cases worth N333 billion, $2 billion and £13 million.
Naija News reports the presidential panel set up to investigate Magu revealed this in the final report submitted to President Muhammadu Buhari in November 2020.
It is understood that the final report has now been forwarded to the office of the Secretary to the Government of the Federation and a panel to produce the white paper will soon be set up.
The panel, headed by the former president of the Court of Appeal, Ayo Salami, was set up to probe the EFCC from May 2015 to May 2020.
In the final report, the judicial panel said the running and management of the anti-graft commission during Magu's tenure was characterised by impunity and arbitrariness.
The panel said an operative of the commission, Usman Zakari, bungled 23 cases worth N45 billion, while the commission was accused of violating procurement processes.
The panel said: "The EFCC awarded the contract for the new headquarters consultancy services at the rate of N451,318,501 instead of the N399,243,290 approved by the BPP. The commission observes that the EFCC formed the habit of not engaging in the use of the default procurement method (open competitive bidding). The EFCC in some cases extends/renews contracts without obtaining approvals from the relevant/appropriate authorities.
"The submissions made by the EFCC on the status of an investigation conducted by the zonal offices exposed some operatives who are notoriously engaged in brazen compromise of cases. The affected cases were either closed or Kept-in-View (KIV) by the dubious operatives.
"The compromised cases in naira denomination involved the sum of N333,535,364,077. The compromised cases in the US dollar denomination are valued at $2,521,011,976. The compromised cases calculated in British pounds denomination are valued at £13,143,570. One of the operatives identified as Usman Zakari dubiously kept in view 23 different cases, with offences ranging from money laundering, diversion of funds, obtaining under false pretence, all involving a total sum of N45,262,005,908."