2023: There Is No Opposition Party In Rivers State – Wike Mocks APC, Others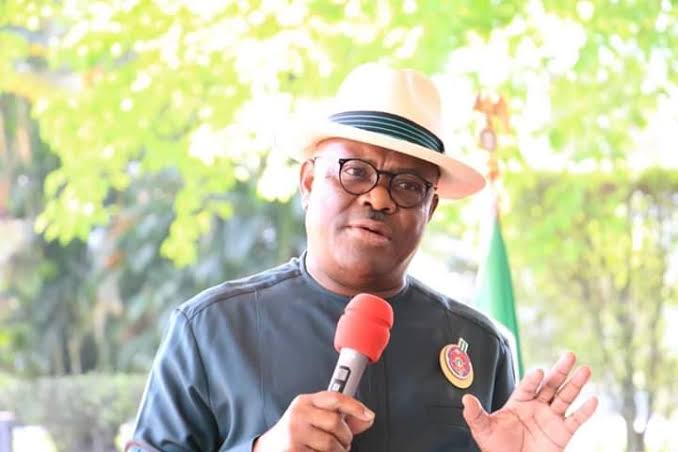 Governor Nyesom Wike of Rivers State has said there is no opposition party in the South-South state.
Wike said this on Thursday at the flag-off of the 11th flyover project at the Rumuola- Ikwerre Road-Rumuokwuta Roundabout in Obio Akpor Local Government Area of the state.
Naija News reports that the commissioning of the flyover was done by former Governor of Cross River State, Donald Duke.
The governor stated that all the political parties in the state have collapsed into the Peoples Democratic Party (PDP) and their leaders are joining the party in droves.
Wike claimed that the politicians are joining the PDP because they are happy with the ongoing infrastructural development by his administration.
He asserted that the ongoing collapse of the membership strength of other political parties in the state is definitely an electoral advantage for the PDP.
He said: "We have collapsed every other party. Every day people from All Progressives Congress (APC) are joining our party. We are here doing that and some people are in Abuja; ask them how many persons have they brought to the party.
"It's not to say I'm supporting our candidate. How many people have you brought to help your candidate. We are here everyday bringing people to join our party and you are there following your candidate from Abuja to Adamawa. Is it there you'll win the votes? Come back home."
Wike stressed that Rivers state is too strategic politically to be ignored by any serious-minded politician who wants to win an election.
He said: "This Local Government alone, Obio Akpor, where I come from, we registered not less than 600 thousand voters. This local government beats two States in their electoral strength.
"So, we are not a state that you can take for granted, not to talk about the Local Government where I come from.
"I believe that they must know us here because we have what it takes to deliver. They must come and know us. I'm not going to find anybody. You must come here. You can't take 600 and something thousand votes away from my local government. You can't take 3.2million votes from my State just like that."