Magu Failed To Remit N48bn Loot – Salami Panel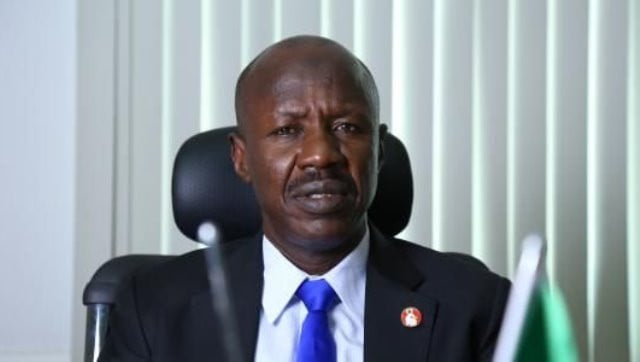 The former acting chairman of the Economic and Financial Crimes Commission (EFCC), Ibrahim Magu has been accused of abandoning 14 fraud cases involving N118 billion and $309 million.
The presidential panel set up to investigate Magu revealed this in the final report submitted to President Muhammadu Buhari in November 2020.
According to TheCable, Magu was also accused of not remitting another N48 billion loot recovered in foreign and local currencies.
Recall that President Buhari set up a panel headed by former president of the Court of Appeal, Ayo Salami to probe Magu.
Naija News learnt that the final report has now been forwarded to the office of the secretary to the government of the federation.
The report reviewed both written and oral testimonies of over 100 witnesses, having overtaken nationwide physical verification of recovered forfeited assets, comprising real estate, automobiles, vessels and other non-cash as well as cash assets.
The review of the report of the Presidential Committee on Audit of Recovered Assets (PCARA) appeared to show that the anti-graft commission gave contradictory figures on the total number of recovered real estate.
The report stated, "The EFCC under the watch of the suspended Ag. Chairman in its submission to PCARA reported N46,038,882,509.87 as being the foreign currency equivalent recovered by the commission between May 29, 2015, and November 22, 2018.
"The EFCC, however, only produced evidence of lodgements of thirty-seven billion, five hundred and thirty-three million, seven hundred and sixty-four thousand, one hundred and ninety-five naira, sixty-six kobo (N37,533,764,195.66), leaving a shortfall of eight billion, five hundred and five million, one hundred and eighteen thousand, three hundred and fourteen nairas, twenty-one kobo (N8,505,118,314.21).
"The EFCC reported to PCARA a total naira recovery of five and four billion, one hundred and fifty-four million, one hundred and eighty-four thousand, seven hundred and forty-four naira, four kobos (N504,154,184,744.04); the actual bank lodgement of the naira recoveries was, however, five hundred and forty-three billion, five hundred and eleven million, seven hundred and ninety-two thousand, eight hundred and sixty-three naira, forty-seven kobo (N543,511.792,863.47).
"That EFCC failed to produce before PCARA the evidence/record of the difference of thirty-nine billion, three hundred and fifty-seven million, six hundred and eight thousand, one hundred and nineteen naira, forty-three kobo (N39,357,608,119.43).
"The EFCC, in its returns on non-cash assets, made to the president on April 7, 2017, declared 836 as the total number of recovered real estates, while in its first and second returns to PCARA, it rendered contradictory figures of 339 on 13/12/2017, leaving a difference of 497 and 504 on 9/3/2018, with a difference of 332."
The panel also alleged that Magu abandoned multi-million dollar fraud cases involving high-profile individuals and transferred some officials of the commission investigating the cases.
He was also accused of disobeying court orders and presidential directives.
The report also stated, "Between 2016 and 2019, fourteen (14) procurement fraud cases involving N117,972,209,035 and $309,151,419 were abandoned under Mr Ibrahim Magu's watch.
"The commission observed from its findings that prosecutorial decisions by Ibrahim Magu on case files were based on his whims, as against the law and facts. The commission also notes the prevalence of widespread corruption, abuse of power and pervasive impunity in the running of the EFCC."