2023: I Have Told Atiku What To Do To Win Election – Wike Opens Up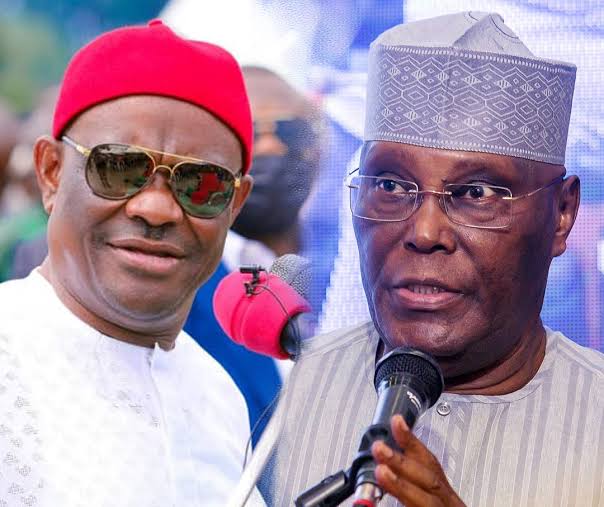 The Rivers State Governor, Nyesom Wike has disclosed that some people around the presidential candidate of the Peoples Democratic Party (PDP), Atiku Abubakar may hinder him from winning the 2023 election.
Wike made the observation on Friday in Port Harcourt during the commissioning of the Rivers State House of Assembly Quarters built by his administration.
Naija News reports the edifice was commissioned by the Speaker of the House of Representatives, Femi Gbajabiamila.
The Governor said the people who always want to be seen around Atiku in Abuja may eventually cost him the presidential election because they are going about it the wrong way.
He said instead of milling around the PDP candidate in Abuja, they need to go to their respective states and sell the candidature of Atiku to their people. He urged the former Vice President to send them all back to their respective states.
The Rivers State Governor also urged those concocting stories about him to leave him alone and focus on how the PDP can win the 2023 election.
Wike said he has already made his mind known to Atiku about those around him and how their activities may eventually cost him the presidential election if he doesn't do the needful quickly, stressing that "I have told the candidate, you will win or lose this election because of people around you."
In his words, "This should be the focus of all true lovers of PDP who want electoral victory. You're supposed to be talking about how you will win election. All these rent seekers around him (Atiku) are not doing him any favour. Rather they are trying to make him not to win election. But if that is what they wish, I wish them good luck."
"You see that I am not talking. I am doing my work, so leave me to do my work. Those concocting ideas everyday, social media cannot make you win election. Election is about the people and by the people. Those in Abuja with you (Atiku), tell them to go home and campaign for you to win election. Leave Wike alone, enough is enough."
Shedding more light on the alleged court case against Atiku over the outcome of the PDP presidential primaries, Wike distanced himself from any such move, saying the legal adviser of the PDP called him and clarified that he also understands what's going on is the handiwork of mischief makers.
He said, "the legal adviser of the party called me and said he knows that there is mischief going on. But that he knows me very well, if I'm going to court, it is not those kinds of lawyers that I would have used; I don't even know the lawyers."