Wike: Atiku May Woo Amaechi As Eze Says 'Blame Tinubu If Amaechi Dumps APC'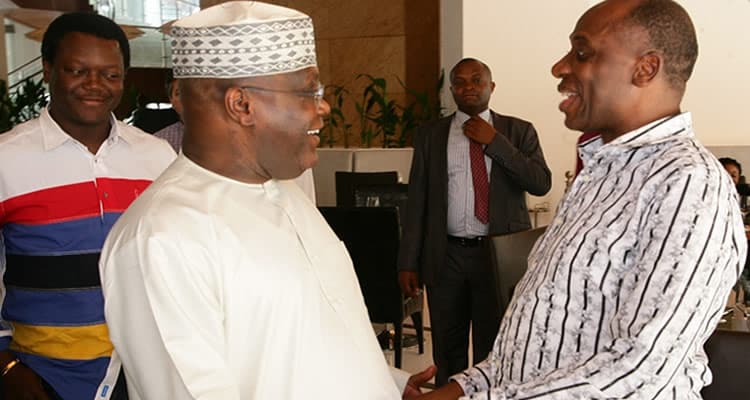 The Rotimi Amaechi-led All Progressives Congress (APC) in Rivers State is reportedly annoyed with the recent romance between allies of the party's presidential candidate, Asiwaju Bola Ahmed Tinubu, and Governor Nyesom Wike of Rivers State.
Naija News reports that Governor Wike has, in recent times, been meeting with some APC chieftains loyal to Tinubu.
The Rivers State Governor had recently invited the Lagos State Governor, Babajide Sanwo-Olu, former Governor Aliyu Wamakko of Sokoto State, and the Speaker of the House of Representatives, Femi Gbajabiamila to inaugurate some projects in his state.
This newspaper reports that Wike had also met with the Chairman of the Nigerian Governors Forum, Kayode Fayemi; Governor Rotimi Akeredolu of Ondo State, and Governor David Umahi of Ebonyi State.
Tinubu Disrespecting Amaechi
Sources close to Amaechi told The PUNCH that the romance between Wike and Tinubu was disrespectful since it was public knowledge that Wike and Amaechi, a former Minister of Transportation, were political foes.
According to the source, the presidential candidate of the Peoples Democratic Party (PDP), Atiku Abubakar might begin to woo Amaechi soon if things remain the same.
An associate of Amaechi said, "The APC leaders have been coming to Rivers State to lobby Wike and make all manner of promises to him. These people never came to Rivers even when the party was having a crisis.
"They should not forget that Amaechi came second in that presidential primary and is still the leader of the APC in Rivers State. Rather than rally around him, they have been romancing Wike. Tinubu is among the sponsors of Magnus Abe who has defected to the SDP.
"Magnus Abe is Tinubu's boy. He is always with Tinubu. Even after joining the SDP, he is still with Tinubu and has promised to work for Tinubu's campaign. Yet they cannot caution him."
'Blame Bola Tinubu'
Also speaking on the possibility of Amaechi leaving the ruling APC, Chukwuemeka Eze, a party chieftain, denies knowledge of Atiku reaching out to Amaechi.
However, he added, "If Amaechi decides to rejoin PDP, it may not be of his own making but due to the acts and attitude of Senator Bola Ahmed Tinubu and managers of his campaign team coupled with the new style of leadership of those currently running APC.
"Let me state unequivocally that the manner and ways Amaechi and his political Team are being neglected both in the formation of the APC Presidential Campaign Council and most of the activities of the party since after the APC Presidential Convention is not the best way to treat a leader with the stature or status of Amaechi. You don't do that.
"To worsen the situation, the manner in which Tinubu and his associates continued to associate with Governor Nyesom Wike of Rivers State without any consultation with Amaechi or any member of his political family is not only sad but very unfortunate."
Eze stated that he will not be shocked if Atiku Abubakar is wooing Amaechi based on the fact that the two leaders are not only very close associates politically but have remained great partners in the progress of this country.