Wike Talks Tough, Speaks On Who Rivers People Will Support In 2023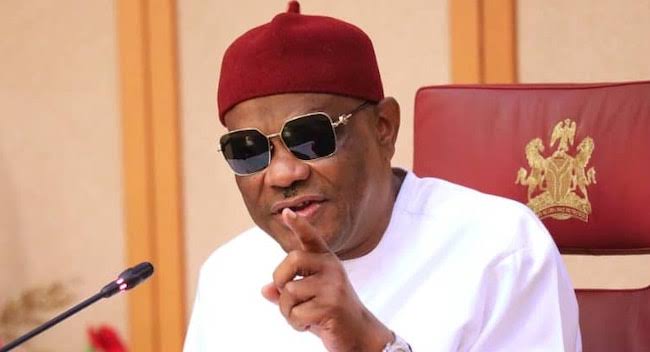 The Governor of Rivers State, Nyesom Wike has stated that anyone who undermines the political value of Rivers State in the 2023 elections will be taught a painful lesson.
Wike made the submission on Monday during the commissioning of the Orochiri -Worukwo (Waterlines junction) flyover bridge in the state.
According to him, the people of the state will not just vote for anybody but will give their votes to the person who will benefit them.
He added that gone are those days when the votes of the people are taken as a 'gift' without giving anything beneficial to the people.
Wike said: "If you say Rivers State does not matter, Rivers State will tell you that you don't also matter at the appropriate time. If you don't like us, we will not like you. If you like us, we will like you.
"Nobody will use our votes for nothing. Our votes will matter and Rivers State must benefit from anybody that we are going to support.
"Politics now is no longer just vote for somebody, it is about what you will do for the people of Rivers State."
I Am Fully In Charge
Speaking further, Governor Wike boasted that no politician can impose anything on Rivers people because of some Abuja connections.
He said those who looted the state treasuries will not be allowed to come back to power in Rivers State.
He said: "My guest from Lagos State (Governor Babajide Sanwo-Olu), let nobody tell you story that anybody will come here to win as governor of Rivers State. It will not happen.
"Those who looted the treasury of the State will not come here to be governor of Rivers State and I have challenged them.
"I am fully in charge. I am not that kind of governor people will go to Abuja and hold meetings against. I am fully in charge here."
Wike, A Good Example
Speaking during the event, Governor Babajide Sanwo-Olu of Lagos State who commissioned the project, praised Gov. Wike for his developmental strides in the state.
He added that other politicians should learn a lesson from Wike on how to work for the good of the people despite political or ideological differences just as the Rivers Governor invited him to commission projects despite belonging to different political parties.
He said: "I would like to specially commend my brother, Governor Wike, for his strong commitment to the delivery of physical infrastructure in Rivers State, a commitment that has been recognized by all and sundry, and which has earned him the appellation of 'Mr. Projects' within and outside Rivers State."