Latest Political News In Nigeria For Today, Monday, 1st August, 2022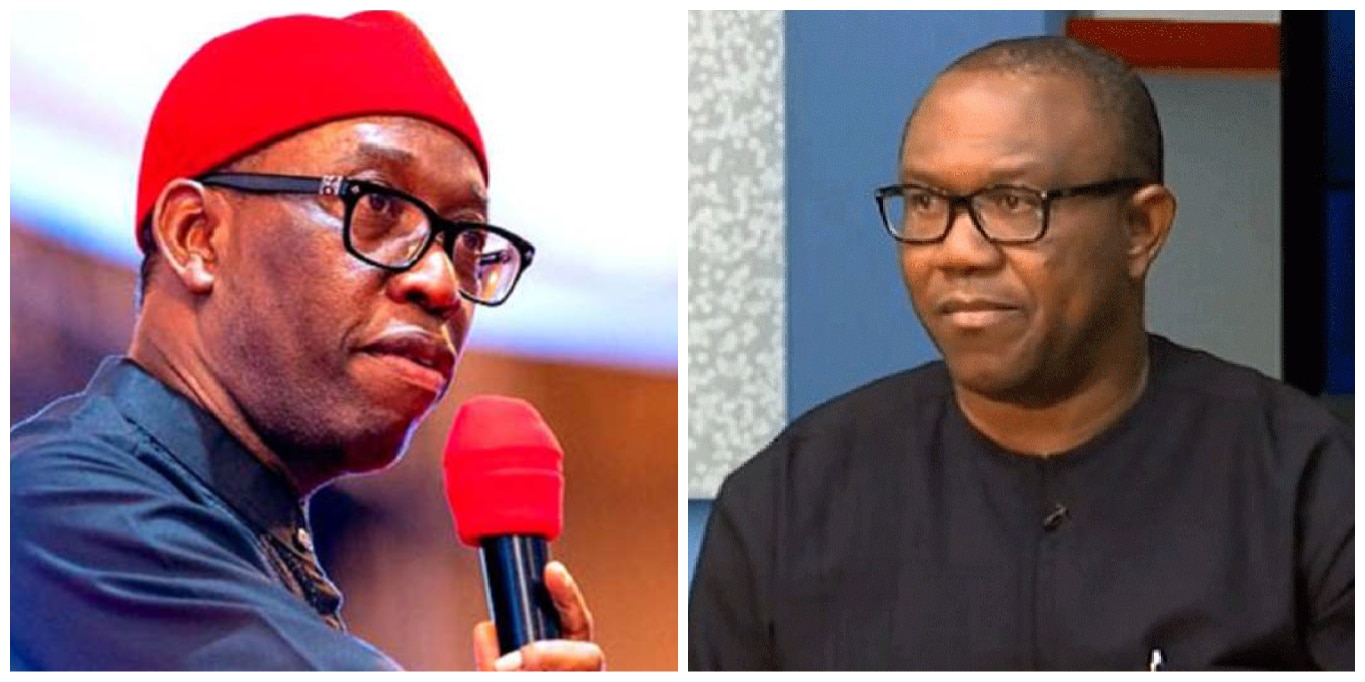 Welcome to the round-up of the latest political news in Nigeria, political gist, highlights of political events, and happenings in Nigeria for today Monday, 1st August 2022.
Read all the major political news, political event highlights, and happenings in Nigeria for today on a single page right here.
2023 Presidency: Peter Obi Has Little Experience, Can't Lead Nigeria – Okowa
Delta State Governor, Ifeanyi Okowa has watered down the administrative experience of Labour Party presidential candidate, Peter Obi, saying he can't lead Nigeria at the moment.
Okowa who is the vice presidential candidate of the Peoples Democratic Party (PDP) said Obi's only experience is as a former Governor in Anambra State is not enough to lead Nigeria.
He stressed that leading a country like Nigeria is hard and hence someone like Obi needed more to occupy the seat of the presidency.
Naija News understands that Okowa made the claims during an interview with BBC pidgin on Monday.
Okowa said he is eager to learn more under PDP presidential candidate, Atiku Abubakar who according to him has a wider experience with the federal government.
2023: Why I Withdrew From Kaduna PDP Gov Primary – Baba-Ahmed
The Vice Presidential Candidate of the Labour Party, Datti Baba-Ahmed, has disclosed why he withdrew from the governorship primary of the Peoples Democratic Party (PDP) in Kaduna State.
Baba-Ahmed said that he withdrew from the governorship primary because of his principle and stance on not bribing delegates for votes.
Naija News reports that the economist state stated this on Monday at a press conference in Abuja, the nation's capital.
The founder of Baze University stated that he did not regret withdrawing from the PDP governorship primary.
It was said that Baba-Ahmed was forced to abandon his governorship ambition because many Kaduna delegates vowed to snub him at the PDP primaries.
The disgruntled PDP delegates had described him as a frugal person who seeks to aspire to political office without proper 'consultation' with them and other party supporters.
2023: PDP Picks Date To Meet Over Wike/Atiku Crisis
The leadership of the Peoples Democratic Party (PDP) is set to meet and discuss the way forward over the lingering crisis in the party.
This was disclosed on Monday by the Chairman of the PDP Board of Trustees, Senator Walid Jibrin.
He said in a statement issued in Kaduna that it has become imperative to meet and chat the way forward on pacifying Rivers State Governor, Nyesom Wike and other aggrieved members of the party following the emergence of Atiku Abubakar as the PDP presidential candidate and the subsequent emergence of Ifeanyi Okowa as his running mate.
Jibrin however said the current observed grievances within the party are being blown out of proportion by some people, pointing out that everything remains under control.
The BoT chairman explained that after their own meeting on Wednesday, they will meet with Wike and other aggrieved members so the PDP can go into the 2023 elections united and ready to win.
'Atiku Supported Muslim-Muslim Ticket In 1993'
A book of the Presidential candidate of the Peoples Democratic Party, Atiku Abubakar, has shown that he might have supported the Muslim/Muslim ticket in 1993.
According to The Cable, the book titled, 'My Life', shows that Atiku supported the presidential ambition of MKO Abiola for a vice-presidential candidate slot.
Abiola, however, dropped Atiku and picked Babagana Kingibe as his running mate in the election.
Atiku in the book claimed that late former president, Umaru Musa Yar'adua, at the time was pissed with the betrayal of Abiola who had dropped Atiku for Kingibe.
Recall that the PDP presidential candidate recently claimed that he refused to pick Bola Tinubu as his running mate in 2007 because he is against a Muslim/Muslim ticket.
A statement which was denied by the presidential candidate of the All Progressives Congress, who claimed Atiku begged him to be his running mate.
2023: Reuben Abati Reacts To Atiku Interview, Tackles Tinubu, Wike, Others
Veteran Nigerian journalist and former presidential aide, Reuben Abati has submitted that ahead of the 2023 presidential elections, the major candidates are not focusing on issues affecting the nation.
He opined that rather than focus on national issues and challenges, the politicians are bent on attacking each other.
Abati made the submission in a lengthy article shared on his Twitter account on Monday where he reacted to the recent interview granted by the Peoples Democratic Party presidential candidate, Atiku Abubakar on Arise TV.
He lamented that most of the top contestants have nothing tangible to offer in terms of solutions to Nigeria's many challenges while the few others that appear like they may have a solution for the challenges have been muscled out of the race.
Abati also lamented the impact of social media glorification of less important issues while major issues are left unattended.
He argued that it is important for those seeking the presidential seat to convince Nigerians and put forward ideas on how to resolve issues facing the country and its people.
2023: Peter Obi's Growing Fortunes Now A Bitter Pill For Some Politicians – Datti Baba-Ahmed
Nigerian economist and former Kaduna North Senator, Datti Baba-Ahmed has said that the growing fortune of the Labour Party (LP) presidential candidate, Peter Obi has suddenly become a bitter pill for some Nigerian politicians.
Baba-Ahmed who was unveiled as LP's vice presidential candidate on July 8 said some politicians have already gone extreme by committing huge amounts of money to create and spread falsehood about him and Obi in the name of politics.
Naija News reports that the former Kaduna North Senator said this while reacting to a series of social media accounts created in his name.
Baba-Ahmed on Monday (today), expressed frustration that he had spent the last 10 years struggling to free himself from the activities of impostors. According to him, the situation worsened immediately after he was unveiled as Obi's running mate in the 2023 election.
Naija News understands that the founder of Baze University raised the alarm while fielding questions from journalists in Abuja today.
The 46-year-old said that his fame particularly came with its consequence, stating that his reputation was at stake over the activities of impostors who had opened several accounts in his name.
2023: What I Plan To Do If Tinubu Becomes President — Jagaban's In-law, Tee Mac Speaks
Former President of the Performing Musicians Employers' Association of Nigeria (PMAN), Tee Mac Omatshola Iseli, has opened up on what he plans to do if the All Progressives Congress, APC, presidential candidate, Bola Ahmed Tinubu becomes president.
Speaking during an interview with Arise TV, the renowned flautist said he would advise and support Tinubu if he eventually becomes Nigeria's president in 2023.
Recall that Naija News earlier reported that Tee Mac who is an in-law to the APC flag bearer stated that Tinubu is 86-year-old and not qualified to become Nigeria's next president.
However, Tee Mac later explained that his comment was taken out of context while also adding that he feels uncomfortable that the statement went viral.
2023: Atiku Makes Fresh Appointment
The 2023 presidential candidate of the Peoples Democratic Party (PDP) and former Vice Vice President of Nigeria, Atiku Abubakar has made a fresh appointment.
Naija News reports Atiku appointed Ms. Lynne Bassey as Special Assistant on Gender Issues and Women Advancement.
The appointment is in furtherance of his commitment to women and youths empowerment, his media adviser, Paul Ibe told our newsroom via a mailed statement on Monday.
The statement noted that "Ms. Bassey is an alumnus of both University of Calabar where she is currently pursuing a Doctorate degree in Development Sociology and the Pan Atlantic University, Lagos Business School.
"Her appointment as Special Assistant will make the fifth to be announced by the PDP presidential candidate in the past few weeks."
2023: US-Based Professor Reveals Atiku's Huge Selling Point Over Tinubu, Peter Obi
A United States-based professor of Medicine, Emeka Umerah, has claimed that the involvement of the Peoples Democratic Party (PDP), presidential candidate, Atiku Abubakar, in preventing former President, Olusegun Obasanjo, from pursuing his alleged third term in office in 2007 will be a major selling point for him, in the 2023 elections.
Umerah made this known in Abuja, on Saturday, while delivering a keynote address at the public declaration of support for the presidential candidate of the PDP by the Diamond Ladies in Politics.
Umerah maintained that Atiku's intervention saved Nigeria from returning to the era of the dark days of military dictatorship and tyrannical rule.
Recalling Atiku's successful efforts to revive the economy under Obasanjo's administration, the US-based professor urged Nigerians to support the PDP candidate in order to address the nation's economic problems and deteriorating security threats.
2023: Tinubu's Presidential Ambition Threatened, As Christians In 19 Northern States Withdraw Support
The presidential bid of the All Progressives Congress (APC) candidate, Bola Tinubu has suffered a major setback as the Christian Association of Nigeria (CAN) in 19 Northern states including Abuja has withdrawn their support.
In a statement issued on Sunday, in Kaduna State, the Secretary-General of the Christain body, Sunday Oibe reiterated their opposition on the Muslim-Muslim ticket of APC.
Giving reasons for their decision, CAN stated that Nigeria has never been divided along religious and ethnic lines.
Oibe also warned politicians to be careful about those parading themselves as members of the organisation from the North, with aim of their monetary gains, stressing that CAN would never engage in any secret dealing with any politician.
Nigerian Under Siege
The Christain body also expressed concern about the unrelenting insecurity that is wreaking havoc throughout the nation, stating that no one is secure in the event that terrorists threaten to kidnap the President and Kaduna State Governor Nasir El-Rufai.
He consequently pleaded with President Muhammadu Buhari to rise to the occasion by carrying out his constitutional duty to safeguard citizens' lives and property as well as defend Nigeria's sovereignty.
2023: Wike, Others Agree To Support Atiku, Vow Not To Dump Party
Governor Nyesom Wike of Rivers State and some Peoples Democratic Party (PDP) chieftains have agreed to work for the success of the party's presidential candidate, Atiku Abubakar, in the 2023 general elections.
Naija News understands that Governor Wike and some of his colleagues who are in his camp have agreed to remain in the party and work for Atiku's victory in the forthcoming election.
This resolution followed a closed-door emergency meeting held at the Rivers State governor's lodge in Abuja on Sunday.
BusinesDay quoted a member of the PDP National Working Committee who spoke on condition of anonymity saying that none of the serving or former governors was leaving the party as was being rumoured.
He said all the party chieftains resolved to work together to address whatever internal crisis exists and support the party's presidential candidate towards victory in the 2023 elections.
2023: The Only Thing God Didn't Give Nigeria Is Good Leaders But That Is About To Change – Peter Obi
The 2023 presidential candidate of the Labour Party (LP), Peter Obi has lamented the challenge of bad leadership that has plagued Nigeria over many years.
Obi pointed out that Nigeria as a country is blessed with many good things including fair weather, fertile soil and others but a major challenge is bad leadership.
He however pointed out that such must not be allowed to continue, adding that Nigeria is a country all its citizens should be proud of if things are done right.
The former Anambra Governor promised to change the narrative, change the tide and set Nigeria on the path to greatness if elected President in 2023.
Naija News reports he made the submissions on Sunday during an online session hosted by the Peter Obi Support Network (POSN).
Obi lamented that the current situation in which Nigeria has found itself is a cumulative effect of bad leadership over many years.
2023: More Than Five Governors, Top Leaders Supporting Peter Obi – LP
The Labour Party has claimed that its presidential candidate, Peter Obi, is been supported by more than five state governors and other national leaders.
The Deputy National Chairman of the party, Bashiru Apapa, stated this during a sensitisation programme for party members at the weekend in Ado Ekiti, the Ekiti State capital.
Apapa, however, said the party will not disclose the names of the governors supporting the former Anambra State Governor.
He claimed that the governors and leaders are supporting Obi and the party because of its popularity, adding that Obi's presidential bid was daily receiving wide support across the country.
Apapa maintained that the Peoples Democratic Party (PDP) and the ruling All Progressives Congress (APC) are afraid of Obi's recent popularity.
That will be all for today. You can read more political and other Nigerian news on Naija News