Tambuwal Meets Obasanjo Behind Closed Doors [Photo]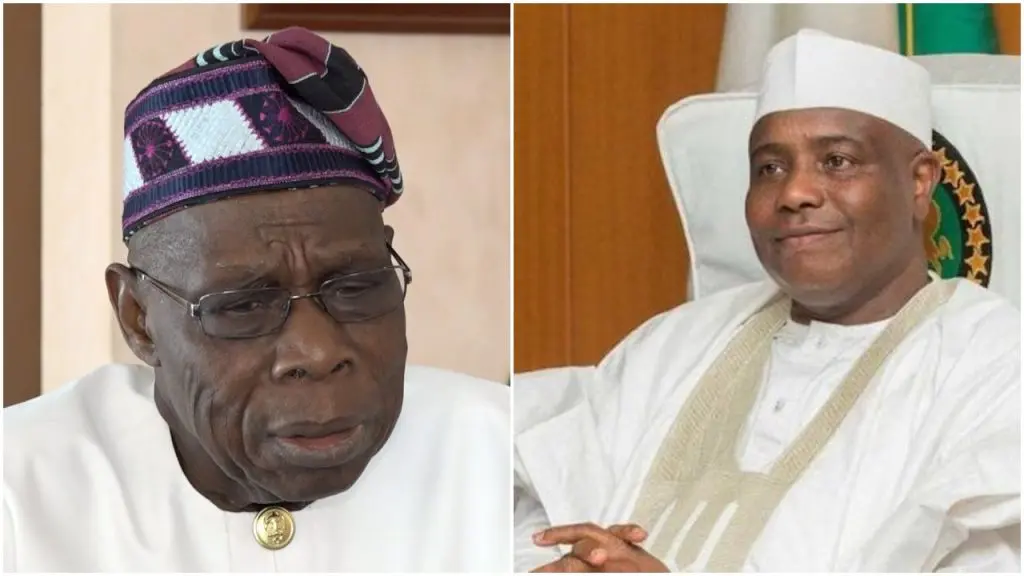 Former President, Olusegun Obasanjo played host to Sokoto State Governor, Aminu Tambuwal at the Olusegun Obasanjo Presidential Library (OOPL) Penthouse on Sunday, Naija News understands.
Full information about the meeting is yet to be made public but reports said the Peoples Democratic Party (PDP) governor met with Obasanjo to discuss national issues.
Special Assistant to Obasanjo on Media, Kehinde Akinyemi confirmed in a terse statement that Tambuwal arrived at the OOPL at about 1:30 pm today with some of his key aides.
The Sokoto State leader reportedly went straight into the meeting with the former President and at about 2:40 pm, they both ended the brief meeting hinged on national issues.
Tambuwal was said to have enjoyed the launch with his entourage and headed for the mosque inside OOPL to observe salat (prayers) before leaving the complex.
2023: Why Wike Fell Out With Tambuwal – Aminu Wali
Elder statesman and former Foreign Affairs Minister Ambassado, Aminu Wali has dismissed claims that Governor Aminu Tambuwal of Sokoto State betrayed his friend, Governor Nyesom Wike.
Naija News reports that Wike and Tambuwal had fallen out after the latter stepped down to support Atiku Abubakar to emerge as the presidential candidate of the Peoples Democratic Party (PDP) at the party's convention.
Tambuwal's decision was seen as a betrayal because Wike supported the Sokoto governor's presidential bid in 2018 against Atiku.
But in an interview with Sunday Sun, Wali said Tambuwal only supported who he thinks has the potential to grab the party's ticket.
He said: "Well, I don't think I will call that a betrayal. Yes, back in 2019, Wike was a champion that led the charge on behalf of Tambuwal. That was done, they were friends.
"But this time around, Tambuwal declared that he wanted to run for the president, and Wike now declared that he also wants to run for the president too.
"So, obviously, they would have to be opposed to each other unless they sit down and agree on how to resolve it, which never happened, and eventually bad blood was created by people from both sides because this is politics, and this is the survival of the fittest. At the end of the day, they fell out."