NSCDC Denies Issuing Memo On Terrorists Plotting To Attack Lagos, Katsina, Others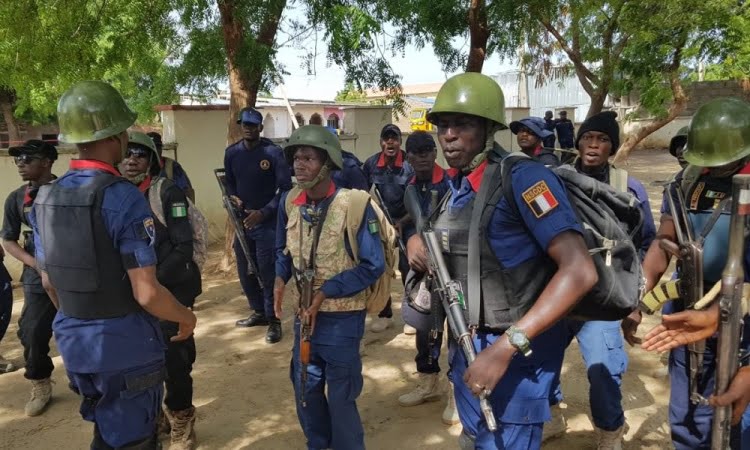 The Nigeria Security and Civil Defence Corps (NSCDC) has denied reports that it issued a memo alerting state commands on terrorists' plans to attack some states and the  Federal Capital Territory.
Naija News reports that a leaked memo from the NSCDC headquarters dated July 25 alerted state commands to the planned attacks on Lagos, Katsina, Zamfara, Kaduna and Kogi States and the FCT.
In the memo, the NSCDC claimed it had received credible intelligence that Boko Haram and Islamic State for West Africa Province (ISWAP) terrorists had amassed dangerous weapons for massive attacks on Katsina, Lagos, FCT, Kaduna, and Zamfara states.
The memo added that the criminals have acquired high-calibre weapons, including Anti-aircraft guns, General Purpose Machine Guns, among others, in preparation for an attack on Katsina State.
The memo said the Corps Commandant-General, Ahmed Abubakar Audi, had directed all state commanders to scale up deployment in strategic places including schools, worship centres and critical national assets in their respective states, to checkmate any possible threats by terrorists.
Naija News understands that the memo titled, 'Re: Heightened plots by terrorists to stage coordinated attacks in parts of the country,' was signed by the Deputy Commandant-General in charge of Operations, DD Mungadi.
Reacting to the development, the spokesperson of the NSCDC, Shola Odumosu, said the leaked memo did not come from the security agency.
"There's no memo in that regard," he told Daily Trust.
In a separate interview with The Punch, a state commandant, who spoke on condition of anonymity, confirmed the leaked memo.
The commandant said the NSCDC and other security agencies had been directed to keep mum over it in order not to cause panic.
He said, ''Yes, it is true that they (headquarters) issued a security alert to us that we should be careful and we should instruct our men to be watchful. We protect the critical infrastructure and places of worship.
"It is also important that we inform the people so they can be vigilant."