Buhari Govt Responsible For Torture Of Our Loved Ones – Families Of Kaduna Train Attack Victims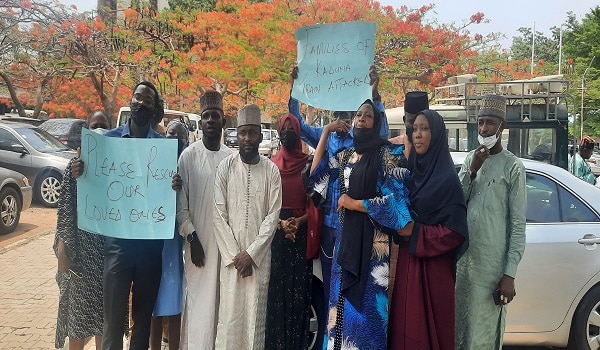 Relatives of the kidnapped victims of the Abuja-Kaduna train attack have held the Federal Government responsible for the torture of their loved ones by their abductors.
Naija News recalls that terrorists over the weekend subjected their victims to severe beating and threatened to kill the remaining passengers in their custody and sell out the others.
The terrorists also threatened to kidnap and kill President Muhammadu Buhari and Governor Nasir El-Rufai of Kaduna State.
The gunmen also vowed to turn the North West region into an abattoir unless the Muhammadu Buhari-led government complied with their demands.
In a chat with Daily Trust, some relatives accused the Federal Government and the military of sabotaging efforts to rescue their loved ones from the terrorists' den.
They claimed that the military operatives last Friday sabotaged their efforts to get their loved ones out of the custody of the terrorists.
The relatives said the military operatives blocked them from gaining access to the forest where the terrorists had asked them to come and pick up the hostages.
An elder brother of one of the victims accused the government and security agencies of scuttling their efforts to get their loved ones out of captivity.
He slammed the military for refusing to grant them access to get back their loved ones and queried why the government had not rescued them after so long in the terrorists' den.
He said the terrorists had begun negotiating directly with relatives and had agreed to release some of the captives, especially one of them who is said to be ill.
The family member further stated that the soldiers had warned that ransom payment was illegal and threatened to arrest them.
"Some of the relatives had approached the meeting point when they came in contact with some soldiers who blocked access to the forests and even threatened to arrest them.
"This is what triggered the latest video by the terrorists, this is why they flogged them to send a message and also threatened to abduct top government officials," he said.
Another relative, whose brother is equally in captivity, said: "It has been 120 days of pain and trauma without any assistance from the government. The government has decided not to rescue our loved ones and now they are sabotaging our efforts to rescue them, what do they want us to do?
"They had asked us to be ready to pay even though they were not specific on how much we were to pay. However, many people have sold their homes, their farms and property in readiness; we were equally prepared to risk our lives to enter the forests to get our loved ones out before the government pulled this stunt. Now the government has triggered them and we are back to square one."