Reactions As Abiola Family Slams David Hundeyin Over Expose On MKO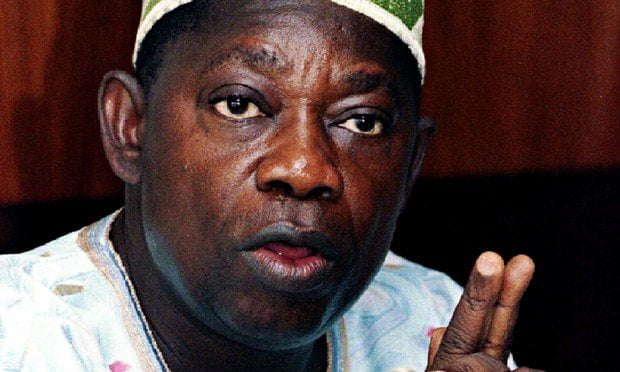 Reactions have trailed the statement released by the family of MKO Abiola in response to a report that their late son was involved in the drug business.
Naija News reports that a Nigerian journalist, David Hundeyin, in an article titled: 'Bola Ahmed Tinubu: From Drug Lord to Presidential Candidate', alleged that Abiola traded in hard drugs while he was alive.
Reacting to the claim in a statement by Yushau Abiola, on behalf of the late MKO's family denied the allegation made by Hundeyin in his report, describing the claim as unfounded.
The family said that the journalist was only a rabble-rouser whose intention was to drag the legacy of their son in the mud. They claimed that Hundeyin has engraved his name in the sand of fake news.
They added that neither the late businessman nor his companies' bank accounts were ever frozen, as erroneously claimed by Hundeyin.
According to the MKO Abiola family, their son was so respected and dignified that he was the only Nigerian to have been so far allowed to enter the United States of America without his international passport.
The family wondered why the journalist would stoop so low to have echoed an unfounded allegation made by John Campbell in Daily Beast, an American tabloid, in 2015.
However, Nigerians have been expressing different opinions on the matter via the micro-blogging platform, Twitter.
Below are some of the reactions.
@ozii_baba wrote: "So obviously the Abiola family knows what many Nigerians do not know about Bola Ahmed Tinubu. They tactically defended their father and disassociated him from Tinubu."
@Calljoboepodeck wrote: "It's no use for the Abiola family to try to whitewash history or choose the history that should be told.
"MKO was a great businessman and philanthropist, but his source of early wealth was a well publicized ITT corruption. Best to keep quiet, and let the public use the news."
@EricEsoimeme wrote: "David Hundeyin's Character assassination of Abiola and Tinubu is an attack on the Yoruba people. I am glad that the family of MKO Abiola have come out to condemn this.
"Bola Ahmed Tinubu will be President of Nigeria come 2023 whether David Hundeyin or other haters like it or not."
@Black_Messiah1 wrote: "Many of us don't know that many families in Nigeria didn't have access to landlines that many people in other countries had in the 60s and 70s due to MKO Abiola and his ITT scam."
@General_Oluchi wrote: "Abiola's family is expected to deny everything written in that article. Denial is usually the first stage."
@ogwumagala wrote: "One thing gullible people don't know is that before an investigative journalist publishes anything, they have more damming proof. I'm sure David just searched the surface. The main piece is being put together that will shake the polity soon. What is a man without vawulence?"
@TheLockTips wrote: "I believe David Hundeyin not Abiola's family because of what I heard in the past & Fela is a god on his own, so I believed everything Baba "70 said & David is on the same track. Thank you."
@drpenking wrote: "The fact that most of these Nigerian news sites did not publish or repost David Hundeyin's work but they are rushing to publish the replies from families, says a lot about journalism in Nigeria."