APC Defeat In Osun Is A Lesson For Us – Abdullahi Adamu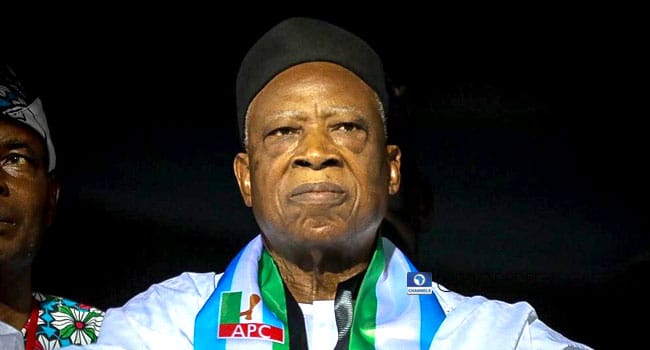 The Chairman of the ruling All Progressives Congress (APC) in Nigeria, Senator Abdullahi Adamu, said the party's defeat in the Osun state governorship election was a test from God.
In an interview with the BBC, Adamu said it is the duty of the members of the party to correct the things they are doing that are wrong in the management of the country's political affairs ahead of the 2023 presidential election.
He said, "This shows that there is work ahead of us. We must see what we can do and change our style."
He added that "we have to look at our heads and see what are the things we are doing in this journey that are right, what is wrong, what needs to be corrected so that we can find out what is the solution to this journey."
However, the leader of the APC said that this fall does not mean that the party will fall in the 2023 general election.
According to him, the party will analyze the factors that made the party win the Osun state election so that it can win the next national election.
Senator Ademola Adeleke of PDP has defeated Governor Gboyega Oyetola of APC, who sought a second term, with a margin of about thirty thousand votes.
This happened despite the fact that Osun state is in the southwest of Nigeria, the area where the presidential candidate of the APC, Bola Ahmed Tinubu came from.
Rift Between Party Members
The national chairman of the APC party also confirmed that the rift between the party's leaders led to its downfall in the Osun election.
He said that it is certain that there is a disagreement between political stalwarts in the APC in Osun state.
He said that these leaders of the APC party in Osun state have denied criticizing and blaming each other.
He confirmed that the leaders of APC in Osun state could not get along with each other even though they are in the same party.
We accept destiny
According to Adamu, it is God who determines who wins or loses in an election
He claimed that the APC would not have been defeated because it was not capable of politics, but because of the events that happened between the members of the party before the elections.
According to him, the party believe in God's power.