Breakdown Of Major Newspapers Headlines From Across Nigeria Today, July 16th, 2022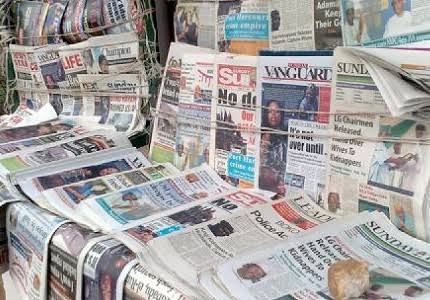 Welcome to Naija News The Breakdown. This are the newspapers headlines for Saturday 16th July, 2022.
PUNCH
Mum, wife, nephew died after bathing with mysterious soap Artisan
Baba Ijeshas name entered in sexual offenders register
Odumeje reacts to church demolition
Homosexuality: How sharia court sentenced septuagenarian, others to death Relatives
Kuje invasion: Military commences investigation, summons soldiers
Vote Oyetola because hes a Muslim Ganduje
PDPs suit against placeholder, baseless, says Pro-Obi group
Well reject Muslim-Muslim ticket, says SOKAPU
Group berates SAN over comments on Atiku
Allow elections in South-East, Ohanaeze begs IPOB
Osun poll: Return match among familiar foes
APC jittery over Onis petition, says support group
PVC: INEC projects 95million voters for 2023 elections
Aggrieved North-West APC members sue party
Delta gov: PDP group decries imposition of candidate
Arewa group knocks Babachir over Muslim-Muslim ticket comments
Expose electoral malpractice, Peterside urges Nigerians
Muslim-Muslim ticket: Northern Christians protest at Aso Rock
No DSS advisory against Muslim-Muslim ticket Presidency
Dont impose gov candidate, Delta groups urge PDP
2023: Clark endorses Omo-Agege for Delta gov
Customs bar terminal operator from portal over debts
NEPC, Imo govt collaborate to boost cocoa exports
FG trains monitors for social development programmes
My Super Eagles crush ' Alex Unusual
Falcons edged us with experience ' Cameroon coach
Saints hand Aribo No. 7 jersey
Iwobi credits Eagles, family for new form
WAFCON: Morocco don't scare us, says Waldrum
Bassey: Eagles most wanted defender
De Laurentis rules out Osimhen sale
Rangers not pleased with bids for Bassey
Ejuke ready for Bundesliga challenge with Hertha
Osimhen scores in Napoli 10-0 win, rejects Newcastle
Bodija inferno destroys N100m goods, fire service probes
Ogun communities decry deadly cult war, clashes claim lives, limbs
Osun poll: Soldiers arrest NURTW boss, others
AIbom police rescue 28 fishermen kidnapped by pirates
Police begin search for Adamawa poly lecturers killers
Lagos, Kano, FCT, Ogun lead telecom subscribers growth
Sickle cell and insecurity
Signs your spouse feels insecure in marriage
What you should know about infertility and depression
Sexual purity can fetch you a lifetime opportunity
Trending low manners
Not making first class wouldve been disappointing UNILAG graduate
Muslim-Muslim ticket: Tinubu ignores critics, submits INEC form
Northern Christiansll teach APC a lesson over Muslim-Muslim ticket Prophet El-Buba
Our status attracts stigma but we desire love Single mums
Why we havent endorsed any presidential candidate Ohanaeze
Disco takeover: BEDC begins contempt proceedings against FG
Popular entertainers convicted of crimes
What Sound Sultan told brother about posthumous album
Why I sponsor Ojude Oba annually Subomi Balogun
Baba Ijesha plans appeal, Princess curses critics
I cant date cheats, manipulators Peju Johnson
Davido battles odds to support uncles gov ambition
Shina Peters, Salawa, Malaika thrill at Sallah
P-Square shines on stage
VANGUARD
Adjogbe tasks Urhobo nation on economic, human capital devt
Eko 2022: Lagos to host biggest NAFEST ever ' Sanwo-olu assures
World PR Day: NIPR president, Sirajo tasks practitioners on nation building
2023: INEC extends CVR till July 31
Soldiers arrest, release Osun NURTW chieftain
Arewa Youths slam Babachir over Muslim-Muslim ticket comment
2023: Court dismisses suit against A'Ibom PDP Congress
I closed land borders for farmers ' Buhari
Muslim-Muslim Ticket: Northern Christians storm Aso Villa, protest Shettima's selection
Osun: Uphold our Code of Conduct and Oath of Neutrality, INEC Chairman writes staff
Primaries: 30 cases filed against APC in Northwest
Muslim-Muslim ticket: Make a change now, Ohanaeze tells APC
Naira rises at investors, exporters window
World Athletics Championships: Nigeria finish 6th in 4x400m mixed relay final
World Athletics Championships: Ekevwo, Ashe into men's 100m semi-final
World Athletics Championships: Nigeria qualify for 4x400m mixed relay final
Music Review: 'Bandana l'ori bi ti 2pac', YBNL Sensations, Fireboy DML & Asake make magic together
Ruger, Buju's war of words: How it all started
Owo Massacre: We won't fail our people again, criminals must be smoked out ' Akeredolu vows
Police arrest school principal, teacher over alleged rape of 14 year-old girl
Kuje Jailbreak: police arrest another fugitive in Katsina
Hajj 2022: 'No successful Hajj without challenges
Less than projected one million Muslims complete Hajj 2022
Timeline of Nollywood actor Baba Ijesha's sexual assault trial
Hard times: We're hungry, dying ' Physically-challenged beggars
Don't link Obi with IPOB agitation, Kalu tells Gumi
Tinubu, Shettima and the Christian vote
Nigeria records high, as 25m infants miss out on life-saving vaccinations
Anambra Int'l Airport: We're engaging France, Germany, others to commence operation ' Commissioner
THISDAY
Adewole Adebayo: We Don't Examine Records in Nigeria, We Examine Titles
Inventa Moves to Strengthen Nigeria-Portugal Business Relationship
Sola Akinsiku Becomes 55th President of Rotary Club of Ikeja
My Okada Ride in Cotonou
I Don't Just Want to Make People Laugh, I Want to Make Them Happy
Kuje Jailbreak: FCTA Gives Illegal Kuje Squatters One-Week Ultimatum
2023: I'm Still Sad with Outcome of APC, PDP Presidential Primaries, Says Umahi
New Medical University: Odinma Nsukka Hails Ugwuanyi
African Voices Changemakers Features Olu of Warri, Elba
Emenike: Struggle for Abia Liberation Remains on Course
FG Gives Free Agric Inputs, Equipment to Edo Small Holder Farmers
Liberian War: Armed Forces to Immortalise Nigerian Military Officers Who Died on Duty
AN OPEN LETTER TO THE EKITI STATE GOVERNOR-ELECT
Soyinka Strikes 88 in Fine Fettle
Atiku, Wike and the PDP
Firm Gets Recognition for Commitment
Firm Unveils app to Support Artisans
Women Charged on Resilience at SheCan Conference
Rite Foods Powers Ojude Oba 2022 Festival
Firms Urged to Imbibe Sound Corporate Culture
Hadiza Buhari Finds Love again
Isoken, The Force of a City
MINI Combines Open-air Driving with Electric Mobility
Toyota Performs World Premiere of All-new Crown Series
Suzuki Motors, Automedics Collaborate to Train Female Auto Technicians
THE SUN
Muslim-Muslim ticket: Northern Christians protest to Buhari
2023: Same-faith ticketll retire APC -Ahamba
Presidency disowns purported DSS report on Tinubus Muslim-Muslim ticket
Its time to end politics of religious sentiment in Nigeria Shettima
Muslim-Muslim ticket: Theres nothing to fear, Tinubus aide assures Christians
Move will further divide us Echefu
My plan for IPOB, other agitators -Peter Obi
Dr Pogu, President, Middle Belt Forum: We of the middle belt are not northerners
Osun guber: Four years after, Oyetola, Adeleke test strength
Yemi Farounbi, Nigerias former Ambassador to The Philippines to APC: Muslim-Muslim ticket insensitive
Ronaldo rejects 250m mega-deal to join Saudi club
WAFCON 2022: Waldrum sets trophy target for Super Falcons
Manchester United complete Eriksen signing
We Are Ready For Morocco Ajibade
Tokyo to host 2025 World Championships
WTT Summer Series: Quadri returns from injury, suffers defeat in Budapest
CAS dismisses appeals by Russian FA, clubs against FIFA, UEFA bans
Nigeria bags 3 medals on Day 1 of 2022 African Track Cycling Championships
Solar-powered estate berths in Lagos
Inflation rises to 18.60% in June, says NBS
Bangladesh to collaborate with NIWA in agricultural productions along waterways
Fuel scarcity, closed runway to cause more flight delays, Nigerian airlines warn
COVID-19, Russia-Ukraine war hampered effectiveness of monetary policy regime Emefiele
Baba Ijesha: Mixed reactions trail conviction
Osinachis death: Court bars journalists from childrens testimony
Kano shuts 26 illegal health-training institutions
NMAs strike enters 3rd week, body vows to sanction erring members
Abuja: Court refuses to vacate order stopping demolition of Kpokpogris home
Glo brings Ogiame Atuwatse 3 to viewers of African Voices Changemakets
Feminist group decries low participation of women in governance
Bagudu swears in 3 High Court Judges, 1 Khadi
Police nab three for robbery in Kwara, recover pistol, ammunition
NBCC appoints AFRIMA president creative and cultural committee chairman
To Mike Awoyinfa at 70: I prayed hard for you when Dimgba died
How CBN is regulating the Fintech digital playing fields in Nigeria
Raising Godly children (1)
Be warned: That online prank may lead you to jail!
How USAID supports development in Ebonyi, other states Sam Onyia, State Team Lead
Good advice from the momohs: Nothing unites couples like mutual love, honour, respect
Sad stories of women battling fertility issues: How we were sexually assaulted by doctors
Nigerians lament, as cost of cooking gas goes through the roof
My wife thinks I work overnight whenever I go for robbery operations
Warning from health experts: Mixing alcohol with energy drinks may harm your heart, liver
Ebi Obara, Founder, Maple Canadian College: What parents should know before sending their wards abroad for studies
Mohammad Sanusi Barkindo (1959-2022)
Ace Comedian, Tunde Tee-A Adewale unveils new project
Presenting Who Wants To Be A Millionaire changed my life -Frank Edoho
I regret marrying wrong man but Onyinye Okafor
Lagos top socialite, Toyin Kolade celebrates
Omamofe & Ego Boyo host fabulous traditional wedding for son
Seun Bankole takes on the global stage
Why I established NextXtar -Qris Ebeatu
Jeriq soars with Billion Dollar Dream
Dopestiks drops Chop Life
GUARDIAN
Controversy over Tinubu-Shettima ticket lingers
Nigeria's mixed relay team in good start, hits final
Organisers seek partners as Nigeria 2022 Ludo Championship begins Monday
Michael Johnson laments over U.S. visa delay for athletes, journalists, others
Brand salutes heroic Super Falcons' World Cup, semifinal qualification
Ronaldo rejects huge 275m offer in Saudi Arabia
Nimrod tasks coaches on volleyball development at grassroots
Sahara Protocol makes on-platform trading easier through multiple networks
Experts establish tech solutions in cooperatives as key driver to poverty eradication
D.K. Olukoya: Garlands for an apostle of 'heaven on earth' at 65
Adebola-Oladejo: Teaching has afforded me the opportunity of grooming children
Infertility: Agonising pains of women living with endometriosis
Back channel schemes that decided Tinubu's running mate
BOVI: Comedy has gone beyond making people laugh to discussing issues
Kizz Daniel Breaks Record As Most Streamed Artist On Boomplay
Propel your wives to succeed, Maiden Alex-Ibru charges men
Remembering El haj Mudashiru Babatunde Tiamiyu Lawal, MON, MFR
INEC to end voter registration July 31, targets 95m voters for 2023 poll
Insecurity: Matawalle canvasses 70 years retirement age for security personnel
Worry as Nigeria's inflation rate rises to 18.60%
LEADERSHIP
Investing In Aluminium Fittings
2 Herdsmen Remanded For Amputating 60 Year Old Father's Wrists
Ansaru Terrorists, Bandits Clash In Kaduna, 2 Locals Killed, Properties Destroyed
NYSC Trust Fund Purposed To Address Infrastructural Deficit
Choice Of Baba Ahmed, Bold Testament Of Readiness By Obi ' Okonkwo
Nigerians Urged To Vote For Tinubu
COVID-19: Japan's Daily Cases Top 100,000 For First Time Since February
2023: Ex-Minister Faults Tinubu's Claim On Naira To Dollar Equivalent
Court Orders Federal Govt To Review Salaries Of Judicial Officers
[EDITORIAL] As Osun People Decide
NEW TELEGRAPH
How I ordered sale of 20 fuel tankers confiscated by Customs 'Buhari
Kuje Jail break: FCTA gives one week ultimatum to illegal squatters
Impeachment: Oyo CJ sets up panel, summons deputy governor
State issues kept Wike, Udom, Makinde away from Osun PDP rally'Aides
Osun election: Results will be on INEC portal before formal announcement ' Okoye
Osun decides: Vote buying, security fears, major concerns
Presidency: We'll decide on candidate to support in due time ' Ohanaeze, PANDEF
Court orders N10m monthly salary for CJN, N9m for S'Court Justices
2 killed as bandits, terrorists exchange gunfire in Kaduna
2023: ACF to engage Atiku, Tinubu, Obi, others
Emefiele: Digital financial services, key to job creation, economic growth
BOI declares N7.89bn dividend payment to shareholders, 75% profit growth
China economy contracts amid zero-Covid policy
Naira falls to 620/$1 at parallel market
Skills Acquisition: ITF has trained 22m Nigerians in 50 years ' Joseph Ari
Duro Ladipo's Son: My dad had magical power, I saw him emit fire from his mouth
Kuje Prison attack: Minister of Defence should have been fired ' Idi Farouk
NNPP has vision for a new Nigeria'Ajadi
Nothing wrong with Muslim-Muslim ticket, says APC chieftain, Umoye
Insecurity: Aregbesola seeks holistic approach to protect correctional centres
For equity, good conscience, power should shift to S'East 'Apostle Ugwu
Nobody is Islamising Nigeria, Aganaba insists
I was made scapegoat in Rohr's sacking 'sunday dare
Stamping doping out of Nigerian league
Man Utd sign free agent Eriksen on three-year deal
Tokyo to host 2025 World Championships
Chelsea end interest in signing Ronaldo
WAFCON 2022: Ajibade shoots Falcons to World Cup
HIFL 2022: UAM Tillers tackle Unilorin Warriors in Round of 16
Amstel Malta Ultra salutes heroic Falcons' World Cup, Semi Final qualification
Okowa pledges to deliver best-ever for Sports Festival
RwandAir FC in Lagos for novelty match
BLUE PRINT
Lewandowski nears Camp Nou as Barcelona, Bayern Munich finalise deal
2023: Security agencies need to step up their game ' Sir Ejiofor
Osun governorship poll: Judgement day as Oyetola, Adeleke return to trenches
Vox pop: 'APC's Muslim-Muslim presidential ticket a non-issue
10th WAFCON title chase: No stopping Super Falcons ' Ajibade
Why weekend NNL matches were put off ' Official
Eriksen seals Manchester United deal
Valencia, Sociedad join race for Super Eagles star
Golf: Tiger Woods misses cut, waves goodbye at open Championship
Accessing impact of Disability Act on Nigerian women
FG, EU present report on maize value-chain
Insecurity: Kuje council, traditional ruler endorse planned demolition
Court dismisses SERAP's suit, INEC extends CVR to July 31
Soludo marks over 1,000 shops for demolition at Ochanja market
Group honours EEDC spokesman Ezeh with 2022 Achievers Award
2023: It's time to end politics of religious sentiment in Nigeria ' Shettima
Anambra Assembly passes 2022 revised appropriation bill of N169.6bn into law
Akwa Ibom police rescue 28 kidnap victims
Julius Berger takes literacy campaign to FCT schools
Pre-season friendlies: Liverpool, Manchester United, Newcastle win
KGIRS vows to hit revenue target, tasks staff on hard work
APC primaries: 17 execos suspend Moro LG chair over delegates' money, anti-party
Oyo CAN calls for 7-day prayers, fasting for peace in Nigeria
Benue IDPs recorded over 80 births in 6 months ' SEMA
Court orders immediate increase in judges' salaries
Customers scamper for safety as fire guts UBA
Lack of requisite skills halts employment opportunities in several sectors ' ITF boss
Hajj 2022: NAHCON begins airlift of 423 Nigerian pilgrims
Bye-poll: Tribunal reserves date for judgement
Bauchi NUJ sensitises members on peaceful co-existence
TRIBUNE
Form community association for combat gully erosion ' ACReSAL Project Coordinator advice affected communities, Leads Consultants For Evaluation of Proposed Erosion, Flood Control Projects Sites
Akinkugbe hails Afolayan 'citation' for winning global laurel
Do good bacteria exist in the body
Smoking at 60 years of age
How I prepare for examination
Why Peter Obi may become President in 2023 by default
ASUU, enough is indeed enough!
Physical punishment: Destructive rods stunt little minds' potential, produce negative impacts
Nigeria's politics and the cudgel of religion
Social vices and the Nigerian education system: The way forward
Gombe SSG laments growing acrimony, distrust among elected, appointed officials, tasks them on unity
Autopsy shows police shot Ohio black man 46 times
Sri Lanka swears in Ranil Wickremesinghe as acting leader after mass protests
UK declares national emergency as record temperatures predicted
SPORTS
We Are Ready For Morocco Ajibade – The Sun
18th World Athletics Championships: Nigeria Qualify For 4x400m Mixed Relay Final – Complete Sports
2022 AWCON: Dare celebrates Falcons' World Cup ticket, urges Team to go for 10th trophy – Peoples Daily
AEW Rampage Results: Fyter Fest Night 2 Winners, Grades, Reaction and Highlights – Bleacher Report
Ajax and Brighton battling to seal deal for 20m-rated Calvin Bassey – Yahoo
Alessia Russo nets brace as five-star England brush aside Northern Ireland – Yahoo
Allyson Felix Wins Bronze in 4×400-Meter Mixed Relay with Team USA in Final Race – Bleacher Report
Amstel Malta Ultra salutes heroic Falcons' World Cup, Semi Final qualification – New Telegraph
Andy Murray goes down fighting in last eight loss at Hall of Fame Open – Yahoo
Andy Murray suffers last-eight defeat to Alexander Bublik at Hall of Fame Open – Yahoo
Arsenal Close To Reaching Agreement With Man City For Zinchenko – Daily Independent
Austria's Nicole Billa books quarter-final with Germany as Norway crash out – Yahoo
Bassey: Eagles most wanted defender – Punch
Bevan French scores Super League record seven tries as Wigan thrash Hull – Yahoo
Brand salutes heroic Super Falcons' World Cup, semifinal qualification – Guardian
Brilliant and unreadable Fran Kirby locks herself into England team – Yahoo
British Open 2022: Fans React to Cameron Smith, Rory McIlroy, Round 2 Leaderboard – Bleacher Report
British Open 2022: Tee Times, Pairings and Predictions for Saturday Schedule – Bleacher Report
Cameron Smith breaks Open record as Tiger Woods makes emotional early exit – Yahoo
Cameron Smith planning Peaky Blinders binge after record-breaking day at Open – Yahoo
Cameron Young roars into lead on Open Championship debut as Tiger Woods struggles – CNN
CAS dismisses appeals by Russian FA, clubs against FIFA, UEFA bans – The Sun
Chain-smoking John Daly remains golf's true rockstar ' and every mother's worst nightmare – Yahoo
Chelsea end interest in signing Ronaldo – New Telegraph
Daryll Neita has 'clear head' for World Championships after UK Athletics dispute – Yahoo
De Laurentis rules out Osimhen sale – Punch
Denmark and Spain to battle it out for right to face England hosts – Yahoo
Derek Jeter on Future in Baseball After Marlins Exit: 'I'm Sure I'll Do Something – Bleacher Report
Dina Asher-Smith: I will hit top form when it really matters – Yahoo
Ejuke ready for Bundesliga challenge with Hertha – Punch
England maintain perfect start as Russo double caps rout of Northern Ireland – Yahoo
England player ratings vs Northern Ireland: Beth Mead stars again and super-sub Alessia Russo impresses – Yahoo
England stay perfect as Austria join Lionesses in Euro 2022 quarter-finals – Yahoo
England v South Africa: Sophia Dunkley ton leads hosts to convincing win in second ODI – BBC
England women v South Africa women: Destructive Dunkley sets up England win – BBC
Euro 2022: England comfortably beat Northern Ireland 5-0 – highlights – BBC
Euro 2022: Fran Kirby puts England 1-0 up against Northern Ireland with a 'sublime' strike – BBC
Euro 2022: Watch all of the angles of Alessia Russo's 'wow goal' against Northern Ireland – BBC
Falcons edged us with experience ' Cameroon coach – Punch
Five-time grand slam champion Maria Sharapova announces birth of first child – Yahoo
Great Britain suffer mixed 4x400m relay disappointment on opening day of Worlds – Yahoo
HIFL 2022: UAM Tillers tackle Unilorin Warriors in Round of 16 – New Telegraph
Hot Takes for Warriors' Jonathan Kuminga, James Wiseman vs. Thunder – Bleacher Report
I was made scapegoat in Rohr's sacking 'sunday dare – New Telegraph
I'm proud to retire with the Raiders' – Incognito bows out from NFL after controversial career – Yahoo
Iwobi credits Eagles, family for new form – Punch
Jamie George warns England to be ready for 'hurt animal' Australia in decider – Yahoo
Jason McCourty Retires After 13 Seasons in NFL; Won Super Bowl with Patriots – Bleacher Report
Kenny Shiels: It would be a massive failure if England do not win Euro 2022 – Yahoo
Kings rookie Keegan Murray shines in Summer League, James Wiseman has his best showing – Yahoo
Lakers' LeBron James on Dislike of Celtics Fans: 'They're Racist as F–k – Bleacher Report
Man Utd sign free agent Eriksen on three-year deal – New Telegraph
Manchester United complete Eriksen signing – The Sun
Marlins shortstop gets tooth knocked out but Miami claims a walk-off victory in the 11th – CNN
Martic beats Bencic to set up Garcia semi-final in Lausanne – Yahoo
Meet the man behind the mullet ' Open leader Cameron Smith shows he can do it his own way – Yahoo
Michael Johnson laments over U.S. visa delay for athletes, journalists, others – Guardian
MLB reaches $185m settlement with minor leagues over wage violations – Yahoo
MLB to Pay $185M in Settlement with Minor League Players over Wage Violations – Bleacher Report