Shettima: All You Need To Know About Tinubu's Running Mate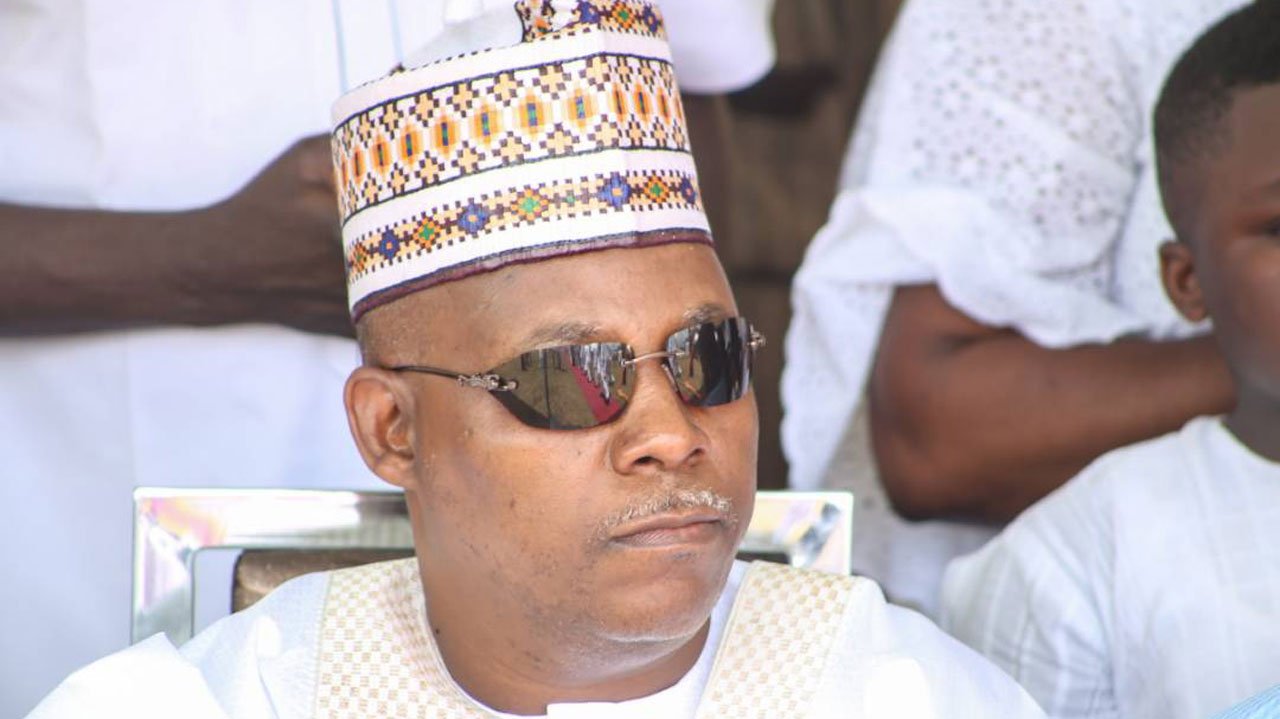 2023 presidential candidate of the All Progressives Congress (APC), Bola Tinubu, on Sunday, confirmed former Governor of Borno State, Senator Kashim Shettima as his running mate.
Seven months to this time, Nigerians will decide on the next person to champion the affairs of the country after President Muhammadu Buhari, whose tenure is about to elapse, Naija News reports.
Having emerged as the winner of the APC's presidential primary held in June 2022 after polling over 1,271 votes to defeat his closest rivals, ex-minister Rotimi Amaechi and Vice President Yemi Osinbajo, Tinubu kickstarted consulting to pick an ideal running mate.
The presidential hopeful later submitted the name of Alhaji Kabiru Masari to the Independent National Electoral Commission (INEC) weeks ago, as a placeholder capacity for the 2023 general elections.
However, in other to beat INEC's deadline for submission of names for all presidential candidates and running mate, Tinubu on Sunday announced Senator Shettima as his standard running mate.
Who is Kashim Shettima? – See below a few things to know about Tinubu's running mate
Kashim Ibrahim Shettima (his full name) is a 55-year-old politician born in Maiduguri
Shettima obtained his First School Leaving Certificate from Lamisula Primary School in Maiduguri in 1978 after which he proceeded to Government Community Secondary School, Biu in the Southern part of Borno State from 1978 to 1980. He was transferred to Government Science Secondary School, Potiskum where he completed his secondary education in 1983.
Shettima furthered his education at the University of Maiduguri where he obtained his First Degree, BSc. Agricultural Economics in 1989.
Having completed his one-year compulsory exercise with the National Youths Service Corps, NYSC, at the defunct Nigerian Agricultural Cooperative Bank, Calabar, capital of Cross River State in South-South, Nigeria in 1990, Shettima went on to obtain his master's degree (MSc) in Agricultural Economics in 1991 at the University of Ibadan in Southwest, Nigeria.
Shettima lectured at the University of Maiduguri at the Department of Agricultural Economics and was in education from 1991 to 1993.
In 1993, Shettima joined the banking sector and was employed by (now defunct) Commercial Bank of Africa Limited as head of accounts unit at the bank's office in Ikeja, Lagos State.
Fast forward to his political career, Shettima having served as a commissioner under five ministries, became the Governor of Borno State from 2011 to 2019.
Shettima went on to win the ticket for Borno Central senatorial seat in 2019 and currently occupy the same position.
More to know:
Naija News understands that it was under Governor Shettima's administration that Nigeria recorded one of its worst abductions in Borno State.
Recall that on April 14, 2014, Boko Haram insurgents invaded the Government Girls Secondary School in Chibok, and abducted more than 200 students under President Goodluck Ebele Jonathan's administration.
Shettima at the time was about to end his first term in office as the governor of the state.
However, in April 2017, the then Chairman of the Christian Association of Nigeria (CAN) in Borno State, Bishop Naga Williams Mohammed gave a good remark about Governor Shettima following insurgent attacks on the Christian communities in the state.
Naija News understands that Mohammed hails from Gwoza, a popular community in the state once occupied by Boko Haram terrorists.
In one of the interviews with Daily Trust in 2017, Mohammed who doubles then as the Secretary of Northern Bishops Incorporated narrated how Shettima's government responded to the Christian communities after terrorists destroyed their worship centres and rendered many homeless.
Mohammed when asked to speak on responses of successive Muslim-dominated governments to insurgency, among other issues in the state said: "We had a meeting with Governor Shettima on how his administration can come in to assist in rebuilding some of these churches. Last year when he visited Gwoza, Askira-Uba and Chibok Local Government areas for on-the-spot assessment post-destruction. He saw how some of these churches were burnt down to ashes. Some churches were not only razed down but pulled down completely as if they never existed.
"During Shettima's visit to these areas, he released N100 million for the rebuilding of some of these churches. A committee was set up for that purpose, I am a member of the committee headed by a permanent secretary, Mr Justus Zare as Chairman, and I am happy to inform you that presently we have used that money to rebuild 11 key churches which our people are now using. I am surprised to hear some people saying why don't we rebuild all the churches. We cannot do that because there are many places that are still unsafe.
"You cannot expect us to go to the Christian communities on the fringes of Sambisa Forest to start rebuilding their destroyed churches.
"After the initial N100m, Shettima graciously approved another N105 million for the second phase of rebuilding destroyed churches. This was made possible when CAN officials led by my humble self had a meeting with him on Thursday, March 30, 2017, at the Government House. So far, the governor has released N210 million for the reconstruction of our burnt churches. He also approved the sponsorship of all our local pastors to participate in the 2017 Jerusalem Pilgrimage.
"Shettima's government has given us the opportunity to run a collective programme on television and radio. We work with the Jama'atul Nasril Islam to sensitize our people on peaceful coexistence.
"They trust us, we trust them. In fact, it may interest you to know that there was a time I was asked to lead in a Christian prayer at a gathering where we were only three Christians in the midst of many Muslims. This government is bringing harmony between religious leaders through fairness," Mohammed shared with Daily Trust.