Nigerians React As ISWAP Claims Responsibilty For Kuje Prison Attack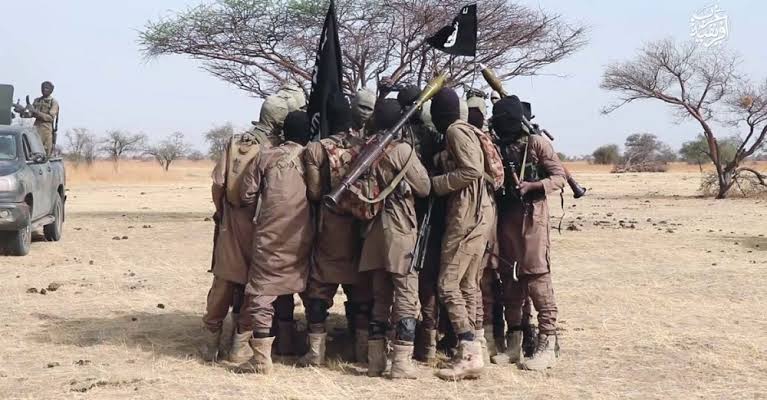 Nigerians have expressed worry over the statement by the Islamic State in West Africa Province (ISWAP) that it was responsible for the attack on Kuje Prison in the Federal Capital Territory.
Naija News had earlier reported that terrorists on Tuesday night invaded the facility and released not less than 600 prisoners.
The terrorist sect, in a video released on Wednesday night, showed some of its men shooting their way into the federal facility.
The 38 seconds video released by the terrorist group showed fighters marching in groups while vehicles and buildings were on fire.
According to DailyTrust, an elderly man dressed in native attire also joined the young men who were shouting on top of their voices.
Reacting, some Nigerians took to the micro-blogging platform Twitter to express their views regarding the sad development.
Below are some of the reactions.
ISWAP has claimed responsibility for the Kuje prison break.

With the thousands of Boko Haram members released into the wild, made possible by their members in govt, the next couple of months are going to be endless kiIIings and abductions.

Be careful out there.#AriseNews

— Mr. Okhai (@Head_of_Kings) July 6, 2022
ISWAP release a video of the Kuje prison attack. The entire Armed Forces have been compromised. We are officially doomed.https://t.co/u6wOI4ioxP

— Aji Bussu Onye Mpiawa azụ 🇨🇮 (@AfamDeluxo) July 6, 2022
Sharing that video of Kuje prison attack is more like you are giving ISWAP the attention they needed, they wanted you to know they carried out that attack sharing it will make them get more sympathizers. I don't need to explain 'psychology' implication of that act.

— Mobilisingnigerians™ (@mobilisingniger) July 6, 2022
To show how poor our intelligence system is, Defence Minister said it's Boko Haram that carried out the attack in Kuje facility but ISWAP is claiming responsibility and even releasing the video to debunk the Minister. It's really that bad

— Eyo Etim (@meeteyo) July 6, 2022
This is beyond alarming. BH or ISWAP/ISIS? Logistics capability for such an attack would lean more towards ISWAP. Whichever way, Abuja and environs now under red alert 🚨 https://t.co/GGPLsvxYGg

— Dr. Ayoade Alakija (@yodifiji) July 6, 2022
I have seen videos released by ISWAP.
Verified!!!

So i can tell you this account from @fisayosoyombo is real!!!

but President Buhari is in Senegal sha! pic.twitter.com/jYeugHM8FH

— Opeyemi Akinyode (@OpeyemiAkinyod2) July 6, 2022
For anyone still voting based on primitive factors of ethnicity, religion, political parties etc., and not based on competence, capacity, courage, credibility, just know that Boko Haram, ISWAP, UGM, Bandits, Kidnappers and all Criminals, do not care if you're from North or South.

— #Enugu #CityOnAHill #Kunie!💫 (@julietkego) July 6, 2022
https://twitter.com/Pellentini/status/1544939136729202689
Can the media stop calling them "bandits"? Because ISWAP is an extension of ISIS, and they are not bandits; they are terrorists! They just published a video of how they broke into Kuje prison. Check below:

— A Distinguished Field Marshal ⚡️ (@General_Oluchi) July 6, 2022
So after all these years, Boko Haram/ISWAP have technically entered Abuja?

I know the spin doctors & wizard ring of Adesina, Bashir & Garba Shehu will be spinning themselves mad in a cocoon right now. Those guys can even say why hell is really a pleasurable place. #ImWalkingAway

— Roy Biakpara (Emir of Clan of Diasporans) 🇺🇦 (@RBiakpara) July 6, 2022