2023: Nigerians React As Otedola Prays For Tinubu To Become President Of Nigeria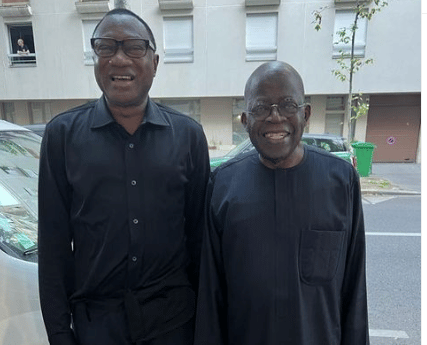 Nigerian billionaire and business mogul Femi Otedola is currently trending on the microblogging platform Twitter after declaring support for All Progressives Congress (APC) presidential candidate Bola Tinubu.
Otedola paid a visit to Tinubu in Paris, France and shared a photo of them on social media.
While expressing excitement over the visit, the businessman, described Tinubu as his great friend and prayed that God would grant him, his heart's desire of becoming the president of Nigeria.
He tweeted: "I am always excited visiting my Great Friend Asiwaju Ahmed Bola Tinubu @officialABAT May God grant him his heart's desire in becoming the President of this great Nation …F.Ote"
This sparked huge reactions online as many Nigerians expressed their displeasure over it, stating that Otedola is supporting Tinubu for his business gain.
@Nkemchor_ wrote: "The elite do not want a working society because they are a direct beneficiary of the rot in the system. More Elites like Femi Otedola will still support Tinubu but then the masses who feel the suffering and the pain are more. This fight for Good Governance is for our survival"
@Remmymoses wrote: "U & ur family can afford to live outside this country if things get worse, most Nigerians can't. But remember the words of Awólọ́wọ̀, "the children of the poor u failed to train [educate] will never let ur children have peace". Keep reinforcing failure. #Otedola"
@abduljoe11 wrote: "Dear Femi Otedola, If Tinubu did you any favours in the past go and repay him however way you wish. But you see that prayer you prayed for tinubu to be Nigeria's next president? It will not stand !Nigerians are suffering and dying. We want a better country"
@Sophiaservice53 wrote: "No Femi Otedola during #owomassacre no Femi Otedola during #EndSars #lekkimassaccre no Femi Otedola during #ASUU strike, then all of a sudden Femi Otedola is praying Tinubu becomes the next president while his children goes abroad?? Las las na one vote Femi get"
@ManLikeIcey wrote: "Business men like Dangote, Otedola and others will not support the best Presidential candidate but the one they're close to and will favour their business. Elites are beneficiaries of the corrupt system. At the end of the day, they're entitled to their constitutional right."
@Mz_Tosyn wrote: "Last week was Yoruba nollyhood today is Femi Otedola Red biro will finish before September"
@SWAGGzeezz wrote: "Otedola is from Lagos, his father who's is a friend to Tinubu is also the former governor of Lagos. They have good connections and they are friends. You're expecting him not to support Tinubu but rather support Obi? Why are you guys acting like we are not living in the real world"
@DanWilsss wrote: "OTEDOLA HAS HIS AIM FOR THE DECLARATION. HIS BUSINESS THRIVES IN THE PRESENCE OF A FAILED GOVERNMENT, THATS WHY HE'S GONNA MAKE SURE THE CYCLE CONTINUES. AT THE END OF THE DAY, HE HAS NOTHING TO LOSE. HIS FAMILY CAN DECIDE TO PERMANENTLY RELOCATE ABROAD"