Flashback: How I Got A Job In National Oil And Mobil – Tinubu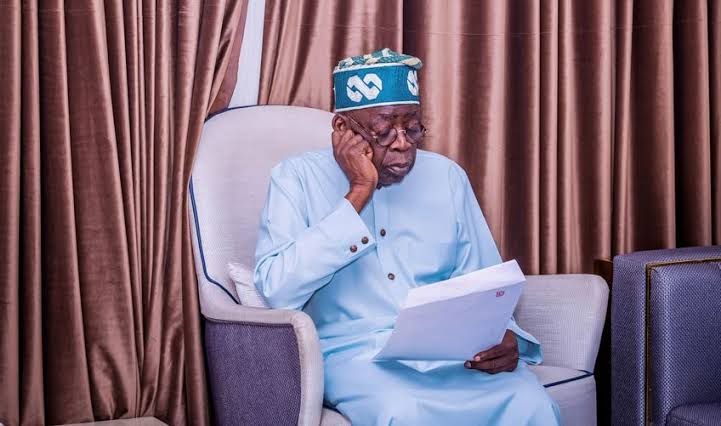 The 2023 presidential candidate of the All Progressives Congress (APC), Bola Tinubu, has revealed how he got a job with National Oil and Mobil.
The former Lagos State Governor explained that he got the National Oil job after leaving a company known as Deloitte and Touche in the United States of America.
Tinubu stated that his travelling around the world got him a job opportunity with the oil company, which became the Joint Venture Partner of Aramco Oil in Saudi Arabia.
"At Deloitte and Touche, I chose to travel more than 80 per cent of my working years there. And that is because if a staff chose to travel, he would make more money because he would get travel allowances. That got me into National Oil, which became the Joint Venture Partner of Aramco Oil in Saudi Arabia, which is like the Nigerian National Petroleum Corporation."
Naija News reports Tinubu made the revelation as part of an interview with TheNews, a special publication titled 'Asiwaju: Untold Story of The Leader' which was initially published in 2021 during his 69th birthday celebrations.
The APC Presidential candidate disclosed that he left National Oil and later joined Mobil in 1988 when the oil company was recruiting for its Corporate Audit Department in the United Kingdom office.
Tinubu stated that he was recruited in the UK and deployed to Nigeria to work as an auditor in Mobil Nigeria and later became the general auditor there.
He said: "At National Oil, where we set up the accounting system and at Aramco, I was head of an assignment to liquidate the Chicago Savings and Loans Bank. The assignment was meant to take me to different places, so as to gain exposure to financial services. It is usually a hostile environment when a company is under receivership and is going into liquidation. But I managed the assignment very well. A member of Deloitte's management, who was a principal partner on the assignment, was very happy.
"At the end of that assignment, I was recalled to the National Oil, which had a joint venture with other oil companies. The United States government had a 300-page new leasing legislation at the time. This is one moment of my life I can never forget. The leasing regulation was a subject of tax implication and analysis, and as an auditing firm, we had to interpret the new leasing legislation for compliance. And that was necessary before the client could sign the balance sheet.
"It was a tough debate. The managers would sit; we had to make presentations and contributions. My colleagues and I did two aspects of the lease and I happened to be right. When the partners and all of them came and they did the computation, it gave the company an additional opportunity to wiggle and improve its bottom line. So one of National Oil's assistant controllers left there to work at Mobil. On getting there, he began to persuade me to come over to Mobil.
"The period coincided with my vacation in Nigeria and during that time, the late Bade Ojora and other people I knew were in Mobil. They saw me in Lagos and we discussed generally. At the time, I met someone who was in the finance department at my uncle's place and the man thought I was a wizard when we were talking.
"I later went to Ibadan to see an uncle of mine. But before then, my return ticket had been stolen in Lagos. I had a credit card. I was lamenting the loss, when Uncle Bade said he would help in getting me a passport. Then he asked if I would work for Mobil, but I said I was not ready to stay in Nigeria because I was very successful and earning a good salary. He asked me to leave my telephone number so he could get in touch with me afterwards.
"In 1985/1986, I was determined to return to Nigeria someday. I contemplated returning to Deloitte and at the same time coming back to Nigeria. I was discriminated against. I quit GTE. I decided to go back to Deloitte. While I was still contemplating, Deloitte was relocating from New York and I looked forward to how I would be given extra allowances and bonuses.
"At that time also, Mobil was recruiting for its Corporate Audit Department in the United Kingdom office. I went there and I got the offer. The rest is history."