Insecurity: We're Not Terrorists Like You, IPOB Replies Ansaru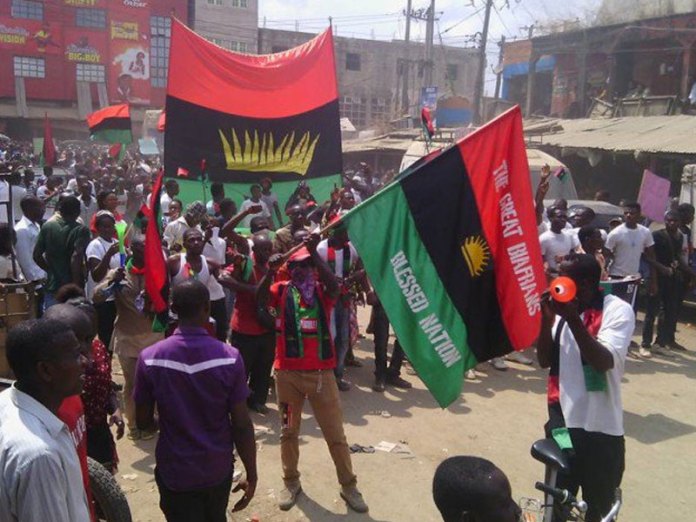 The Indigenous People of Biafra (IPOB) has refuted the statement credited to Ansaru terror group that it is responsible for the killing of Muslims in the South East.
Naija News earlier reported that the terrorist group had in a 16-minute video accused IPOB of killing a pregnant Muslim woman, Harira Jubril, and her four children in Anambra State.
Ansaru also alleged that the unknown gunmen terrorising the South-East were IPOB members, adding that the group was being supported to kill Muslims.
But in a swift response by its spokesman, Emma Powerful, IPOB said it will not drag issue with a terrorist group like Ansaru who only represent terrorism.
Speaking with SaharaReporters on Thursday, Powerful said IPOB is a separatist group and not a terror group, stressing that the world knows the difference between the two groups.
He said, "We cannot respond to a terrorist organisation like Ansaru. It's on record that IPOB is not responsible for the numerous attacks and killings. We are also not unknown gunmen and don't know anything about them.
"Ansaru terrorist group can continue ranting and putting accusing fingers at IPOB, all Nigerians know that Biafra agitation is peaceful and will remain peaceful until Biafra freedom is totally achieved.
"Ansaru terrorists putting accusing fingers on IPOB means that they are uninformed and clueless as what they know is to kill innocent Nigerians and claiming they are protecting Muslims. Muslims do not represent terrorism but these lunatics claimed to be working for the good of Muslims.
"IPOB won't drag issue with terrorists because the world knows the difference between IPOB and Ansaru, they only represent terrorism and the whole world is aware of this."
Powerful also denied the involvement of IPOB and ESN in the killing of a pregnant woman and her four children in Anambra State, saying that the two groups represent peace and freedom
The IPOB spokesman said the Ansaru terror group has failed because its sponsors are preparing to leave the seats of power. He also warned the terrorist group to stay clear of the South East region.
He said: "The killing of Muslim pregnant woman and children was not done by IPOB and ESN operatives because that is not our work, we represent peace and freedom, not like the demented fellows like Ansaru and other terrorists in the Northern region.
"It is important to realise that they have failed because their sponsors are preparing to leave the seats of power and Fulani will regret why they put themselves into this kind of a mess because Nigeria is not for them alone.
"They can only do that their nonsense activities in the North, if they bring it here, they will regret being a member of Ansaru or any terrorist group, we are waiting for them."