'Peter Obi Cannot Go To The Gutters' – Charly Boy Expresses Fear For Labour Party Candidate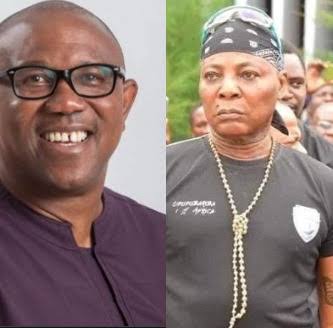 Veteran Nigerian entertainer, Charles Oputa, popularly known as Charly boy, has shared his thoughts on the presidential bid of Labour Party's presidential flag bearer Peter Obi.
Speaking in a chat with Legit.ng, the maverick entertainer expressed his fear for Obi's candidacy, insisting that he is going up against very powerful forces.
He, however, stated that while Obi might be the answer to Nigerian's problem he was not certain if the Labour Party candidate would be able to handle the manipulation and treachery from the other candidates.
His words: "Peter Obi is not going to win or lose based on structure or no structure. We are the structure. And our frustration has gotten to a point where we are united in frustration, hunger, and hopelessness. So that alone is a structure on its own.
"But I'm just saying that Obi cannot be treacherous like these people who have Nigeria in their pockets, these people who believe that they are master planners and know how to manipulate things and kill people if they don't have their way.
"Obi cannot go to the gutters with them. He cannot fight these evil people. This is the reason I'm afraid for him. Not because of structure. Forget that one.
"The things that will happen will surprise you and me. This is because if God is going to answer the prayers of poverty-stricken Nigerians at the end of the day, he will definitely use someone.
"It will confuse you and me right now, but what I'm sure will come out of the whole thing is a revolution of some sort, whether it's a mental or physical one."
Speaking further, Nigeria's Areafada condemned those who are of the opinion that ruling Nigeria is their birth right.
"How can someone who is supposed to be running for a national election to take charge of the entire country be parading himself with "it's my turn?'' That's their only language. What is that? That is the 'bull-sh*t' we have been hearing. Then the other one is neither here nor there. That's the same bull-sh*t.
"What's even making Peter Obi to look like 'God-sent' is because his talk is different. He is not forming. He is just being himself. And because Nigerians have had enough of people talking anyhow as if we are all fools, Obi is making sense. This one goes beyond Peter Obi. But I'm worried on his behalf because the people he is dealing with are all evil. They are demonic, and he is not evil or demonic. So how can he match them in that aspect?
"But I'm hoping that people who have taken up his fight and using his name will see him as God-sent and remain dogged in their fight. When God wants to do something, he will do it through someone."