Nigerians React As Tinubu's Running Mate Declares Original Certificates Missing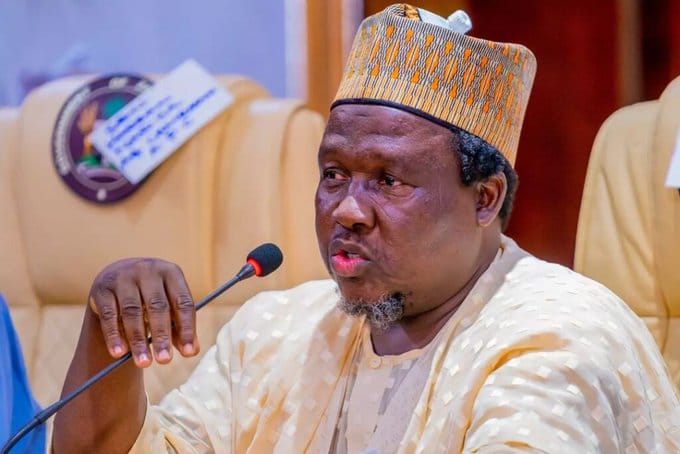 Reactions have trailed the statement made by the Vice Presidential candidate of the All Progressives Congress, Kabiru Masari, that his original certificates were missing.
Masari had informed the Independent National Electoral Commission (INEC) of the development amidst controversy around the Primary and Secondary School Certificates of the party's presidential candidate, Bola Tinubu.
In the credentials submitted to the electoral body, Masari attached an affidavit that he has lost his primary and secondary schools certificates.
Masari noted that he attended Masari Primary school, Katsina State between 1972-78 and obtained a Grade 2 Certificate from Katsina Teachers College in 1982 and a Higher Certificate in 1995.
The APC vice presidential candidate, in the affidavit, claimed that while on transit within Wuse, Area FCT, Abuja he lost his Certificate of Occupancy for land located in GRA, Katsina along with his Grade 2 Certificate from Katsina Teachers College and First Leaving Primary School Certificate issued by Masari Primary School, Katsina State, (1972-78).
Following the disclosure, some Nigerians took to the micro-blogging platform, Twitter to express their reactions to the issue.
See some of the reactions below.
If you have no educational qualifications just come let's join APC.

It's the party for lost certificate owners.

Masari just joined. 🤣🤣🤣

— I K E M E F U N A 🇺🇸 (@kayfuna) June 28, 2022
APC Presidential Candidate and the VP Candidate don't have school certificates. I mean both Tinubu and his VP, Masari don't have any school certificate to present to INEC. This is by far the worst joint ticket in the history of Nigeria. These two must not happen to Nigeria.

— A.C. Godswill (Second Account) (@Amuchie_Godswil) June 29, 2022
Emilokan: No primary, secondary schools attended. Running mate: Primary, secondary schools' certificates missing. Meanwhile, the same guys are promising Nigerians "better education!"https://t.co/TPJzH4Qc8j

— Chuks Akunna (@akunnachux) June 29, 2022
Tinubu and his placeholder deputy Masari cannot acount or present a single qualifying document to INEC.

They are now making mockery of Nigerians.

— DEMAGOGUE PhD.💘senior advocat (@von_Bismack) June 28, 2022
Tinubu's running mate, Masari has told INEC that all his own certificates were also stolen in 2021 while on transit. Why is APC doing this to Nigerians?

— DR.PENKING™ 🇦🇺🇳🇬 #PeterObi (@drpenking) June 28, 2022
I lost all my certificates. Tinubu's placeholder Masari tells INEC.

Presidential & Vice presidential candidates have no certificate. Omo APC don't rate Nigerians.

— Shehu Gazali Sadiq (@Shehusky) June 28, 2022
BREAKING:

APC presidential candidate, Tinubu's running mate (placeholder)- Kabir Ibrahim Masari told INEC he lost all my school certificates…

No wonder ASUU can go or strike for all they care.

— Hon. Otaigbe Imadegbelo (@Imudia_se2) June 28, 2022
APC Presidential Candidate and the VP Candidate don't have school certificates. I mean both Tinubu and his VP, Masari don't have any school certificate to present to INEC. This is by far the worst joint ticket in the history of Nigeria. These two must not happen to Nigeria.

— Premier (@SodiqTade) June 28, 2022
I've lost all my school certificates, Tinubu's placeholder Masari tells INEC.
The APC VP placeholder, Kabir Ibrahim Masari, told INEC that he had misplaced vital documents including his Grade II from Teachers College and his primary school certificate. It's Korty thing. pic.twitter.com/xnSdDwr0o2

— President Eniola Daniel (@UnlimitedEniola) June 28, 2022
Tinubu and his placeholder deputy Masari cannot present a single qualifying document to INEC. Presidential candidate doesn't have, vice doesn't have. Just look at both of them. Imagine these siamese men in a room with someone like Donald Trump. 😂 pic.twitter.com/LoUTviXQKk

— Ajị bussu onye mpiawa azu🏳️‍🌈 (@AfamDeluxo) June 28, 2022
Masari can't find his original certificate too😂😂
Orisirisi in this country.

— Si.miie❤️❤️ (@daraanjorin) June 29, 2022