Ministers, Top Party Chieftains Implicated In AGF's Alleged N80bn Fraud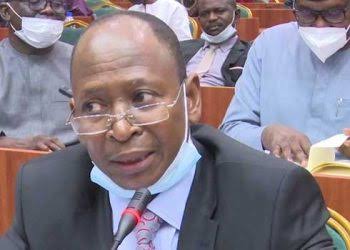 The involvement of some ministers and political party chieftains in the cabinet of President Muhammadu Buhari have been touted in the N80 billion alleged fraud perpetrated by the suspended Accountant-General of the Federation (AGF), Idris Ahmed.
It would be recalled that the AGF, Ahmed Idris, was suspended from office after his arrest in May following the discovery of the alleged N80 billion fraud by the Economic and Financial Crimes Commission.
Speaking about the fraud case, a top source in the anti-graft agency told The Whistler on Wednesday that high-level government officials  have been implicated in the fraud.
He added that the commission was still investigating the case due to the number of these top officials involved.
He said, "Some minister, senators, party big wigs, serving and former governors are involved. It is a clique. I can't mention names now but as they are invited the names shall be mentioned for all to know. However, ex-governor of Zamfara State Abdulaziz Yari is one of the accomplices.
"There are more than the mentioned people involved, so everybody involved has to be investigated in order to establish their level of involvement. Also, we don't want to go to court without having enough evidence to win the case.
"So, we are preparing to go to court soon. There might however be a political solution as per the intervention of powerful forces. This can be agreed upon based on the caveat that all parties involved must return every Kobo they took."