Nigerians React As Pete Edochie Meets Yul's Second Wife, Judy's Son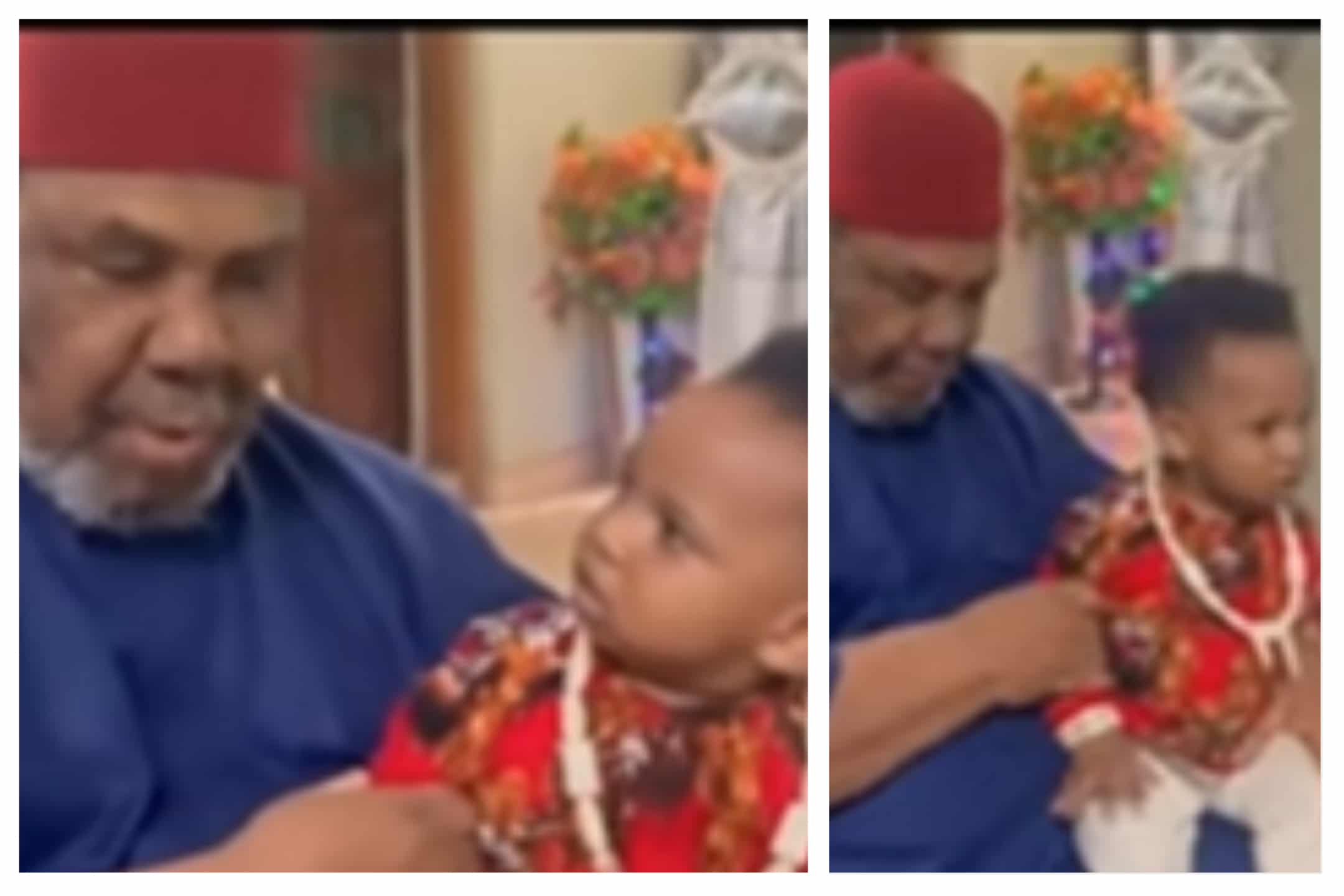 The heartwarming video of veteran Nollywood actor, Pete Edochie praying for his grandson, Star Dike Edochie, has drawn reactions on social media.
Recall that Nollywood star, Yul Edochie had sparked controversy on 27th April 2022 after announcing his new baby with his side chick turned second wife, Judy Austin.
His brother had revealed the family stance on the actor's decision, with no reaction from the actor's father.
However, in the recent video that surfaced online captured the moment Pete Edochie met with the 1-year-old grandson, who paid a visit to his grandfather's house with his parents.
In the video, Pete Edochie was captured holding onto his grandson, praying for him.
The actor was also heard at the background communicating with his dad.
Sharing the video, he wrote; "Star Dike meets his grandfather Chief Pete Edochie, Ebubedike."
Watch the video below;
prizzygat wrote; "Blood na blood ooo. Grandpa duties😍 the child is innocent Las Las. It is well with May Edochie. May God heal her broken heart"
foodzone.abuja wrote; "Grandpa and so many unspoken words in this matter. His face says it all."
sandypreneur wrote; "You people must film everything 🤦🤦 Wahala for who marry into Nollywood family o"
magicstitch_by wrote; "His face Doesn't look bright, but he must accept grandchild still his blood regardless"
One exquisite_emjay wrote; "Yul, the attention seeker.. Did you expect your Dad to reject your Son? What exactly are you trying to prove with this video of yours? Smh4yul"
innobeem wrote; "Yul just let this him papa down finish for ground. Papa when everybody dey respect chai"
clear_stretch_marks wrote; "Not from his mind because his not in support of this. It's all showing on his face."
bee_gorah wrote; "Why is the boy looking at him like that?"
asa_lechez wrote; "Grandpa is just doing his duty ,no joy still🤷‍♀️plus this video isn't necessary."
onyi_bekee13 wrote; "Him face no bright o"