Details Of Adamu's Meeting With APC Senators Emerge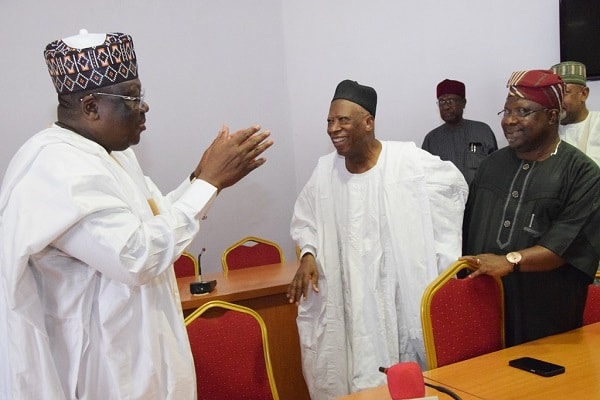 The details of the meeting between the National Chairman of the All Progressive Congress (APC), Senator Abdullahi Adamu and the Senators elected on the platform have emerged.
Naija News earlier reported that Adamu had arrived at the National Assembly complex some minutes past 2 pm for a crucial meeting with the lawmakers.
The APC national chairman then moved to the office of the Senate President, Ahmed Lawan, for a brief meeting before the general meeting.
Speaking with reporters after the meeting, Lawan described the recent defection of lawmakers from the APC to other parties as unfortunate and worrisome.
Adamu said that defection is not only happening in the APC but the problems facing the ruling party are exaggerated before the public.
The APC chairman, however, expressed hope that the issue of defection would stop, adding that the issue will be tackled since he has met with the senators.
He said: "It is an unfortunate development when it happens but this is a season for all manner of behaviours in the political space in the country and Nigeria is not an exception.
"In every election year, this kind of thing gives cause for stakeholders to sneeze and Nigeria is not an exception so is the APC is not an exception. I don't care about what is happening in other parties, my focus is on the APC.
"But we all know that the occurrence is not only happening in the APC. It's happening across other political parties too. And because we are the ruling party, our problems are exaggerated before the public."
Adamu stated that the APC leadership is worried about the defection of lawmakers elected on the platform to other leading parties, hence the meeting with the APC Senators.
He said: "There is no responsible leader that would not be worried when he loses one member not to talk of two. At the moment we are faced with the stark reality of our problems.
"My colleagues and I at the National Working Committee of the APC are committed to face the problem squarely and see the problem as solvable.
"We are in politics, I don't know what would happen tomorrow, and nobody does."
The APC national chairman stated that there is no guarantee that the issue of injustice being raised by some of the defectors would be addressed.
He said: "You have no guarantee, we are in politics for God's sake.
"I don't know what will happen tomorrow. How can I foresee tomorrow? I am not the person who saw tomorrow."