Defection: Nigerians React As Peter Obi Meets Wike In Port Harcourt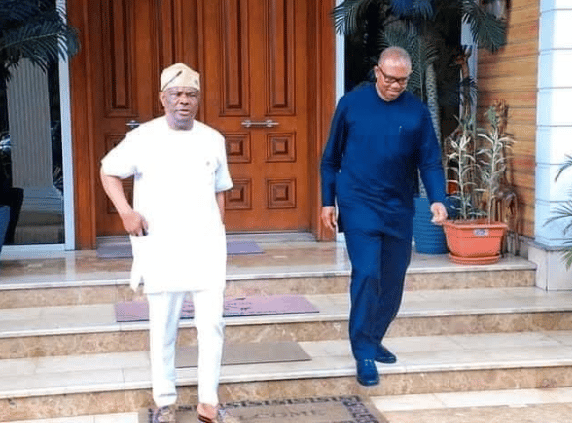 Nigerians have reacted to the meeting between the presidential candidate of the Labour Party, Peter Obi, and Rivers State Governor, Nyesom Wike on Wednesday in Port-Harcourt, Rivers State.
Naija News earlier reported that Obi paid a visit to Wike at his private residence in Port Harcourt before meeting behind closed doors.
There have been speculations that the Rivers governor is plotting an exit from the Peoples Democratic Party (PDP) since former Vice President Atiku Abubakar decided to pick the Governor of Delta State, Ifeanyi Okowa as his running mate.
Naija News reports that the Rivers governor has remained silent on the affairs of the party that has seen two of his allies, a former minister of Niger Delta, Godsday Orubebe and an ex-commissioner in Edo State, Kassim Afegbua dump the PDP on Tuesday.
It is however unclear why the former Anambra governor visited the Rivers state governor but it may be connected to the 2023 Presidential elections.
Following the development, some netizens have taken to social media to react to the meeting between the two leaders.
See some of the reactions.
Why are some people crying about Peter Obi and Wike's meeting?

It was just a meeting. Nobody said Wike will leave PDP. Nobody wants him in the Labour party. These strategists are so funny.

— Everest (@novieverest) June 22, 2022
For those who blamed Nyesom Wike and SE PDP Governors for being responsible for Peter Obi's exit from the PDP and who saw that as a basis to attack the PDP, I am anxious to see how they intend to interpret the meeting between Peter Obi and Nyesom Wike.

— MistUka (@OrjiUka) June 22, 2022
Wike meets with Peter Obi…
Let me say this once and for all, Peter Obi is that Unifier Atiku thinks he is… pic.twitter.com/usrHTjDTVN

— Dr. Bashir Mohammed Aliyu (@bashir_muhm) June 22, 2022
Good afternoon Peter Obi FC
The eagle has landed in PH for closed door meeting with Gov of Rivers state Nyseom Wike.. Politics without bitterness pic.twitter.com/R7QiLbN6jW

— Chief Ikukuoma (@IkukuomaC) June 22, 2022
Peter Obi visiting Wike shows how he will carry everyone along when he wins the general election come 2023. This is a leader in whom I'm well pleased.

👀
Atiku, David Hundeyin, #sabinus, INEC pic.twitter.com/f9CVxCqQKO

— Tobi Akinbo J. (@realTobiAkinbo) June 22, 2022
Few days to the primaries, Wike went to Awka & told Anambra delegates nt to waste their votes on Peter Obi that he cannot win a single vote at the primaries

Weeks after, he seems to have learnt his lessons after, the Obi hurricane is spreading

Is he trying to be OBIDIENT now? pic.twitter.com/50WeLrZK54

— Adenekan Mayowa (@Mayorspeaks) June 22, 2022
If you're looking for a "Unifier", it's Peter Obi, after everything Wike did to him and said about him both on national TV and in his state, Anambra, Peter Obi has gone to visit him in Port Harcourt.

PETER OBI IS RARE!!! pic.twitter.com/H9rLFYKp3T

— SportsDokita (Odogwu ☝️) (@Sports_Doctor2) June 22, 2022
If anyone of you think Wike is leaving PDP because of Peter Obi's visit please Think Again. https://t.co/DkfsEg7sFS

— Shina Balogun (@Govshina) June 22, 2022
Breaking:

Peter Obi was at the Port Harcourt residence of Gov. Wike earlier today, the duo had closed door meeting that lasted several hours.

Interesting times ahead. pic.twitter.com/0IE9UUoTkN

— D-angel (@dykamadi) June 22, 2022
Looking at this picture can we say:

Wike never looks Weak.

He would not rob Peter to pay paul. pic.twitter.com/vCAk8ZDist

— Chuma Nnoli (@ChumaNnoli) June 22, 2022
People who blocked and insulted themselves because of Wike and Peter Obi before the PDP primary should start retracting…

We told you guys to stop using emotions to engage in politics. pic.twitter.com/LSaqiZ8qgz

— Hon. Otaigbe Imadegbelo (@Imudia_se2) June 22, 2022