Buhari Speaks On Emefiele's Interest In Running For President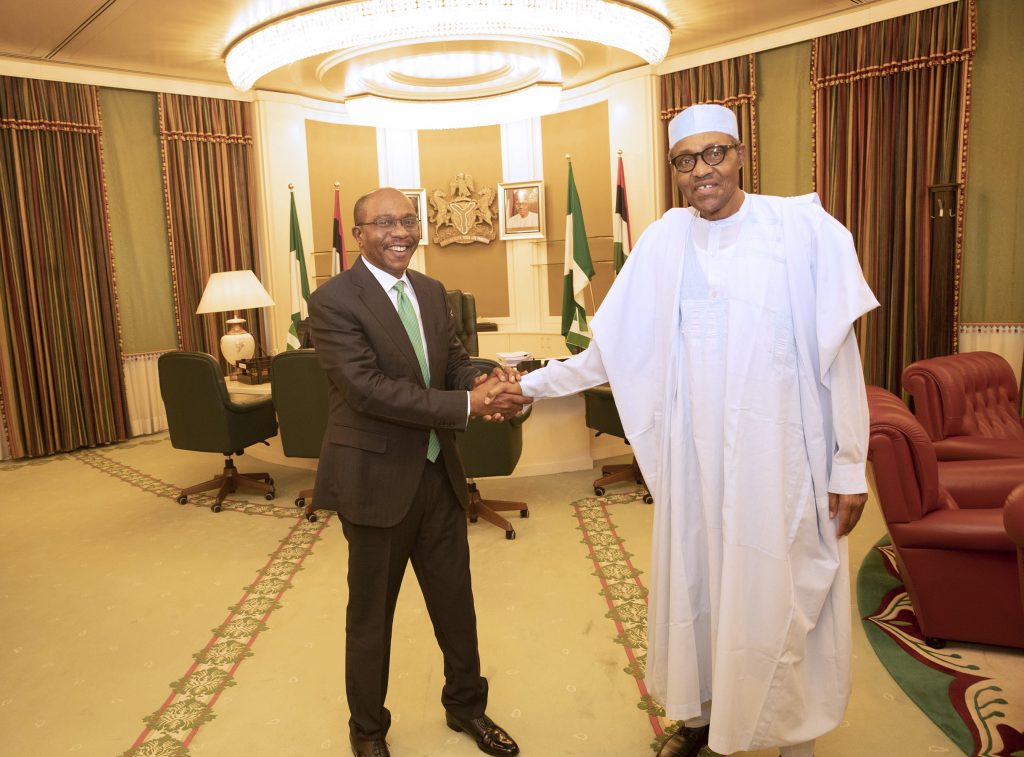 President Muhammadu Buhari has spoken on the botched presidential ambition of the Governor of the Central Bank of Nigeria (CBN), Godwin Emefiele.
Recall that three support groups had bought the presidential nomination and expression of interest forms of the All Progressives Congress (APC) for Emefiele.
The CBN Governor who had earlier rejected the gesture, approached the Federal High Court in Abuja, to ask for a ruling allowing him to contest the 2023 presidency and retain his job at the CBN.
Emefirle, however, withdrew from the presidential race after President Buhari ordered all heads of agencies, departments, parastatals and ambassadors with political ambitions to turn in their resignations.
In a recent interview with Bloomberg, the Nigerian leader said he was bothered about the debate on Emefiele's interest in running for president.
Buhari expressed a vote of confidence in the CBN Governor, adding that the apex bank's independence was not in any doubt.
The President said the CBN's board of directors are to determine whether Emefiele's actions have fallen foul of the laws of the apex bank.
President Buhari, however, said Emefiele is following an alternative economic model that puts people at the heart of policy, stressing that Nigeria should be free to adopt it.
He said "CBN's board of directors are to determine whether a CBN Governor's actions have fallen foul of the laws.
"The CBN governor is appointed by the President. But this appointment is subject to confirmation by the Nigerian Senate.
"Ultimately, it will be for the CBN's board of directors to determine whether a CBN governor's actions have fallen foul of the laws in place to ensure he can most effectively carry out his duties.
"There is a subtext to the accusations against Emefiele and his involvement in politics, stating that the conventional model has failed in the past.
"Because the governor follows a model outside of the economic orthodoxy, he is labelled political. But the orthodoxy has proved wrong time and again.
"Instead, the governor is following an alternative economic model that puts people at the heart of policy. Nigeria should be free to choose its development model and how to construct our economy, so it functions for Nigerians."