'Why Tinubu Is Yet To Send Prefered List Of Running Mate To Buhari For Approval'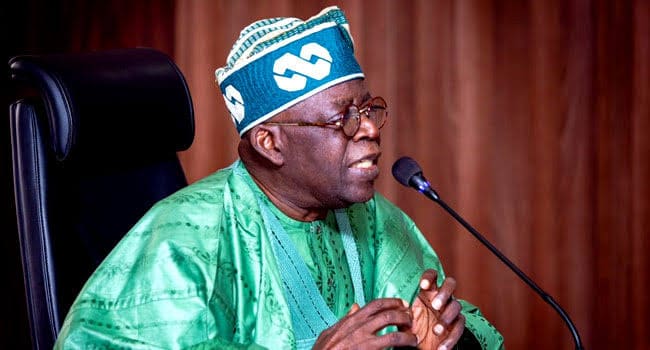 The All Progressives Congress (APC) Presidential candidate, Bola Tinubu, is yet to present the names of preferred nominees as his running mate to President Muhammadu Buhari for deliberation and ratification.
Naija News recalls that Tinubu submitted the name of Kabiru Masari as a placeholder pending when a substantive Vice Presidential candidate will be unveiled.
In a chat with ThisDay, an APC chieftain said Tinubu has yet to submit a list of his preferred persons to the President for approval because he is waiting for the result of a poll he commissioned on his best choice of running mate.
He disclosed that the APC Presidential candidate commissioned the poll to give a more clinical and scientific approach to selecting a running mate.
The source added that Tinubu delayed his choice of running mate for further consultation on the best winning strategy, while at the same time factoring in the country's cultural and religious diversities.
The APC chieftain stated that it was a normal custom that Tinubu should send the list of his preferred nominees to the party and the President must equally buy into the choice.
According to the source, Tinubu was hoping to use the running mate issue to appease the President in order to get his support, which had not been forthcoming.
He said: "If I know Tinubu very well and this is not saying he had discussed this with me, he had commissioned a poll on this matter and awaiting the result. The Tinubu that I know does not take a major political decision or risk without first weighing his options and he does this by conducting a poll that will guide him and set a clear path to follow.
"However, it does not mean he could not ignore the poll in some instances, but he would like to throw his cards open and on the table first, from which he would decide which way to go. So, the delay you are seeing is most probably, because the poll result is not out yet and he wants to be guided near-accurately by it.
"No one knows yet when he would give the name of a substantive running mate or submit those shortlisted to the president. If it is true he is waiting on a poll, we don't know when the result would be ready. But all we can say is that, soon, this phase will be over for the campaign to take centre stage.
"As you also know, the president has not really been supportive of Tinubu's ambition. By allowing him to pick his running, he is hoping to force the president's hand to fully back his presidential quest."
The APC chieftain added that Buhari has also shared his concern with the Tinubu on the dangers of a Muslim-Muslim ticket, saying the current political situation in the country does not support the idea.
He said, "It's not true the president has stayed away from the matter of the party's running mate. It was a different thing in 2015, when there was no president or ruling party. Now, all that the president is doing is waiting for him (Tinubu) to present his short list of candidates."