#EkitiDecides2022: APC, SDP Gov Candidates, Oyebanji, Segun Oni Votes – [Photos]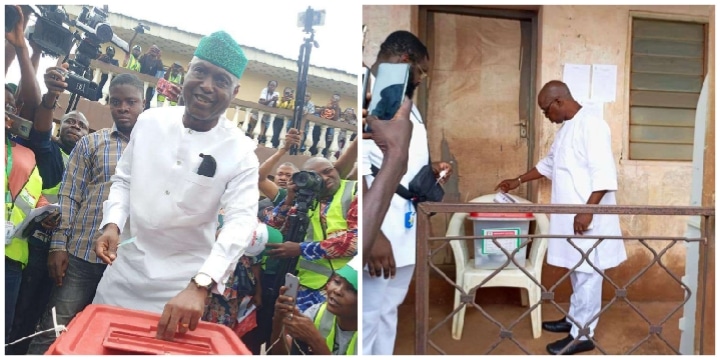 The Governorship candidate of the Ekiti State chapter of the All Progressives Congress, Biodun Oyebanji has cast his vote in the ongoing election in the state.
The governorship hopeful was said to have arrived at polling Unit 003, Ward 6, Ikogosi, in Ekiti West Local Government Area earlier this morning and immediately cast his vote.
This is coming a few minutes after his counterpart from the Social Democratic Party, Segun Oni, cast his vote at Ward 2, Unit 6 in Ifaki-Ekiti, Naija News understands.
The politicians are hoping to succeed the incumbent Governor, Kayode Fayemi who has also participated in the voting process this morning.
Meanwhile, a visually impaired electorate reportedly caused a stir in the Saturday's Ekiti Governorship election at Fajuyi House, Polling unit 007, over her inability to identify the logo of her preferred party which led to a shouting march among agents of political parties.
The voter was said to have informed the INEC's ad-hoc staff at the polling unit that she could not see the logo of the party she wanted to vote for.
The choice of who would assist her almost led to a fight among party agents as the INEC officials rejected those that volunteered to assist the woman.
While the matter was being resolved, voting was temporarily put on hold until her son, simply identified as Yemi later showed up and was allowed to assist her cast her vote.