Breakdown Of Major Newspapers Headlines From Across Nigeria Today, June 17th, 2022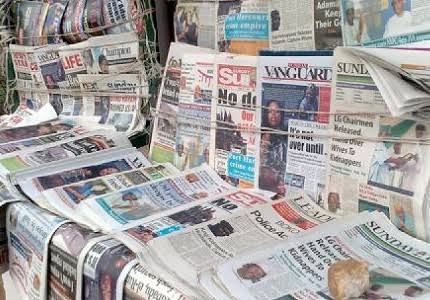 Welcome to Naija News The Breakdown. This are the newspapers headlines for Friday 17th June, 2022.
PUNCH
Mompha trial: Defendant absent, court adjourns till June 22
Wikes camp fumes, warns PDP as Atiku picks Okowa running mate
Sterling Banks profit rose by 20% in 2021
Insurance company records N10.5bn gross premium
Exporters got N3.5bn rebates from RT200 FX Emefiele
High inflation, fiscal deficit to persist in Nigeria, says IMF
ICAN to attract youths to accounting profession
17,000 policemen, soldiers deployed as Ekiti elects gov Saturday
PFN adopts voter card Sunday
Wema Bank organises SME webinar on energy efficiency
Enugu Diocese disowns Mbaka, says utterances divisive
Owo attack: Reps want raid on forest reserves, victims get mass burial today
Police have failed Nigerians, Akeredolu declares
ASUU sues Obaseki over ban on unions activities
Integrated transport system, key to job creation Fashola
Tribunal sacks three doctors, suspends 12 in three years
Secure release of abducted citizens, Reps tell Buhari
I dropped my presidential ambition in South-West interest Amosun
Ekiti 2022: INEC, police should ensure hitch-free poll
Multiple taxes weaken consumer spending, experts tell FG
Lagos govt introduces online payment for cash transfer beneficiaries
Reelect me for good governance to continue, Oyetola charges Osun electorate
Lagos ADC gov candidate Doherty vows public service reform
Eko Atlantic City: Africas real estate hub where square metre costs $1,720
FG plans 17 airports concession, to unbundle aviation regulations
Nigerians spent N3.25tn on airtime, data, others in 2021 NCC
AIB begins probe of Overland aircrafts midair engine fire
Abuja queues: Buhari approves freight rate increase for fuel transporters
UPDATED: Terminal operator partners firm to recycle used tyres
Boost for Nigerian basketball as NBA announces partnership with KFC
Day of the African Child: Interrogating policies, programmes on internally displaced children
Yobe deputy gov loses two children in auto crash
A laggard civil service and our enduring bureaucratic challenge
Buharis successors, their dreams and the reality (1)
Muslim-Muslim ticket: Sense or nonsense
Lagos school wins science competition
NGO seeks sign language inclusion in school syllabus
Group decries neglect of extra-curricular activities in schools
Rivers PDP gov aspirant Dagogo still in detention, aide cries out
Reunion: Why I claimed to be married during BBNaija Tega
VANGUARD
Right of way issues, major obstacle to Calabar-Itu road construction 'FG
Plateau Southern/Central forum seeks unity among citizens
Eke Ukwu Owerri: Indigenes kick as IMSG defy court order on reconstruction
NACOMYO calls on Muslims to obtain PVC, wants govt to improve on education budget
Police Academy lacks adequate manpower, sewage system, road network, Commandant tells Buhari
2023 Delta gov: Court adjourns case against Oborevwori till June 22
IGP presents N57m cheques to families of A'Ibom fallen heroes
Plying route of politics, what women must know ' Stakeholders
2023: PFN declares Operation show your PVC
Gov Zulum unveils 2 oxygen plants, 23 solar powered refrigerators, 2 hospitals donated by Japanese Govt
Building cash to digital infrastructure for old, new generations is our strength ' CEO, Nibox
How 44-year-old Zakka beat the odds to chair Nigeria's largest local council
IGP presents N57million cheques to families of Akwa Ibom fallen heroes
Enugu Catholic Diocese condemns 'stingy man' statement, cautions Mbaka from making provocative prophecies
Jubilation as NUC grants Enugu govt license to establish State University of Medical and Applied Sciences (SUMAS), Igbo-Eno
Katsina: Customs records decline in smuggling activities, generate N104m
40 power ministry's officials bag award for exceptional services
Tears flow as the aide of beheaded Anambra lawmaker is buried
We will mobilize our members against Muslim -Muslim ticket ' PFN
Atiku has answers to Nigeria's challenges ' Okowa
PDP: How Okowa upstaged Wike to clinch VP slot
Okowa fully qualified as PDP presidential running mate ' Screening Committee
2023 Running mate: Wike, a strong party man, 'll not be disappointed ' Okowa
2022: It 'll be great loss to Ekiti if Oni loses ' SDP Leaders
Ex-Atiku's aide, Afegbua to resign from PDP over choice of running mate
Okowa represents S-East/ S-South in Atiku's Presidency ' Nwobodo
Oil theft bleeding Nigerian economy ' Akpatason
CBN, NPA, Customs team up to tackle constraints in non-oil exports
Beyonce reveals new album title, release date
NUC grants Enugu govt license to establish University of Medical Sciences
2022 Hajj: Oyo set to airlift 779 pilgrims today
Ganduje visits Hajj House, requests for more hajj slots
Running mate as albatross: Tinubu's choice
Belgium, too arrogant to apologise for killing 15 million Congolese
THE PROSPECTS OF LABOUR
Experts brainstorm on tackling diabetes among Nigerians
Engaging religious leaders, game changer for Nigeria's HIV response ' CCN President, Fubara-Manuel
Late Nkanga's family in court over biography as claimants demand N1.2bn
Ikoyi building collapse: Lagos begins a-90 day pull down of Gerrard's skyscrapers
Civil Society Group, RULAAC regrets Police brutality rising in Nigeria despite new NPF Act
Man in court for allegedly impersonating military personnel, threat to life
How pastor defrauded 88-year-woman N36.5m
Court remands man for allegedly stabbing girlfriend multiple times
[Photos] How 37 passengers, crew survived Overland aircraft fire
Owo Massacre: Tales of sorrow, tears and blood on Pentecost Day
THISDAY
Experts Call for Inter-agency Collaboration to Improve Safety at Nations Airports
Lagos Harps on Leveraging Digitalization to Enhance Productivity
Construction of Second Runway at Abuja Airport
Shareholders Laud Sterling Bank 2021 Performance, Approve N0.10 Dividend
Standard Chartered Partners UNECA, FSD to Accelerate Sustainability Commitment in Africa
CBN, Banks and Multifunctional Uses Of eNaira
Wema Bank Holds SME Webinar on Energy Efficiency
Normalcy after COVID-19 Protocol Hiccups
Abia State and the Cycle of Underdevelopment
Qatar Announces Record Profit of $ 1.54bn for 2021-2022
Ethiopian Honored with APEX Regional Passenger Choice Awards 2022
Purple Merges Subsidiaries for Growth Acceleration
Microsoft to Enhance Food Security in Africa with Digital Transformation
Oracle, Wificombat Partner to Educate Nigerian Students, Teachers
NIGERIA AND ELECTION PALAVER
BUHARI AND THE NIGERIAN CONUNDRUM
Baker Industries Launches as a PropTech Company to Proffer Solutions to Real Estate Challenges
APC: Anatomy of a Prediction
Tricky choice of running mate
Arsenal Ready to Break Bank for Osimhen, Offer Napoli 100m
Iwobis Everton Handed Tough Premier League Opener
Lagos Maiden Super-Four Sitting-Volleyball Championship Berths Today
Pogba Agrees Four-year Contract with Juventus
Egypt Sack Head Coach Galal After Just Three Games
Trailing Rivers by 10 points, Plateau still nursing title hopes
MTN Junior Tennis League Championship Debuts June 21
Team Ikorodu Wins 2022 Checkers Cup
UEFA Plots Money-spinning Mini Champions League in USA
Osimhen Keeps Arsenal, Others Waiting Till After Summer Vacation
Ime Udoka: Close to Delivering History with Boston Celtics
Six Reigning African Champions to Storm Benin for Cwealth Games, World Championship Tickets
FIFA Set to Name Host Cities for 2026 World Cup Today
PSG Sack Pochettino
Ogba: 2022 Cwealth Games Trials to Showcase Nigerias Rising Profile in Athletics
33 Nigerian Players Scouted for Pro Contracts with Euro Clubs
Ndidi Begins Rehab in Dubai for Full Recovery from Kneel Injury
THE SUN
At Alexis Galleries, Recycled Matters rekindle hope
Presidency: South East govs, politicians, others frustrated our efforts Ohanaeze
Orizu wins ADC ticket for Nnewi, Ekwusigo federal constituency
2023: Game of wits between old and new order
All set for Ekiti election
Ekiti: We didnt disqualify APC guber candidate -Federal High Court
Osun: Im sure of my capacity Oyetola
Ekiti 2022: Appeal Court president sets up tribunal to hear petitions
Tension persists in APC as NWC fails to take decision
APC cant dislodge PDP from power in Oyo Ogungbenro
APC guber aspirant tackles Igini over utterances on valid candidates
Besiktas leads race to sign N1.9Bn rated Onyekuru
Jordan Nwora Foundation Basketball Camps get dates
Mark D Ball Elite 8 Championship: We arent going to underrate any team Mo Heats Coach
WAFCON 2022: CAF appoint Madu, Iyorhe as referees
Egypt sacks coach Ehab Galal after just three games
Weightlifting: Two IWF officials get lifetime bans for anti-doping rule violations
Italy-based table tennis star donates equipment to sports commission
Edo ready for National Trials, Yusuf Alli
Ahead Commonwealth Games & World Championships Trials: Ofili, Nathaniel, Nnamdi lead 8 Nigeria reigning record-holders to Benin
Everton eyes 22b Sanusi
FX challenges beyond monetary policy interventions Emefiele
WAPCo celebrates 10 years of operations
Julius Berger delivers highest dividend in 5 years to shareholders
FAAN suspends issuance of licences to FTZ operators
Airlines survival, forex, fuel scarcity, others dominate FAAN conference
Buhari approves new freight rate for petroleum transporters
NEPCrepositions MSMEs to access funding opportunities
Firms laud fourth Food and Beverage West Africa Expo
WARTU decries dearth of exportcargoesat Seme border
Executive Order 11 to support local content, create business for Nigerians Shonubi
Ezu River killings: MASSOB clears Obi
Adamawa, Plateau confirm 7 Monkeypox cases
Martins, Kukah, Odetoyinbo, others to grace unveiling of KSM Logo, Mascot to mark anniversary
2023: Court asked to nullify Oduahs nomination over alleged perjury
UN expresses concern over civilians killings, clashes in North East
Jubilation as NUC grants Enugu govt license to establish SUMAS, Igbo-Eno
Tradell be major pillar of my administration Ikonne
16 die, 5 injured in Gombe, Kogi auto crashes
Journalist awards scholarship to 9 pupils in Umuahia
Reps summons COAS on personnel recruitment
Enough of try-your-luck politics
Again, as if nothing happened
Atiku, Tinubu, Kwankwaso, Obi and the Moroccan magic
For 2023, Nigeria barters its future
2023: Nigeria needs overhaul, not election
Ethnicity, religion and 2023 poll
There is acute and chronic Obi-session in Nigeria
Unknown facts about Peter Obi fever
Pains, challenges of my 41-day trip
35 suspected robbers, kidnappers nabbed in Kwara
Education gets boost in Gombe
How were tackling waste management, others in Anambra Odimegwu, Commissioner for Environment
GUARDIAN
SDP is alternative to APC and PDP in Kwara, says Afolabi
Nigeria in dire need of restructuring, Bode George insists
APC, PDP, SDP in titanic battle for Ekiti Government House
Police nab 51 suspected cultists in Delta
37-year-old bomb expert nabbed in Taraba
Zulum moves to boost healthcare in Borno
Oil, gas experts brainstorm at FUPRE convocation
Delta celebrates, Obaseki hails as Okowa emerges PDP VP candidate
AIB probes Overland's near-crash at Lagos airport
23-year-old FUTA undergraduate needs N12.5m for kidney transplant
14 die, five hospitalised in Gombe road crash
Is recession the only way out of US inflation scourge
Canada police raid properties linked to neo-Nazi extremist group
Uzoho is Eagles' first choice goalkeeper, says Shorunmu
Crystal Palace, Arsenal open EPL league fixtures August 5
Man City, PSG putting European football in danger, says La Liga boss
Nigerian teenage golfer, Essien chases her dream at Taft
MTN Junior Tennis League debuts June 21
Enyimba highest ranked Nigerian side as North Africans dominate CAF top 50 ranking
UBTH hosts General Jidda's retirement tourney June 25
Nigeria passenger traffic to grow at seven per cent in 10 years
FG canvasses unified tax approach for transportation system
CCECC trains NRC, FMOT personnel for Lagos-Ibadan railway operations
Sell-off in 22 stocks drag NGX indices by N197b as global market plunges
Marketers push back, urge FG to stop meddling in Jet-A1 affairs
Emefiele, Sanwo-Olu seek structural adjustments to stabilise FX market
Google targets Africa's retail businesses in new initiatives
Telecoms sector's FDI falls to $417.5b in 2021 as operators earn N3.2tr
Inconsistent policies rob free trade zone of investors, benefits
Travel disruptions in China, Ukraine dip global air cargo demand
Between APC and PDP
Politicians and the morphology of ingratitude – Part 2
Deliver us from evil
Shocking practice of orphanage homes
Tony Eluemunor and Agharese Osifo on our women
Why I chose Okowa over Wike despite party's nod
Commotion at APC secretariat as protesters threaten Adamu over substitution of candidates
23 years of democracy: Economy buckles under political risks, official graft
AFN in race to produce two teams at national trials in Benin
FG's failings over security may push citizens to self-defence, Akeredolu warns
Gani Adams writes UN, others over insecurity in Nigeria
Ikoyi building collapsed land to be forfeited, says Lagos State government
Rivers NLC commends Wike on payment of pensions
The Muslim-Muslim ticket challenge
Foundation distributes books, shoes, uniforms to less privileged
LEADERSHIP
Running Mate As Albatross: Tinubu's Choice
Making A Fortune From Publishing Business
Onnoghen Laments Poor Funding Of Supreme Court
N/Korea Reports Outbreak Of Another Infectious Disease Amid Pandemic
Akeredolu, Malami Differ On Restructuring, State Police
Running Mate: At Last, Tinubu Zeros In On North East As Atiku Picks Okowa
Ekiti Poll: INEC Distributes Sensitive Materials, Police Withdraw VIP Orderlies
Nigeria Has Improved On Global Terrorism, Corruption Indexes ' Buhari
2023: Elumelu Hails Okowa's Choice As Atiku's Running Mate, Urges Reconciliation
[EDITORIAL] 50 Train Attack Victims Still In Captivity
NEW TELEGRAPH
Peseiro's Eagles: Beyond the record-breaking win
APC Presidential Primary: Why I stepped down for Tinubu, by Amosun
Peter Obi: Catholic Church disowns Fr Mbaka
Ex-CJN decries poor funding of Supreme Court
APC: Tinubu inherits Buhari's campaign office
Experts fret over aviation fuel contamination claim
PDP: Wike loses again as Atiku picks Okowa as running mate
IMF: eNaira, others may reduce power needs for digital payments
Buhari: We've sufficiently degraded B'Haram, IPOB, other criminals
33 passengers escape death as Overland aircraft engine burst into flames
Why we screened Okowa 'PDP
ILC: Nigeria charts pathway to end global crisis
Food shortage plunges Africa into crisis
5G: FG targets N390/ GB data in 3 years
Inflation: Europe's central banks raise interest rates
WhatsApp launches WhatsAppreneurs campaign for SMEs
Sterling Bank posts 20% rise in net profit
Wema Bank holds SME webinar on energy efficiency
Africa, Caribbean to deepen ties via regional devt banks
Report: African consumers pessimistic about economic conditions
Basel Committee issues principles for management of climate-related financial risks
Ekiti Guber: Showdown as APC, PDP, others test might
Fayemi, Fayose in proxy battle
Is Oni's SDP the third force
Threat of Violence: Heavy deployment by police, NSCDC, others
Ortom offers scholarship to football players
2023: Ohanaeze declares support for Peter Obi
Osimhen, others' transfer values shoot up
Oni vows to use sport to fight unemployment in Ekiti
MTN Junior Tennis League Championship debuts June 21
Edo ready for National Trials, says Yusuf Alli
Fixtures announced for unique Premier League season
Premier League fixtures to be released Thursday
Dani Alves leaves Barca for second time
BLUE PRINT
Suspense in APC over Tinubu's running mate ahead INEC's deadline
Ekiti: At last, Court breaks silenceon APC candidate's status
Blueprint award, recognition of my 36 years of active politics ' Sheriff
Bianca Ojukwu reveals what 'stingy' Peter Obi did to her
Police kill 4 bandits, nab female gunrunner in Kaduna
2023: Northern youths reaffirm support for ex-LP presidential aspirant's ambition
Climate change: Senegal leading Africa's path to a resilient recovery
US raises interest rates by another 75 basis points
IMF raises food security concerns, says fiscal deficit'll hit 6.1% of GDP
2023: Nigeria'll generate, distribute 15000mw under Tinubu ' Amosun
Peace, unity hallmark of civil service ' Gende
52ndAGM:Berger stands strong, delivers highest dividends in 5 years
UN expresses concern over violence affecting civilians in North-east
Jigawa paysN40bn terminal benefits in 7 years ' Official
UNICEF pledges support to end open defecation in FCT
Police arrest mastermind of Taraba blast that claimed over 50 lives
Nine in 10 Nigerians attest to child abuse -Poll reveals
2022 Day of African Child: Plan International laments abuses against children
Reps urge panel to ensure release of kidnap victims
Foundation empowers 20 small scale businesses in Cross River
Unemployment responsible for youth's radicalization ' Actionaid
Church tragedy: Kwankwaso pays condolence visit to Owo monarch
FCTA inaugurates committee on recovery of N29bn debt
Lunguda-Waja crisis: Policearrest 5 suspects with firearms in Gombe
Miscreants overrunning our communities, Lugbe residents cry out
IDAC: AHF commences plans for sex education in schools nationwide
Anambra: Soludo orders registration of wheelbarrows, tricyles, others to increase IGR generation
Shun stereotypes, Mercy Corps charges Plateau women
Our Green Smart Hospital'll enhance maternal, child health in Nigeria ' NOWA president
TRIBUNE
Enugu community lauds Buhari on Ohodo Fed Poly
NNPP demands credible, acceptable governorship election in Ekiti
FCTA inaugurates recovery committee on N29bn ground rent
Drug war: Senior Advocate rallies support for NDLEA, commends Marwa
Sterling maintains trajectory with 20% increase in net profit
I have never been a desperate person ' Oni
Nigeria needs credible leaders like Justice Akanbi ' APU VC
Muslim clerics visit CAN, condemn Owo church attack
Google celebrates international SMB month with e-commerce summit and digital marketing scholarships
Journey of the beats: The story of Nigerian music to premiere on Showmax June 23
Education should be more important than anything else in any country ' Chima Opara, Nigeria's first iOS mobile game app developer
I am set for music takeover ' DJ Sogood
Ooni of Ife, Oba Elegushi, others grace Bolarinde's solo art exhibition
Mr. Macaroni emerges 'Force of Influence' at Trendupp Awards 2022
QuicktellerBarz and Notes showcase final six at talent unveiling event
Comedy can be a gift or skill, master it to be unique ' Larry J
Apple battery row: Millions of iPhone users could get payouts in legal action
VP Harris to launch task force on online harassment after shootings
Sterling tumbles after Bank of England raises rates to 1.25%
NGX posts 3rd-day loss amid selloffs of Airtel Africa, BUA Foods shares
FCMB onboards 1m unbanked Nigerians, grants N40bn in microloans to 300,000
Crypto volatility knocks more stablecoins off their peg
Lagos governor commends CBN on increased FX repatriation through RT200
How F&B trade show has shapened Nigeria's business environment.