Wike: Tambuwal Speaks On Choice Of Atiku's Running Mate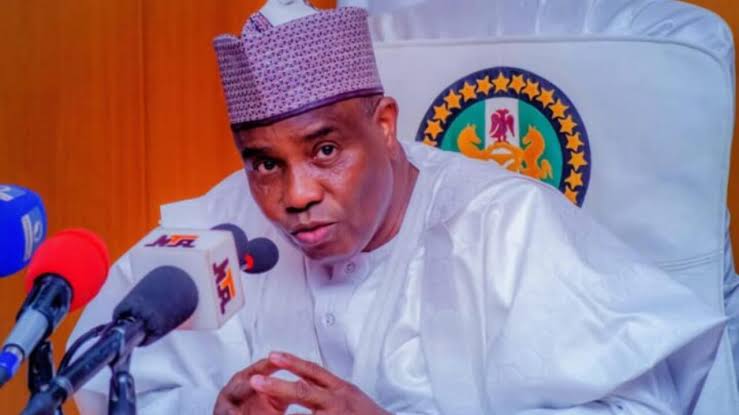 Governor Aminu Tambuwal of Sokoto State has said that the Peoples Democratic Party (PDP) will choose a running mate who is loyal, acceptable and committed to the party.
Tambuwal, who is the Chairman of the PDP Governors' Forum, stated that the running mate to the party's Presidential candidate, Atiku Abubakar, should be someone who has suffered for the party.
A Senior Special Assistant to Tambuwal, Yusuf Dingyadi, made this known in an interview with The Punch on Tuesday in Abuja.
Dingyadi stated that the party will bring the best team to Nigerians and those who understand the country's problems and can solve them immediately.
He, however, stated that the governor had no candidate for the Vice President slot following reports that Governor Nyesom Wike of Rivers State had been recommended as the running mate to the party's presidential flagbearer.
Dingyadi also added that the PDP is not concerned about the Muslim-Muslim ticket in the APC, stressing that the party doesn't look at religion but rather is focused on making Nigeria united.
He said, "The party is looking for a vice presidential candidate who is loyal, acceptable, committed and no one is committed rather than those who have suffered for the party.
"This advisory committee, when they finished, they will submit their report of whom they choose to the national chairman who will in turn forward same to the presidential candidate.
"The PDP is not going to choose anybody because of injustice or because we are afraid of election. Our party is going to win the 2023 election by God's grace.
"We are going to bring to Nigerians, the best team, those who understand problems and can solve them and not those who ran away from people.
"We are also not concerned about the problem of APC, concerning Muslim-Muslim tickets, we don't look at religion but rather looking at making Nigeria to be united."
Naija News earlier reported that the PDP committee set up to recommend a Vice-presidential candidate for Atiku has reportedly picked Wike as his running mate.
While picking Wike as its first option, the PDP panel said the governor as the vice-presidential candidate will do better for the ticket than his main challengers.