Reactions: Femi Adesina Under 'Attack' For Criticizing Bishop Oyedepo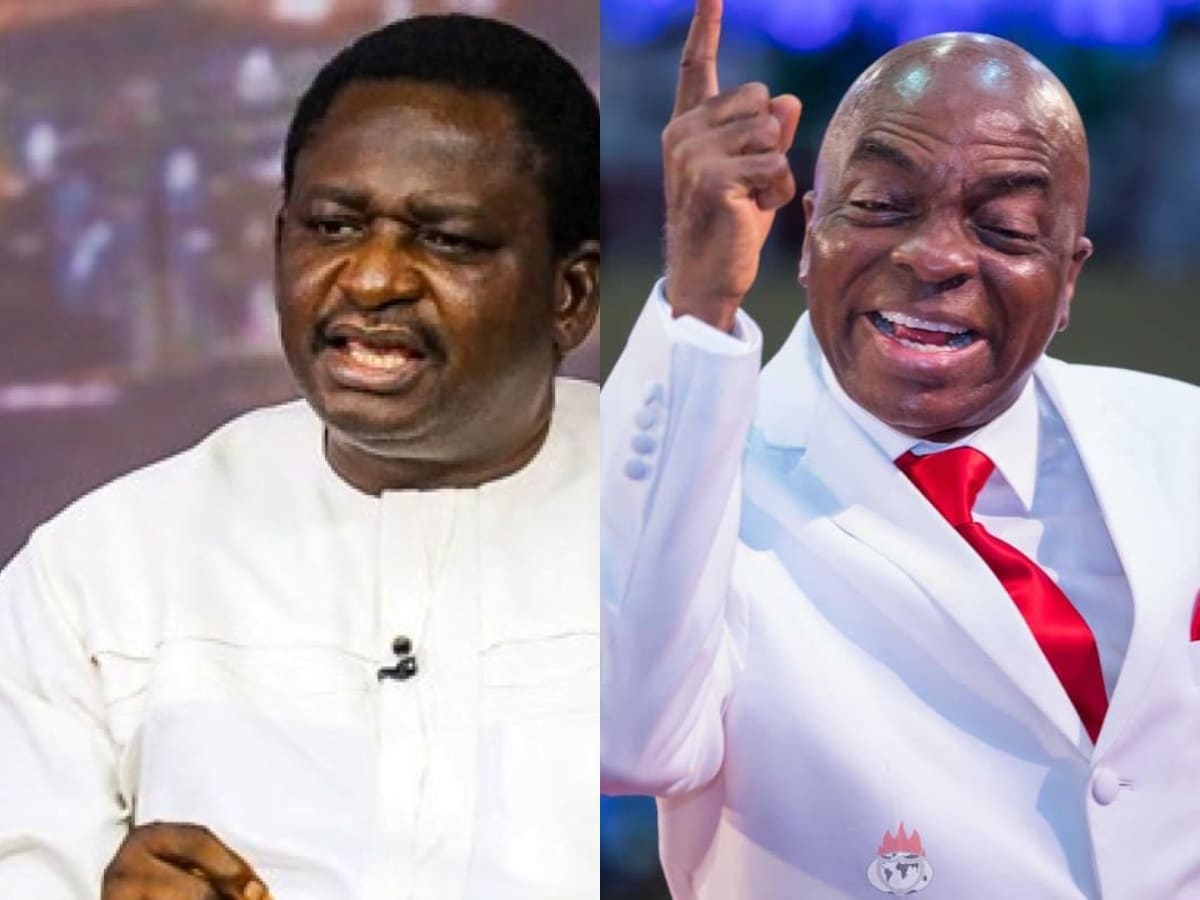 The special adviser to President Muhammadu Buhari on Media and Publicity, Femi Adesina has become the subject of various comments on social media following his recent statement targeted at Bishop David Oyedepo of the Winners Chapel.
It will be recalled that Adesina on Tuesday, criticized Bishop Oyedepo, accusing the General Overseer of the Living Faith Church of harbouring hatred for the President.
He said in reference to the N80bn alleged fraud that the cleric doesn't understand the difference between the Accountant General and the Auditor General of the Federation.
He further stated that Oyedepo can't even get his facts right.
The spokesman in a post on his Twitter account wrote, "The bishop at Ota can't even get his facts right. Blinded by hatred for PMB, he says Auditor General stole N80bn.
"Pity! He doesn't know the difference between Accountant General (only alleged) and Auditor General. Like OBJ said long ago, we should begin to ordain our bishops."
The statement from Adesina comes after an initial submission on Monday by Bishop Oyedepo who tagged the Buhari administration the worst in Nigeria's history.
He stated that the government had deceived Nigerians with talks of fighting corruption but is not making the country better in any way.
The clergyman insisted that this was the most corrupt government in Nigeria's history.
However, following the response from Adesina, some Nigerians have taken to the micro-blogging site, Twitter to state their position on the matter.
Below are some of their views as culled by Naija News.
@theonly1acre: Elder Femi Adesina, did someone steal N80bn or not ???
@Nkemchor_: The more you listen to Femi Adesina the more brain cells you lose. It's extremely shameful that the buhari administration reduced this man to this.
@adeyanjudeji: Femi Adesina is a sworn enemy of Nigeria for supporting the most clueless and incompetent government in the history of this country. Bishop Oyedepo is a speaker of truth and lover of Nigeria.
@Emmanuelitunu: History won't forget this Femi Adesina as the greatest pipper of all time. The man is robot.
@femimafo22: If not for Femi Awolowo and Femi Falana, I for don drop my Femi cos of Femi Adesina and Femi Fani-Kayode. They are spoiling this name I swear.
@MatabofVictor: May I not get to that point where loyalty will blind my sense of reasoning. So help me God.
@IIjahu: The bishop great man of God has spoken well, it's time we tell the bitter truth that they don't want to here. Femi Adesina as an adviser please for once tell the presidency the real state of the country. Playing politics with people lives and resources is never the way out.
@joguns_: Money has blinded Femi Adesina, it has also choked his head and mouth. He always says rubbish. I think we should begin to scrutinize our elders very well before ordaining them. He is Buhari's watchdog against Christians.. he's the Judas Iscariot. Money 💰 has killed his senses.
@AniNnamdiChris_: Can Femi Adesina beat his chest and say that Buhari's govt. which he is part of isn't fantastically corrupt?
@Awedathefirst: Femi Adesina, them steal or them no steal?
@pst_manny: I respect Femi Adesina; he is a genius. Defending the Buhari government is not an easy thing to do. How does he do it? The level of insecurity, corruption and nepotism in the last 7 years needs a genius to attempt to pull the wool over the eyes of Nigerians. Great job Bro. Femi.
@Excel22300814: Femi Adesina just dey fire goals like Benzema;firing 4rm all cylinders.
@callMeBonne: This Femi Adesina thinks he will remain in government forever? A time will come when Nigerians will feed him with his poop.
@royalc_n: Femi Adesina is the type of person Fela meant in his "Zombie" song.
@OgunleyeES1: Femi Adesina should explain to us if they are not exponential corrupt in in The history of Nigeria govt. Why Accountant General embezzled 80 billions and ASUU is still on strike.
@resourceplana: Femi Adesina and Lie Muhammed are reasons Nigeria is messed up. They have zero tolerance and shocks for accepting criticism. Like a wimpy child, they'r so emotionally feeble to confront truths. Nigerians are misinformed cos they couldn't discharge their duties professionally.
@AyFash6: I am not surprised. A bad system doesn't appear wrong to those who benefit from it. They do everything to defend it.
It is so conspicuous that Femi Adesina is one of the beneficiaries of the corruption in Buhari's government.
What do you expect a sycophant to say?