Reactions As PDP NWC Endorses Wike As Atiku's Running Mate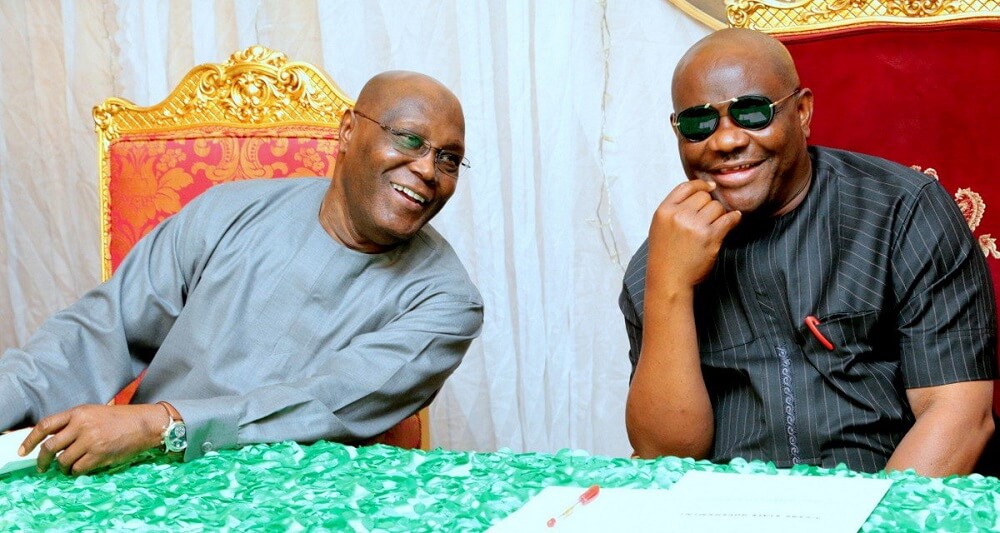 Nigerians have reacted to the report that the Peoples Democratic Party (PDP) National Working Committee (NWC) has backed Governor Nyesom Wike of Rivers State as the vice-presidential candidate of the party for the 2023 elections.
Naija News earlier reported that the NWC members on Wednesday voted 13-3 to endorse the report of the panel which had earlier nominated Wike for the Vice President slot.
It was learned that members of the PDP NWC have also communicated their decision to the PDP Presidential candidate, Atiku Abubakar.
However, following the decision of the PDP leadership, some Nigerians have taken to the micro-blogging platform, Twitter to express their views regarding the matter.
See some of the reactions below.
@Esteembehemoth: "Nyesom Wike is the only candidate in the south that can save Atiku some blushes in the south. Some blushes I said. Ezebunwo Nyeshiri (Nyesom) Wike!"
@Letter_to_Jack: "Lmao an Atiku-Wike Presidency will be turmoil.
"You won't say if it's going to be good or bad but I can guarantee there won't be peace in Aso Rock. President and VP fit fight before the end of the first tenure."
@AfamDeluxo: "Congratulations to Nyesom Wike. He has strong nuisance value. If that would translate to vote is what I am not sure about. This election is going to either demystify him or otherwise. Let's watch and see. I am enjoying this election, to be honest."
@_Samcleave: "A Wike VP will protect my interest as a Southerner more than a Tinubu's presidency. An Atiku's presidency will benefit my country's economy more than a Tinubu will.
"This is the journey to rescue Nigeria, let us fucking go."
@SavvyRinu: "Wike is like a cat with nine lives."
@Mbahdeyforyou: "Wike is too stubborn to be Vice President that one no go obey oga."
@SodiqTade: "Atiku and Wike joint ticket has put an abrupt end to whatever relevance APC has left as a party."