Reactions As PDP Panel Recommends Wike As Atiku's Running Mate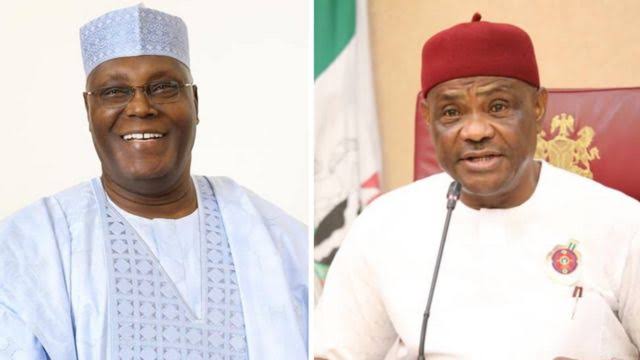 Reactions have trailed the recommendation of Governor Nyesom Wike of Rivers State as the running mate to Atiku Abubakar.
Naija News earlier reported that the Peoples Democratic Party (PDP) committee set up to recommend a Vice-presidential candidate for Atiku has reportedly picked Wike as his running mate.
While picking Wike as its first option, the PDP panel said the governor as the vice-presidential candidate will do better for the ticket than his main challengers.
Naija News reports that others considered for the PDP presidential ticket are Governor Ifeanyi Okowa of Delta State and Governor Udom Emmanuel of Akwa Ibom State respectively.
According to two sources familiar with the decision, the chairman of the PDP Governors' Forum and Sokoto State Governor, Aminu Tambuwal also endorsed the decision to prioritise Wike on the list of key vice-presidential options.
It was learned that PDP Governors, board of trustee members and the national working committee officials made contributions to the list of running mates for Atiku.
However, Nigerians have taken to social media to react to the emergence of Wike as the running mate to Atiku in the 2023 presidential election.
See some of the reactions below.
Wike is the sailing ship that can't sink. Wike x Atiku Political mathematician's; One man one vote. Rivers state PDP vote are secured. #GetYourPVC

— Kamalu samuel buduburisi (@Ekinigbo_budu) June 14, 2022
If no be say peter obi dey ballot on God I for vote for PDP because of Wike..

As e dey pain dem e go dey sweet us leadership style

— Medina (@MeddyCation) June 14, 2022
Wike doesn't necessarily bring any new voters to the Atiku campaign but he cannot be ignored in the PDP as far as VP stakes are concerned. If Atiku decides to look to the SS then it has to be Wike over Okowa. Wike is a very good campaigner and his nuisance value is gold.

— Arthur of Camelot (@KingArthurOG) June 14, 2022
Wike is too stubborn to be Vice President that one no go obey oga😂

— MBAH (@Mbahdeyforyou) June 14, 2022
If I see this Wike man on any ballot whether as Vice President or assistant Vice President, I am voting him. Even if I see him on my bet9ja ticket… I am voting him. Period! pic.twitter.com/uEIl1bsyjG

— Bayelsan (@AntiXenophobian) June 14, 2022
If Wike deliver Rivers for Atiku make I bend. 😂😂😂💔

Obi has won this elections.

— Kingjames.eth (@jnr_lambo) June 12, 2022
Official

Wike will run as Atiku's Vice !

— Jake (@Hitee_) June 14, 2022
Atiku/Wike??? Please let it happen.

Remind the SE what he did in the build up to the primaries. Thankfully, this is no longer about delegates that they can bribe to sell votes.

— Cross˚ (@Elkrosmediahub) June 14, 2022
Atiku-Wike pivot I'm hearing

— Alabi (@the_Lawrenz) June 14, 2022
I'm happy Wike is running mate to Atiku, let Okowa and Udom and the rest who betrayed the power shift to the South because of Vice Presidency chop their own breakfast 😂

— Kingdom (@KingdomOgor) June 14, 2022
Atiku went the wise way. A SS deputy and especially a dude with a big war chest and talker like Wike.

He was wise enough to concede the less than 1.8 million eastern votes to be shared between himself and Peter Obi while Wike helps deliver SS.

Wise move.

— DAMZY (@Segun_Odunayo) June 14, 2022
So we will be seeing Wike and his band during campaign. At least campaign will be fun 😃

— Mo-Mo💙 (@Morris_Monye) June 14, 2022