2023 Presidency: Omokri Reacts, Asks Important Question About Purported Peter Obi-Kwankwaso Ticket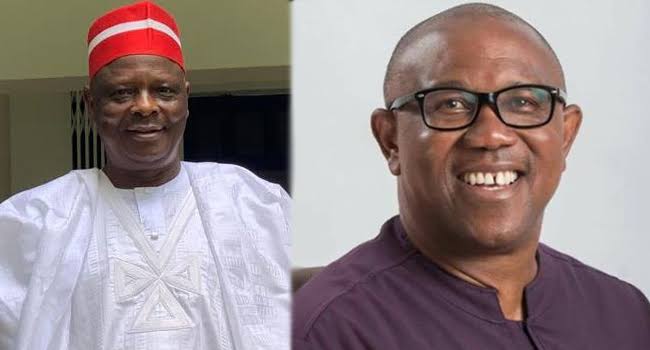 Former presidential aide, Reno Omokri has asked an important question about the purported joint ticket between Peter Obi and Rabiu Musa Kwankwaso for the 2023 presidency.
Omokri who described the idea of a merger as excellent questioned who will drop his ambition for the other and accept the role of a running mate.
Naija News reports Peter Obi is the presidential candidate of the Labour Party (LP) while Rabiu Kwankwaso is the candidate of the New Nigeria Peoples Party (NNPP) but emerging reports claim there may be a merger between the two parties for the 2023 presidential race.
Recently, the spokesman, National Consultative Forum, Yinusa Tanko also disclosed that there are plans to merge the Labour Party and New Nigeria People's Party (NNPP) to defeat the All Progressives Congress (APC) and the Peoples Democratic Party (PDP) in 2023.
In an interview on Arise TV, Yinusa Tanko said he cannot give details of everything, but there are serious plans on merging the two parties.
According to Yinusa Tanko, merging the two parties is an idea they have seen on the ground, and they believe that the Labour Party's candidate, Peter Obi, who is already grounded in the Southern part of the country, needs to work with people like Kwankwaso, a strong person in the North.
He said both Obi and Kwankwaso, have exhibited character, resilience, and determination while working closely with the disadvantaged.
He urged Nigerians to support Peter Obi and Kwankwaso if the talk about merging the two political parties come through.
Reacting to the possibility of a merger, Omokri took to his Twitter account on Monday where he stated that the development would be an excellent idea.
He however raised a question on who would be the presidential candidate and who would be the deputy.
He wrote: "The proposed Kwankwaso-Peter Obi. NNPP-Labour Party merger is an excellent idea.
"The only problem is who will be the Presidential candidate and who will his vice?
"Kwankwaso would naturally want the top of the ticket, but will Peter Obi accept a second fiddle role?"
The proposed Kwankwaso-Peter Obi. NNPP-Labour Party merger is an excellent idea.

The only problem is who will be the Presidential candidate and who will his vice?

Kwankwaso would naturally want the top of the ticket, but will Peter Obi accept a second fiddle role?#TableShaker

— Reno Omokri (@renoomokri) June 13, 2022