Nigerian Newspapers Daily Front Pages Review | Sunday, 12th June, 2022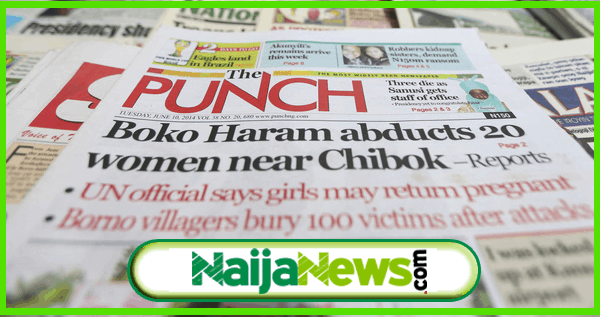 Naija News looks at the top happenings making headlines on the front pages of Nigeria's national newspapers today Sunday, June 12th 2022.
The PUNCH: Ahead of Friday's deadline for political parties to submit the names of their presidential candidates and running mates to the Independent National Electoral Commission, most of the political parties are making hurried moves to beat the deadline. The commission had said it would not extend the deadline for the submission of the names of the candidates and their running mates.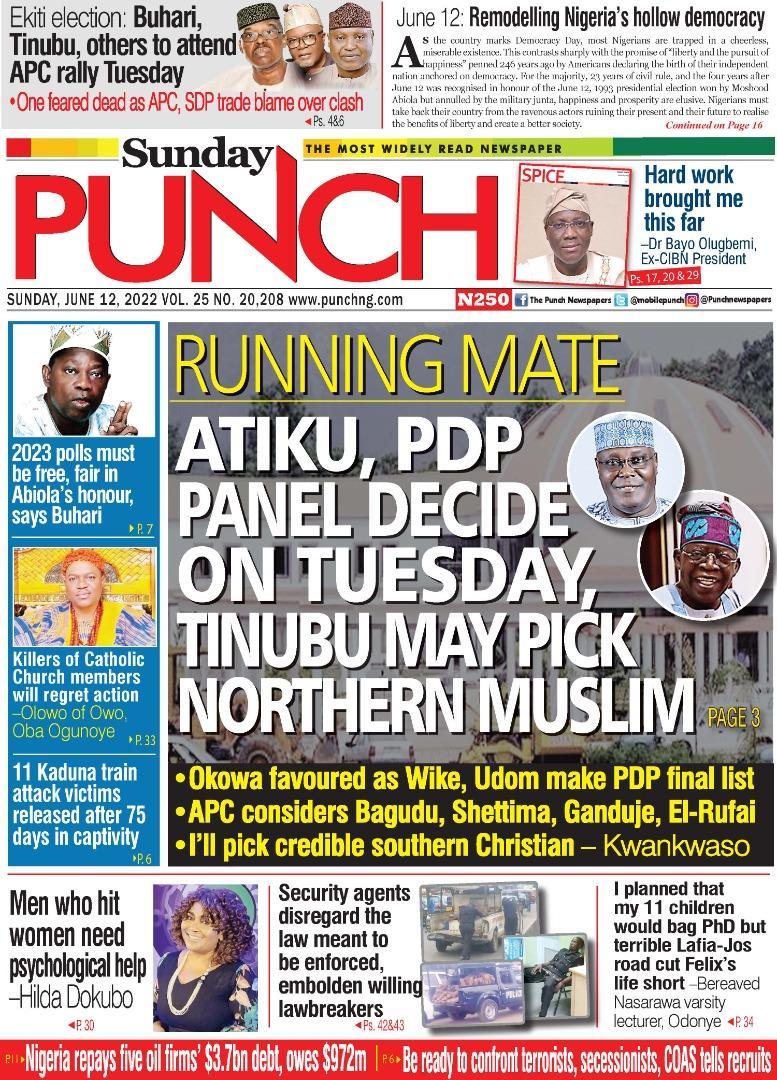 ---
The Guardian: Stakeholders have expressed reservation over the promise by the presidential candidates of the two major political parties to turn around the power sector. Both Alhaji Atiku Abubakar of the Peoples Democratic Party (PDP) and Asiwaju Bola Ahmed Tinubu of the All Progressives Party (APC) have unveiled their manifestos with the rejuvenation of the power sector as a key element. While Abubakar promised to lift the electricity generation by 25,000MW, Tinubu plans to tackle the power challenge by generating 15,000MW.
---
Vanguard: The emergence of Alhaji Atiku Abubakar as the presidential candidate of the Peoples Democratic Party (PDP) and Asiwaju Bola Tinubu as the standard bearer of the All Progressives Congress (APC) has put zoning afresh on the front burner. Recall that Yoruba group, Afenifere, Pan Niger Delta Forum (PANDEF) and Igbo group, Ohanaeze, have been at the forefront of the campaign for power shift to the South in 2023 when Nigerians elect President Muhammadu Buhari's successor. In this interview, a senior leader of the PDP and former governor of Jigawa State, Alhaji Sule Lamido, speaks elaborately on why the PDP came up with Atiku as its presidential candidate contrary to the southern groups' expectation.
---
The Nation: President Muhammadu Buhari has revealed the personal torture he suffers on account of the security challenge in the country. Buhari, in a national broadcast this morning to mark Democracy Day, says he lives "daily with grief and agony for victims and prisoners of terrorism."
---
Daily Trust: Fresh fact has emerged on how assurances by people around President Muhammadu Buhari gave at least six presidential aspirants in the just concluded primary of the All Progressives Congress (APC) the confidence that they were the candidates to beat in the race.
Several efforts to trim down the 23 aspirants that picked the forms for the presidential primary of the ruling party at N100million failed like a pack of cards as they insisted on slugging it out at the ballot box.
Thank you for reading, that is all for today, see you again tomorrow for a review of Nigerian newspapers.