Tinubu: Fani-Kayode Takes Personal Decision On APC Muslim-Muslim Ticket Bid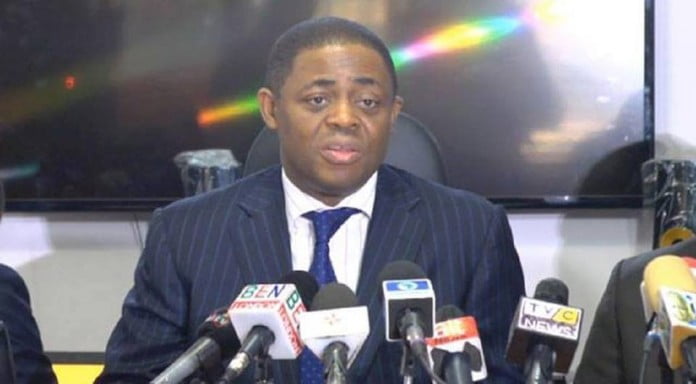 Former Minister of Aviation, Femi Fani-Kayode has reacted to the trending argument over an alleged move by the All Progressives Congress, APC presidential candidate, Bola Tinubu, to choose a Muslim running mate for the 2023 presidential election.
Naija News reports that the Muslim-Muslim ticket bid has generated a barrage of reactions on and off social media as citizens express worries that it would be an unfair move considering the religious status of the country.
Joining the host of others in reaction, Fani-Kayode on Friday said he will support Tinubu irrespective of who the presidential candidate chose as his running mate.
The APC chieftain who spoke today on Channels TV's political show, Politics Today, said Tinubu will get his full support whether going by a Muslim-Muslim or Muslim-Christian ticket.
Fani-Kayode, however, noted that religion could not be ruled out totally in Nigerian politics. He Fani-Kayode said that it would be an expensive mistake for anyone to suggest that a Muslim-Muslim ticket should not be an issue for anybody.
"It's an issue and we will have to explain and defend to the wider population of the Nigerian people if we choose to go that way. I am not saying I'm against it. If that's what the candidate wants, we will stand by him and defend him.
"However, we need to defend it. We can't just say religion has no place in the politics of today. It certainly does, especially where 50 Christians were slaughtered in a Church in Owo the other day. In Southern Kaduna the other day, a number of 34 Christians were slaughtered."
FFK pointed out that over the years, Christians and Muslims were being killed in gruesome manners across the country.
He said: "We have an Islamist revolt that is to say ISWAP on the one hand, Bokoharam on the other and so many herdsmen killings and these people happened not to be the real Muslims, but pretending to be Muslims, because the real Muslims do that kind of thing.
"Let's just hope he reasons it out carefully and chooses the right candidate to run with him."
Naija News understands that the likes of Kebbi State Governor, Atiku Bagudu; Kaduna State Governor, Malam Nasir El-Rufai; Kano State Governor, Abdulahi Ganduje; Plateau State Governor, Simon Lalong; Secretary to the Government of the Federation, Boss Gida Mustapha and Malam Kashim Ibrahim-Imam have been named as likely running mate for the APC national leader.