2023 Presidency: Nigerians React To Fayose's Letter To Tinubu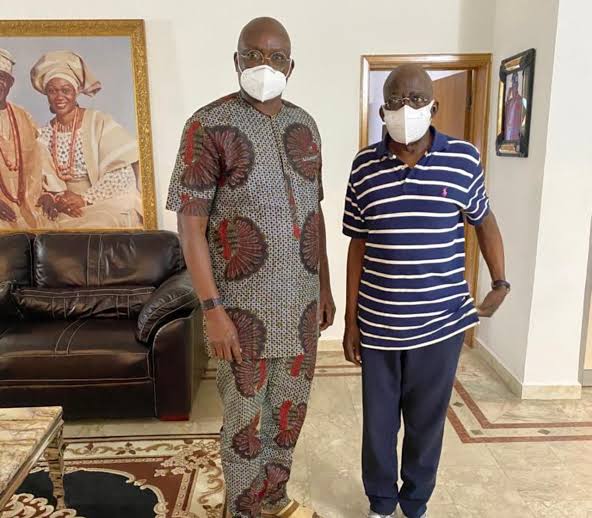 Reactions have trailed the open letter written by the former Governor of Ekiti State, Ayodele Fayose, and sent to the National Leader of the All Progressives Congress (APC), Bola Tinubu, on Monday.
In the open letter, Fayose had said the powerful cabals in the Muhammadu Buhari-led administration are plotting to give Tinubu the MKO Abiola treatment.
The Peoples Democratic Party (PDP) chieftain said it was obvious that Tinubu was swimming against the tide.
Fayose stated that the national leader of the APC needs to proceed with extreme caution.
Speaking further, Fayose noted that Tinubu's empire – which comprised almost all the six South-West governors and ministers as well as Vice-President Yemi Osinbajo – had been balkanised.
He said the responses to the Abeokuta outburst by some of Tinubu's allies in the North and the South were something the former Lagos State governor must worry about.
However, some Nigerians have taken to social media to express their views regarding the letter written by the former Ekiti governor to Tinubu.
Below are some of the reactions.
Ayo Fayose, take it to the bank, Asiwaju Bola Ahmed Tinubu will not die, he will live. He is a firm believer of NIGERIA, he is a firm believer of Democracy and he is a confirmed and affirmed Democrat. We don't have keelers in the APC. Thank you and goodbye 👋 pic.twitter.com/lfoiZkuLgU

— Ayekooto (@DeeOneAyekooto) June 6, 2022
I won't sweep what Fayose wrote under the carpet sha ..

He may be the least favourite , but still on still .

— Olashile Abayomi-Wealth (@thefireofOla) June 6, 2022
That Fayose's letter is some sort of warning to Tinubu that he should be wary of impending danger but some of you are focused on the Bible verse which isn't even an insult.

— Señora Acero 💪🏽 (@Maleeeekaahh) June 7, 2022
You people think Fayose is not making sense?
I know he is king of anyhowness but at least read between the lines.

— ℝ𝕚𝕔𝕙 𝔸𝕦𝕟𝕥𝕪 (@iamToluwah) June 6, 2022
What a rambling piece that was. Fayose no get media aide or speech writer?

— Nicholas 'The Brave' Ibekwe (@nicholasibekwe) June 6, 2022
I see the reason many Nigerians fail the IELTS and it is required for Nigerians to take it.

That Ayo Fayose letter is deep and richly worded

I am surprised some Twitter folks says it is shallow and empty.

Could it be Twitter trolls?

— Ayodeji (@haywhai007) June 6, 2022
Fayose's advice to Tinubu has a sensitive undertone & shld not be overlooked. Tinubu's supporters may not like it but it's a friendly advice a brother would give to his sibling. He shld read in-between D lines & watch his back. In politics, there's no permanent friend. BATified.

— IYKE LOPEZ ™️®️ (@IykeTweets_) June 7, 2022
Tinubu confidently saying it's his turn to rule Nigeria…

Fayose writing to Tinubu to die his presidential ambition…

I don't know if y'all following, but there's something Tinubu knows, and he's ready to spill it IF he doesn't get the APC ticket.

— Imam of vawulence 🇳🇬✈️🇦🇪 (@Pjarabcash) June 7, 2022
Fayose's letter to BAT is an aroko. O pa aroko fun baba. Whether the message is right or wrong is a different matter. But interesting that he reverted to the method.

— Tunde Leye (@tundeleye) June 6, 2022
Only very wise and discerning people would understand and agree to Fayose's letter to BAT.

— Maxvayshia™ 🇦🇺🇳🇬 (@maxvayshia) June 7, 2022
Fayose said Jagaban this is Nigeria, anything you see you have to take it like that. https://t.co/JgqPNBtBsa

— Mitchell Targaryen (@Ambrosia_Ijebu) June 6, 2022
People are expecting Fayose to be direct on his letter. It only require wisdom to understand this…

If only BATified has wisdom!! https://t.co/Lxl4TK96oC

— King Afam Akatakpo (@King_Afam) June 7, 2022
v
Breaking: Gov. Ayo Fayose has advised Tinubu against repeating the mistakes of M. K.O Abiola and not step his foot into the sea of raging troubles coming his way .

This is sensible and timely pic.twitter.com/ArcT8M5hOh

— DEMAGOGUE PhD.💘senior advocat (@von_Bismack) June 6, 2022
Fayose's letter to Tinubu. If you got it, you got it. If you didn't, you didn't need to get it. Something was said that didn't need to be explicit.

— JJ. Omojuwa (@Omojuwa) June 6, 2022