Man Lynched, Burnt To Death In Abuja Over Alleged Blasphemy [Video]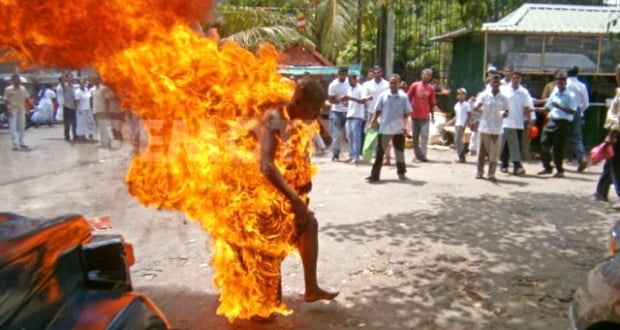 There was a commotion at the Lugbe timber market in Abuja on Saturday following the killing of an unidentified man.
Naija News learned that the man was lynched, stoned and burnt to death in Abuja for allegedly insulting Islam's Prophet Muhammad (S.A.W).
It was gathered that the incident caused panic and traffic congestion inside the Federal Housing, Lugbe in the FCT.
Eyewitnesses said the mob action occurred on Saturday afternoon after the victim, who was known for the act of insulting the Prophet, sought refuge in the vigilante office in the market.
It was gathered the local security outfit was outnumbered before the vigilante, who is also a Muslim, was killed in front of the office then set ablaze.
"The guy is known as Small Hundaru, that was not his first time insulting the prophet before the action was taken," said Halilu, a trader at the market.
"He was caught after buying food in the market in the afternoon, because when the blasphemy occurred it was just few people who were there, then a stick was used to hit him in the head. Though he had a gun with him, it was retrieved before the beating.
"Thereafter, he was stoned before he ran to the office. His colleagues at the office were aware but they couldn't shield him due to the number of people that chased him. After he was unconscious, petrol was poured over him and not to stoke any fear in the market, he was burnt in front of the office," a trader told Daily Trust.
However, with the presence of policemen, the place was calm but three persons were said to have been shot by the policemen.
Muslim kill another Muslim for blasphemy at Federal Housing,waiting for the right authorities to speak up and end all this rubbish

Abuja Lugbe Dimeji Bankole Ambode #APCPrimaries Osibanjo pic.twitter.com/9tKTE6zONT

— OMOKOLAPO (@Kpee_Of_Lagos) June 4, 2022
This development follows the killing of Debrah Samuel, a female student of the Shehu Shagari College of Education, Sokoto‬ State.
On May 12, some students of the institution stoned and burnt her alive for alleged blasphemy and recorded the dastardly act.
The sad incident however generated several reactions from Nigerians, religious leaders and several groups in the country.
Subsequently, the police command in Sokoto announced the arrest of two suspects in connection with Deborah's killing. It arraigned Bilyaminu Aliyu and Aminu Hukunci.
During the court proceedings, the suspects pleaded not guilty to the murder of the deceased.
Khalil Musa, the prosecuting inspector, told the court that the police are investigating the circumstances surrounding the incident. A team of 34 lawyers are leading the defence team.